Air Namibia information
More information on the National airline of Namibia.

The following services and facilities are available on board of Air Namibia:
Cabin assistants. On regional and international flights passengers are assisted by highly-trained cabin staff. On domestic flights flight-dock crew will be ready to assist passengers whenever possible.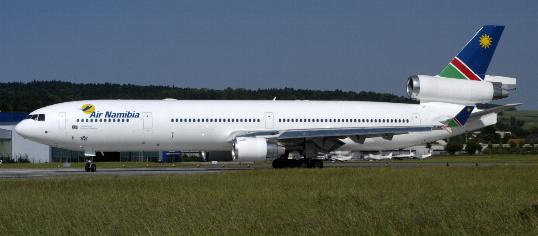 Special meals. On Air Namibia flights the following special meals are available to passengers: Kosher, Halaal, Hindu, oriental, sea-food, diabetic, vegetarian, infant or baby food. All orders for special meals must be placed at the time of making reservations (at least 72 hours before the flight).
Special services. Disabled passengers in need of wheelchair should inform Air Namibia when making the reservation. A first aid kit is available on board. An escort service for unaccompanied minors between 5 and 12 years old is available on request.
Babies. On international flights a bassinet (''Skycot'') is available for babies up to 7 month old. Please inquire when making your reservation. There are also warming facilities for babies' bottles and a choice of baby food.
Luggage. Hand luggage must be stored under the seat or in overhead bin during take-off and landing. Passengers are advised to keep all luggage tags and a copy of the ticket. Claims should be reported in Air Namibia offices.
Electronic devices. Passengers are requested not to use any electronic equipment on board without consulting a cabin attendant. The equipment include: AM/FM/TV transmitters or receivers, walkie-talkies, portable telephones, scanners, laptops, CD-ROMS, cordless microphones, compact disc players, satellite receivers, portable video equipment. All these devices can interfere with communications.
Entertainment. Magazines and newspapers are available. Writing paper and envelopes are provided on request.
On international flights latest movies are offered.
Duty free. On international flights a duty free catalogue will be distributed to passengers.
Satellite air communications. On board of the new Air Namibia Boeing 747 a satellite air communication system has been introduced. You can make a telephone call to any place in the world. All major credit cards are accepted.
Related links: Airlines to Namibia, Our travel agency
AIR NAMIBIA: INCREASED SECURITY MEASURES

This is an urgent notification to check in half an hour (30 minutes) earlier than the normal check in time. This is due to increased security measure that has been implemented at all airports worldwide, and is applicable with immediate effect.
Page created and serviced by



www.namibweb.com

Copyright © 1998-2024 namibweb.com - The online guide to Namibia
All rights reserved | JOIN | VIDEO PORTFOLIO | VIDEO/PHOTO COLLECTION
Telegram | YouTube | Blog
Page is sponsored by ETS & Exploring Namibia TV
Disclaimer: no matter how often this page is updated and its accuracy is checked, www.namibweb.com and ETS
will not be held responsible for any change in opinion, information, facilities, services, conditions, etc. offered by
establishment/operator/service/information provider or any third party