Bundu Country Lodge Nelspruit
Mpumalanga
Situated within the Bundu Rockies Wildlife Estate, home to more than 30 animals and over 300 bird species, Bundu Country Lodge offers guests and visitors a taste of the Lowveld life and, is only a stone's throw away from the city.

WELCOME TO BUNDU LODGE

With superb cuisine and service, Bundu boasts 114 rooms (almost half of them 4 star grading) in addition to a much larger a la carte restaurant, as well as 10 fully-equipped conference venues and two quaint chapels – one indoors and one outdoors at the 'wedding rocks' – for the ultimate in romantic weddings.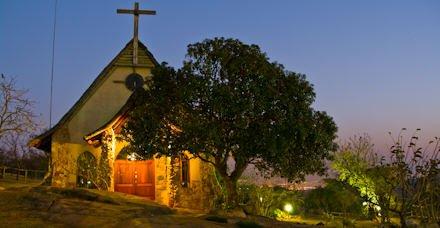 Bundu's proximity to Nelspruit and White River as well as the Kruger National Park and the Drakensberg, has contributed to making it the local lodge of choice. With all its tame and beautiful animals at the Bundu Animal Touch Farm, it really is a paradise for the children, making it ideal for the family getaway. Bundu's success story could be largely attributed to its friendly and helpful staff members.

Most of them have been part of the Bundu family for more than 15 years, which in turn contributes immensely to the homely atmosphere one experiences at the lodge. Another stabilizing factor is that the Bundu property has not changed hands from the beginning (which was in 1981) when Mr. Willem Janson bought the land and went to reside there.

Accommodation
The tranquility and splendor of Bundu Country Lodge is beyond doubt a revitalizing experience, offering a wide variety of accommodation from single rooms, twin/double and family rooms, accommodating up to five people, with en-suite bathroom, TV with M-net (DSTV in restaurant).

Our new 48 luxury units have proved even more popular, with all amenities, air-conditioning, DSTV, romantic double showers, excellent views and all of this set in beautiful surroundings with breathtaking views. Bundu is children friendly. We are sure that once you have had an opportunity to view our facilities, you will realize what an ideal and unique property it is to compliment your very special time away from home.

Weddings
Bundu has 2 wedding chapels: a bush chapel called the wedding rocks -a Natural chapel set in the middle of the bush, that was discovered by the owner. The Natural chapel is amazingly laid out as a wedding chapel with cut green grass tucked between huge natural rocks. For the less adventurous we have our romantic chapel at the Lodge with colored glass, built to compliment the surrounding and your special day
Conferences
At Bundu we believe that our combination of location, comfortable accommodation, outstanding cuisine and friendly staff, has the effect of allowing your company to enjoy a successful conference.

Bundu has a variety of venues to cater for your specific needs
Elephant Room can seat up to 450 people cinema
Elephant 1 or 2 can seat up to 200 people cinema
Rhino Room can seat 150 cinema
Rhino 1,2 or 3 can each seat 50 cinema
Eland Room can seat 80 cinema
Hippo Room can seat 40 cinema

Restaurant
The Bundu Grill boasts an a la carte restaurant and bar with superb cuisine, set in an "Out of Africa" atmosphere, with a magnificent view on the majestic Drakensberg Mountain Range from the spacious "sun downer" deck. The restaurant boasts two of the top F&B managers in the country, and caters for all and every special function, big or small. Due to popular demand the restaurant has been expanding during the past year, catering for double the seating of up to 500 people

Recreational
At Bundu we have kept nature, our special surroundings and our kiddies in mind by providing a great playground, two swimming pools, animal touch farm, mini golf and tennis courts.

Some of our animals include bunnies, peacocks, ponies, geese, ducks, turkeys, horses, pigs, Shetland ponies, chickens, sheep and ostrich. The more tame 'wild' animals include zebra, blesbuck, warthogs, impala, giraffe, wildebeest etc. and they all roam around freely for the children and parents to enjoy in a safe and secure environment.

Nature & Wildlife
We all need to do our piece to conserve a piece of nature for our children and with Bundu being so close to the city it makes our piece of conservation area even so more special!

Bundu have invested huge amounts in to conservation, by establishing an invasive alien weed project that runs all year round, to anti-poaching units that protect and look after our wildlife, conserving our piece of nature. We have water recycling plants for irrigation, energy saving globes, geyser blankets, recycling etc. all in our bid to assist our country to conserve what we have inherited and to provide an inheritance for our next generations. Our wildlife is relatively tame and this enables one to get quite close to many of the more than 300 bird and almost 50 animal species that occur at "The Bundu"- from the fleet footed duiker to the magnificent Kudu or majestic Giraffe.
Room configuration
· 112 en-suite rooms
· 64 standard rooms varying from a single unit to a family 5 sleeper unit.
· 48 Luxury en-suite.
· Air-conditioned units that accommodate between a single to triple.
· All rooms are equipped with coffee/ tea stations, bar fridges and TV.

Total 63 rooms

General room information
• Tea/Coffee making facilities in the room
• Television in rooms – remote controls available at reception
• Telephones
• Safe in main reception
• Mini kitchenette with fridge and basic cutlery & crockery in 36 rooms
• Fridge and basic cutlery and crockery in 18 rooms
• Fridge and coffee making facilities only 9 rooms

Views from the room
• Overlooking Western Drakensberg Mountains

Activities

• Horse riding
• Game drives in the 400 hectare game farm
• Guided walks in the 400 hectare game farm
• 9 Hole Mini Golf course
• Tennis court
• Ground floor trampoline
• Children's Playground
• Animal Farm

Facilities

• 07h00 – 21h00 Reception
• 24 hour security
• Major credit card accepted
• Outside braai facility
• Ample parking
• Swimming pools
Rates per room per night, accommodation only: on request
ROOM TYPE

SINGLE
DOUBLE
Additional adult sharing
CHILDREN
(under 12 years old)

Single

room
-
-
-
-
Standard room
-
-
-
-
Small family room (3 guests)
-
-
-
-
Family room (5 guests)
-
-
-
-
Luxury twin room
-
-
-
-
Honeymoon suite
-
-
-
-
Contact & reservations:

E-mail: info@namibweb.com

To book:
1) you can e-mail us requesting information and/or rates: e-mail

Reservations are only accepted in writing: by fax or via e-mail.
Final availability confirmation: in writing: by fax or via e-mail.

Terms & conditions, Payment options and Cancellation policy
Accommodation in the area:
@ Matumi Golf Lodge
@ Mercure Hotel
@ Orion Hotel Promenade
@ Road Lodge Nelspruit
@ Town Lodge Nelspruit
Page created and serviced by



www.namibweb.com

Copyright © 1998-2019 NamibWeb.com - The online guide to South Africa
All rights reserved | Pond5 | VIDEO LIBRARY
Page is sponsored by ETS & www.namibweb.com
Disclaimer: no matter how often this page is updated and its accuracy is checked www.namibweb.com and ETS will not be held responsible for any change in opinion, information, facilities, services, conditions, etc. offered by establishment/operator/service/information provider or any third party
Description & pictures: Copyright © Bundu Country Lodge