Elephant Leisure Resort Citrusdal
Western Cape
Elephant Leisure Resort is located in Citrusdal, Western Cape. Nestled between two mountain ranges in the fertile Olifants River Valley, you will find Citrusdal at the foothills of the world famous Cederberg Mountain Range.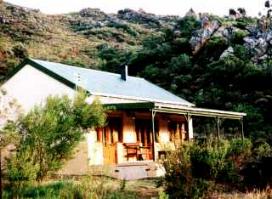 This bustling rural village, set amongst lush green citrus orchards, is less than two hours leisurely drive from Cape Town on the N7B1 to or from Namibia. It is ideally situated to use as base from where you can explore the magnificent Cederberg, visit the West Coast, or take day trips into the wild flower splendour of Namaqualand. Elephant Leisure Resort is only 7 km away from Citrusdal with a lovely view of the Cedeburg Mountain range and close to the Olifants river. Beautiful mountain views and a relaxing and calming atmosphere awaits the weary traveller.
The resort is situated in a wide valley between beautiful mountains with an excellent opportunity for hiking routes. The borehole that provides the water for the resort conforms to European standards for mineral water. The borehole of 87m delivers 11700 litres of water at a temperature of 28 - 30'C, all under its own natural pressure. Due to the fact that the water is forced through a calcium formation under its own pressure, there is no need for pumps or filters. By the time the water reaches the top it is sparkling clean. The air-conditioned conference facility is equipped with all the audio-visual aids necessary. Currently the centre can accommodate 28 people, but extensions are planned to increase this to 44 people at a time. Postal facilities, e-mail, facsimile, photocopying and telephones are available. Special conference packages are also available.
Rates per room per night, specials, seasons, meals, children policy: on request
One bedroom self-catering chalet (sleeps 2 people)

ROOM TYPE

WEEK DAYS
WEEKENDS
Chalet, 1 bedroom, sleeps 2 persons
Two bedroom self-catering chalet (sleeps 4 people)
Chalet, 2 bedrooms, sleeps 4 persons
Chalet 2 & 8 exclusive chalet
Chalet, 2 bedrooms, sleeps 4 persons
Single bed and breakfast
Per person
One night supplement during weekend
1 bedroom
2 bedrooms
Contact & reservations:

E-mail: info@namibweb.com

To book:
1) you can e-mail us requesting information and/or rates: e-mail

Reservations are only accepted in writing: by fax or via e-mail.
Final availability confirmation: in writing: by fax or via e-mail.

Terms & conditions, Payment options and Cancellation policy
Page created and serviced by



www.namibweb.com

Copyright © 1998-2019 NamibWeb.com - The online guide to South Africa
All rights reserved | Pond5 | VIDEO LIBRARY
Page is sponsored by ETS & www.namibweb.com
Disclaimer: no matter how often this page is updated and its accuracy is checked www.namibweb.com and ETS will not be held responsible for any change in opinion, information, facilities, services, conditions, etc. offered by establishment/operator/service/information provider or any third party
Description & pictures: Copyright © Elephant Leisure Resort