Interlaken Guest House Wilderness
Western Cape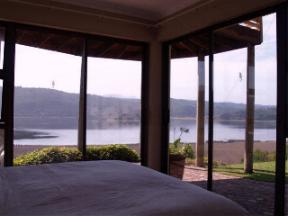 Located in the heart of the Garden Route, South Africa, the coastal town of Wilderness has so much to offer. Unspoilt natural beauty, a superb climate, and amazing outdoor activities, will all contribute to an amazing experience. Wilderness is approximately 14 km's from George on the National road (N2) en route to Port Elizabeth, falls in the heart of the Garden Route and has sights to see that will keep you coming back for years to come. From outstretched beaches to wild indigenous forests and secluded mountain streams, the area offers it all. The extreme sports fanatic has some of the best downhill mountain bike track, surf spots and paradise paragliding terrain to explore in this dream destination.

The famous Knysna Heads are only 30 km's away and a beautiful day trip or two is definitely on the top of the packed to-do list. Another comfortable day-trip on the "have-to" list, is the limestone maze of the Cango Caves and possibly even a ride on one of Oudsthoorn's famous feathered friends for the more adventurous. Arts and Culture are alive and well and ooze from every crevasse found in the rich historical surrounds. Fast becoming know as the "Golfing Route" some of the best golf courses South Africa has to offer are on show here with more major developments on the way. This is the place for the weary to rejuvenate, the young to discover and the older to relax and unwind.
ROOMS: The house consists of three spacious self-catering units (en-suite) and two double rooms (B&B). All rooms, which have recently been refurbished, have a spectacular view of the lake, with glass sliding doors leading on to a private deck.
Rates per room per night, specials, seasons, meals, children policy: on request
Contact & reservations:
E-mail: info@namibweb.com

To book:
1) you can e-mail us requesting information and/or rates

Reservations are only accepted in writing: by fax or via e-mail.
Final availability confirmation: in writing: by fax or via e-mail.

Terms & conditions, Payment options and Cancellation policy
Page created and serviced by



www.namibweb.com

Copyright © 1998-2019 NamibWeb.com - The online guide to South Africa
All rights reserved | Pond5 | VIDEO LIBRARY
Page is sponsored by ETS & www.namibweb.com
Disclaimer: no matter how often this page is updated and its accuracy is checked www.namibweb.com and ETS will not be held responsible for any change in opinion, information, facilities, services, conditions, etc. offered by establishment/operator/service/information provider or any third party
Description & pictures: Copyright © Interlaken Guest House