Khumaga Camp Site
Makgadikgadi and Nxai Pan National Park
Khumaga (Kumaga) is one of the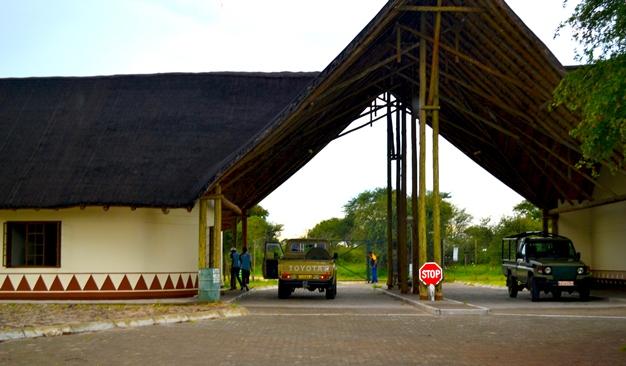 two camp sites in the Makgadikgadi National Park in Botswana. The Njuca Hills (little more than mounds but any rise in the ground is significant in this flat landscape) in the south has two campsites with a bush toilet as the only facility. Khumaga camp site in the north has 5 camp stands and is pleasantly situated overlooking the Boteti river bed. There is no water available at Njuca Hills and the Khumaga water has a strong sulfur smell and is unsuitable for drinking.
Makgadikgadi Park has only two camp sites. Khumaga s the base for the exploration along the Boteti River.
Njuca Hills is closed but there is Tree Island in the Eastern Plains, a way to explore en-route to Nxai Pan. The area of present Makgadikgadi Park was declared a game reserve in 1970 and in December 1992, the boundaries were extended and National Park status was attained. The present park covers some 4900 square kilometres.
Makgadikgadi, the name of which implies a vast open lifeless land, is not without its folklore. There are stories of people setting out from Gweta to explore the land that lay between them and the Boteti River to seek a favourable environment in which to settle. They entered these great thirstlands at the driest time of year, drawn by what they perceived as large lakes of sparkling water on the horizon. Suffering badly from thirst, the lakes kept drawing them hurriedly on in their attempts to reach the life-giving water that always remained just ahead of them. Gradually, one by one, they fell and died. This is a sobering thought, but quite understandable when personally witnessing these mirages.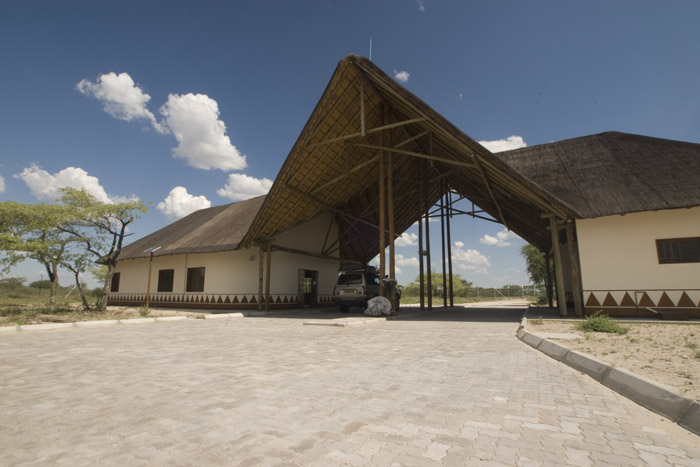 The camp sites are located within the park.
Khumaga (Kumaga), 48 kilometres south-west of the main entrance, is situated on the banks of the Boteti River and is provided with an ablution block and water standpipe. This site, which is also an alternative entry point to the park, is provided with an ablution block and a standpipe. Water here, which is supplied from a borehole, has a particularly unpleasant sulphur smell when first drawn, but improves if left to stand. However, it is advised that water for drinking purposes should be brought in. Limited basic food supplies can be obtained in the Kumaga village.

Kumaga derives its name from a pool near the village that contains edible tubers. From turning off the main tar road, eight kilometres of rough gravel road leads to the park entrance gate, where entry fees are to be paid. All roads within the park are rough and in many cases very sandy, so it is essential to have a 4x4 vehicle.

How to get there

The Makgadikgadi & Nxai Pans National Park is situated roughly halfway between Maun and Nata on the Francistown road in northern Botswana. The turnoff is 160 kilometres east of Maun and 45 kilometres west of the small village of Gweta, which has the nearest lodge accommodation, fuel and supplies.
Driving from Lethakane
Day's Itinerary: Khumaga Camp from Letlhakane
Day's Travel Time: 148 minutes – 2 hours 28 minutes
Driving from Maun
Day's Itinerary: Kumaga Camp from Maun
Day's Travel Time: 112 minutes – 1 hour 52 minutes
Camping facilities
Shaded sites
Hot and cold showers
Two ablution blocks
Braai/barbeque area
Fire area

Khumaga is situated right on the banks of the Boteti River. To cross Boteti River you need to use ferry. There are ten camp sites with water stand pipe, braai area and an ablution block with running showers and flushing toilets. The area is well known for the migration of zebras and wildebeest.
The roads in the eastern part of Makgadikgadi are in good condition and there should be no problems in a non-4WD vehicle in the dry season, but as you move westwards you'll find the sand gets heavier and a 4WD is necessary. Nxai Pan's roads are very sandy - 4WD vehicle with low range is essential. Make sure your vehicle is in good condition. There's no cellular phone reception and if you get stuck you'll probably have to sort it out by yourself.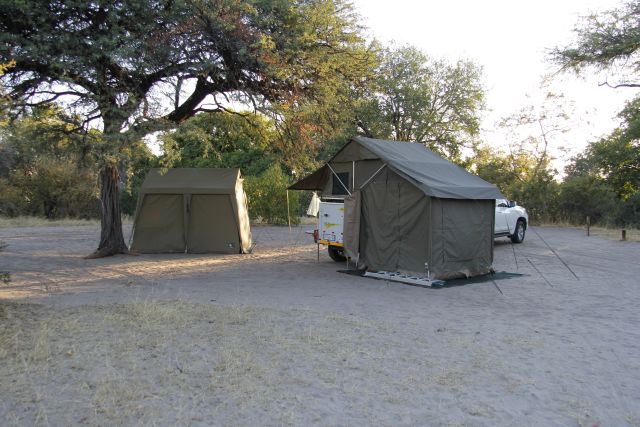 Camping in Makgadikgadi Park

Khumaga: there are ten camping stands at Khumaga, on the bank of the Boteti River. Eash camp site has two new ablution blocks with solar power.
Njuca Hills: There are two camp sites, each with a neat long drop and a bucket shower. Closed down.
South Camp: This campsite was upgraded and has two new ablution blocks.
Non-camping accommodation in Makgadikgadi Park
Meno a Kwena is a luxury tented safari camp overlooking the Boteti River off the Rakops Road.

The western entrance to Makgadigadi is Khumaga Gate, it requires a typical African ferry crossing.
This ferry is little more than a floating pontoon. It ias only able to carry one vehicle at a time across the narrow 100 metres width.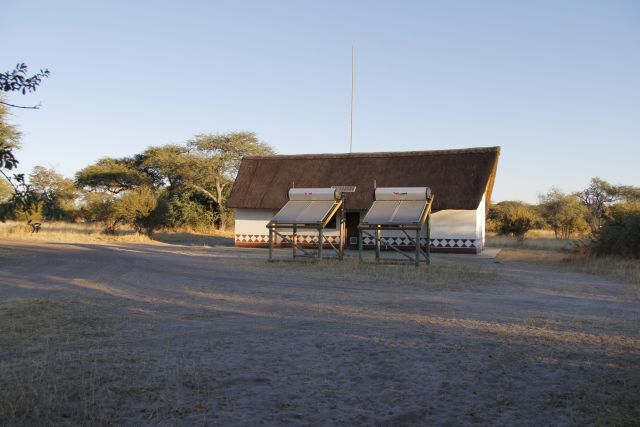 Makgadigadi
Pans Game Reserve is a relatively small park which was established in early 1970s. It is complemented by Nxai Pan National Park, a further 2,500 square km, which was combined with Makgadigadi to form one park in the early 1990s.

Together, the parks protect large tracts of salt pans, palm forests, grasslands and savannahs.

Facts about Makgadigadi Pans National Park

* Makgadigadi Pans National Park is located between Central Kalahari game Reserve and Maun. Distance from Maun south to CKGR is around 100 km on tarred road before turn off to the sandy track.

* There are no provisions in Makgadigadi National Park, but ablution facilities are clean and comfortable.

* Reservations for camping must be done before entering the park well in advance.

* Conservation fees can be paid for at the offices for the national parks in the main towns (Maun, Lethlakane, Gaborone, Francistown, Kasane), or you may be able to buy them at the entrance gates. It can also be pre-paid.

* 4WD vehicle is essential. You cannot explore the park without good ground clearance and low range. Tracks are sandy and narrow.

Rates: on request. Park/daily/vehicle fees are not included in camping fees.

Facebook groups:

NAMIBIA: https://www.facebook.com/groups/namibia.namibia

BOTSWANA: https://www.facebook.com/groups/botswana1

DRONESBERG AERIAL PHOTO/VIDEO: https://www.facebook.com/dronesberg

Contact & reservations:
E-mail: info@namibweb.com



Reservations are only accepted in writing: by fax or via e-mail.
Final availability confirmation: in writing: by fax or via e-mail.

Terms & conditions, Payment options and Cancellation policy

Related:

@ Makgadikgadi Pans National Park
@ Camping sites in Botswana's national parks

Accommodation in the area:

@ Camp Kalahari
@ Dinaka Safari Lodge
@ Leroo La Tau Bush Lodge
@ Jack's Camp
@ Meno a Kwena Tented Camp
@ Planet Baobab
@ San Camp

Activities in the area:

Page created and serviced by



www.namibweb.com

Copyright © 1998-2023 namibweb.com - The online guide to Botswana
All rights reserved | JOIN | VIDEO PORTFOLIO | VIDEO/PHOTO COLLECTION
Telegram | YouTube | Blog
Page is sponsored by ETS & Exploring Namibia TV
Disclaimer: no matter how often this page is updated and its accuracy is checked, www.namibweb.com and ETS
will not be held responsible for any change in opinion, information, facilities, services, conditions, etc. offered by
establishment/operator/service/information provider or any third party