Kob Inn East London
Eastern Cape
Kob Inn is a family resort on the Wild Coast of the Eastern Cape of South Africa. It offers a perfect mixture of Wild Coast hospitality, adventure, relaxation and h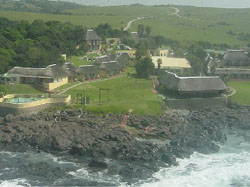 omely comfort to their guests. The setting is right on the sea front with the furthest accommodation a maximum distance of 100m from the sea. Rooms are spacious, comfortable with either double or family sized layouts, each with its own en-suite bathroom. The hotel is flanked by sheltered beaches, ideal for bronzing that city body. Take a picnic hamper and chilled wine and seek out your own private corner of paradise for the perfect escape. Those who wish to pick up the pace can spend their days fishing - excellent for rock, surf and river fishing, boating, canoeing, hiking trails and mountain or quad biking.
Kob Inn enjoys an enviable reputation for excellent service and our staff are rated the friendliest and most honest on the Wild Coast by our guests. Good food is synonym with Kob Inn, with fresh fish and seafood being a regular feature on the table menu. Saturday nights are renowned for seafood banquets with a mini seafood dinner on Wednesday nights. The bar is situated on the edge of the rocks and offers panoramic views of the sea. Hosts also cater for small weddings, anniversaries, that special birthday, event celebrations and conferences.
Facilities include:

Tennis court
Fresh Water Swimming Pool
Satellite TV
Trampoline
Full Size Billiard Table
Darts

Table Tennis
Pool Table
Volley Ball
Canoes
Motorised Boats
Baby Sitting Services
Private 600m Grass Airstrip
Rates per person per night, full board: on request
ROOM TYPE

Sea facing rooms
Non Sea facing rooms
Phezulu Honeymoon Suite
16 January until 30 November
-
-
-
December Holidays:
01 December until 15 January
-
-
-
Children's Rates: Out of season: 1 year old = 10%; 2 - 4 years = 20%; 5 years = 30%; 6 years = 40%; 7 years = 50%; 8 years = 60%: 9 years = 70%; 10 years = 80%; 11 years = 90%; 12 years and above at full rate.

Children's Rates: In season: 1 year old = 10%; 2 years = 20%; 3 years = 30% etc; 10 years and above at full rate.
Contact & reservations:


E-mail: info@namibweb.com

To book:
1) you can e-mail us requesting information and/or rates
Reservations are only accepted in writing: by fax or via e-mail.
Final availability confirmation: in writing: by fax or via e-mail.

Terms & conditions, Payment options and Cancellation policy
Page created and serviced by



www.namibweb.com

Copyright © 1998-2019 NamibWeb.com - The online guide to South Africa
All rights reserved | Pond5 | VIDEO LIBRARY
Page is sponsored by ETS & www.namibweb.com
Disclaimer: no matter how often this page is updated and its accuracy is checked www.namibweb.com and ETS will not be held responsible for any change in opinion, information, facilities, services, conditions, etc. offered by establishment/operator/service/information provider or any third party
Description & pictures: Copyright © Kob Inn