Felix Unite Kunene River rafting

Itinerary:
Friday:
Overseas clients arrive in the morning and transferred in Windhoek. A day room will be organised on request. There is time for freshening up, relaxing, visiting the bank, and any last minute purchases for the trip, etc... Lunch on own account. The cost of the day room is at own account. South African clients arrive either from Johannesburg in the morning or Cape Town at 13H30. All clients will either be transferred to Elisenheim Guest Farm or meet there to spend the night.
Saturday:
Toyota minibuses are used for transport and have a luggage restriction (i.e. only soft bags). After breakfast the group departs for Okaukuejo in the Etosha National park.
Sunday:
An early departure sees the group on the road to the Namutoni camp on the eastern boundary of the park, via Halali where lunch will be organised. Many of the species found in the park will be seen, amongst them hopefully the rare Damara Dik-Dik. Your guides prepare the evening meal around the campfire.
Monday:
Start after breakfast, heading North to Ruacana on the Kunene River. Your route takes you past numerous rural villages and through the two largest towns/cultural centres of Ovamboland, Ondangwa and Oshakati. The Ovambos are by far the largest tribe in Namibia. At Ruacana, where the Kunene first encounters Namibian soil, you may have the opportunity of viewing the Falls and Hydro-electric scheme (time dependant) before continuing to your campsite on the river banks.
Tuesday:
After breakfast the gear is stowed in the back-up vehicles and rafts respectively. Safety and paddling instructions are given before departure. Rafts are used and everyone participates in paddling. You spend approximately six hours per day on the water and the distances covered depend on flow and wind conditions. Provisions are carried on the boats for a picnic lunch at midday. It must be stressed here that although there are some exciting rapids, this trip caters for those seeking an unusual wilderness experience on one of the remotest rivers in Africa. The charm of this participation safari is to be found in unique rugged scenery, fascinating flora, intriguing diversity of bird life and some great paddling. Your backup vehicle will carry all the overnight equipment.
Wednesday, Thursday & Friday
You will enjoy the white water of some exciting rapids, explore small islands and meet members of the Ovahimba tribe. Handling these encounters sensitively, you may at their invitation, be able to take some interesting pictures. The scenery is varied and plentiful considering that the river winds its way through a semi-arid region. You should see Goliath Heron, Greenbacked Heron, Bluecheecked Bee-Eaters, Fish Eagle and Osprey amongst many others. Crocodiles are encountered on a regular basis but are usually shy and secretive. As you will be camping on the banks of the river, you meet up with your back-up crew each evening.
Saturday:
The river breaks up into numerous streams as you paddle your rafts past well - wooded islands to arrive at the picturesque and remote Epupa Falls in the afternoon. Here the group will camp beneath the palms. Hiking along the rim of the gorge provides for spectacular views of the falls. Epupa is also home to the Rufoustailed Palmthrush, a species endemic to this area.
Sunday:
Packing up camp after breakfast, the party heads south through the Kaokoland, travelling along the western boundary of Etosha. The group will reach Kamanjab in the late afternoon to camp overnight at a Cheetah Farm where they can view tame and wild cheetah.
Monday:
After breakfast, depart for Windhoek via Okahandja, renowned for its curio market. Arrive in Windhoek at approximately 13h00. Transit passengers will be dropped off at the Kalahari Sands Hotel. Lunch is for your account. Please DO NOT book flights out of Windhoek before 4pm. Transport to the airport is for your own account, the vehicles continuing on their way to the Orange River.

(804 kms)


N.B.: This is an expedition and the itinerary cannot be expected to stay the same at all times. Please bear in mind that we are out in the "sticks" and anything can happen!
Trips run from April to October. Duration: 10 days. Maximum size of party can be up to 20 people. Minimum size to be 8 (any less and the trip will be cancelled or postponed with full refunds if necessary).
The cost per person ex Windhoek: on request

Minimum: 14 persons.

Map: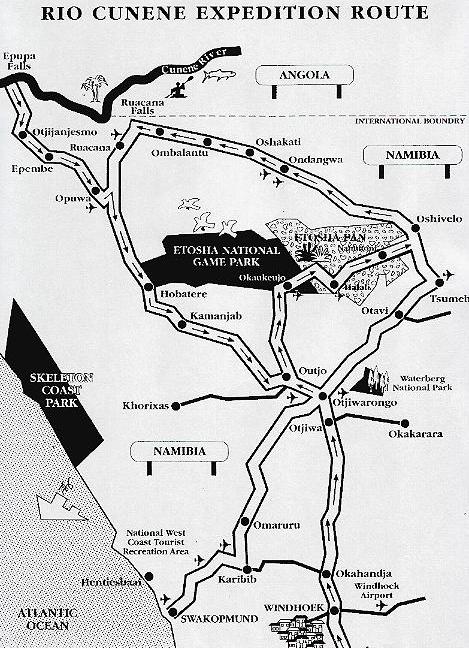 KIT LIST:
Hat/peak, 1 costume, 1 pair of dry shoes, passport (compulsory!), 1 pair of wet shoes, 2 pairs of socks, camera, 4 t-shirts, 2 pairs of shorts, torch, 1 long-sleeved shirt, underwear, slip-slops, 1 sarong/kikoi, 1 tracksuit, sunglasses (with strap), windbreaker, 1 towel, waterproof blockout, 1 sleeping bag, moisturising cream, insect repellent, binoculars and bird book, toiletries (biodegradable).
SUPPLIED BY FELIX UNITE:
All cutlery, all crockery, deck chairs, air mattress's, ground sheet, mosquito net and tents.
Important:
Malaria tablets must be taken. Consult your Pharmacist/Doctor.
Notes:
Indemnity form is here. Please download it, print out, fill in and fax us back when booking a tour.
Contact & reservations:
E-mail: info@namibweb.com
Please fill in our booking form and fax it back indicating a method of payment or e-mail us.
Terms & conditions, Payment options and Cancellation policy
Related:
Page created and serviced by



www.namibweb.com

Copyright © 1998-2024 namibweb.com - The online guide to Namibia
All rights reserved | JOIN | VIDEO PORTFOLIO | VIDEO/PHOTO COLLECTION
Telegram | YouTube | Blog
Page is sponsored by ETS & Exploring Namibia TV
Disclaimer: no matter how often this page is updated and its accuracy is checked, www.namibweb.com and ETS
will not be held responsible for any change in opinion, information, facilities, services, conditions, etc. offered by
establishment/operator/service/information provider or any third party