Christuskirche in Windhoek
The famous church, which can be seen on our Windhoek city tours, is located up the Fidel Castro Street from Windhoek Zoo Park. One of the well-known Windhoek's monuments.
The German Lutheran Congregation in Windhoek was founded on 20 January 1896. At the beginning services were conducted in the church hall of the parsonage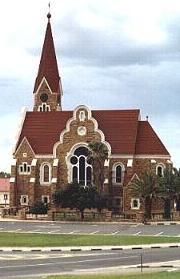 consecrated on 1 November 1896. Idea to build a church existed from the beginning. A site was allocated already in 1898 and plans were drawn in 1900 by Government architect Redecker but wars at the beginning of the century delayed the implementation of the project.
The construction of the church commenced only in 1907. The site was chosen on the top of the hill visible from long distance and name (Church of Christ) was chosen to symbolize an idea of peace. The building was completed at cost of 360 000 German marks which was the double of what initially planned. The construction was supervised by Redecker who initially drew the plan. The only local material was sandstone mined in vicinity of present Avis dam and a small railway line was constructed to transport it to the construction site. The portico consists of Carrara marble was imported from Italy while roof details, clock and other materials were shipped from Germany.

The tower (42 metres high) was topped by a Gothic spire although the church was built in a neo-Romanesque style.
The three bronze bells bear the inscriptions ''Ehre sei Gott in der Hohe'' (''Glory to God in the highest''), ''Friede auf Erden'' (''And on earth peace'') and ''Den Menschen ein Wohlgefallen'' (''Goodwill towards men'').
Three stained glass windows (recently renovated) were donated by German Emperor, Kaiser Wilhelm.
The church was consecrated on 16 October 1910. The original altarpiece, a copy of Ruben's famous ''Resurrection of Lazarus'', was in later years moved to the gallery. The copy was made by Berlin artist Clara Berkowski an donated by the wife of Governor Seitz shortly before World War 1. The original painting was destroyed in Berlin in 1945.

The church was renovated from 1967 to 1972. At that time the corrugated iron roof was replaced by tiles.
Inside on the church's wall there is a bronze plaque with the names of German soldiers, marines and civilians killed during Nama and Herero uprisings in 1903-1907.
The services are conducted in German at 10.00 on Sundays.
Requests for guided tours can be sent here. Church and liberation struggle, Monuments in Windhoek.
Christuskirche aerial photo gallery - drone service Namibia
Facebook:
NAMIBIA: https://www.facebook.com/groups/namibia.namibia
WINDHOEK: https://www.facebook.com/groups/windhoek.namibia.africa
KATUTURA: https://www.facebook.com/groups/katutura
DRONESBERG AERIAL PHOTO/VIDEO: https://www.facebook.com/dronesberg
Contact & information:
E-mail: info@namibweb.com
Reservations are only accepted in writing: by fax or via e-mail.
Final availability confirmation: in writing: by fax or via e-mail.
Terms & conditions, Payment options and Cancellation policy
Page created and serviced by



www.namibweb.com

Copyright © 1998-2023 namibweb.com - The online guide to Namibia
All rights reserved | JOIN | VIDEO PORTFOLIO | VIDEO/PHOTO COLLECTION
Telegram | YouTube | Blog
Page is sponsored by ETS & Exploring Namibia TV
Disclaimer: no matter how often this page is updated and its accuracy is checked, www.namibweb.com and ETS
will not be held responsible for any change in opinion, information, facilities, services, conditions, etc. offered by
establishment/operator/service/information provider or any third party