Zambia's Croc Valley Camp offers affordable safari accommodation bordering the picturesque Luangwa River, situated just 500 meter outside the entrance of the South Luangwa National Park. It caters for the budget traveler as well as those looking for both self-catering and full board options, offering comfort together with rustic simplicity.
It is renowned for its large concentration of mammals and elephants and it is not unusual to see a wide-ranging variety of wildlife from the comfort and safety of your chalet deck, the bar, restaurant and the poolside.

The exceptional location of Croc Valley Camp makes it a regular host to elephants, giraffe, buffalo, hippos, monkeys, antelope and crocodiles.

Birdlife can also be viewed in abundance with exceptional sightings of many of the migratory birds plus regular residents like Open Billed Storks, African Fish Eagles, bee-eaters and many more.
Whether you want to go on safari in the comfort of our especially adapted game-viewing vehicle or want to venture out on foot, hosts offer a safari tailored to your needs with resident professional guides whose intimate knowledge will make for an unforgettable experience.

The camp fits effortlessly into the surrounding riverine habitat with fantastic views and it is not uncommon to see elephants crossing the river and strolling through the camp on a regular basis.

The chalets are completely environmentally friendly and in order to escape the off-season floods camp's chalets are raised on stilts providing a fantastic viewpoint from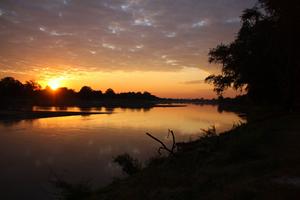 which to see the wildlife that wanders through the camp.
Throughout your stay, camp's chef's can provide delicious meals and snacks from original recipes using fresh ingredients for your meticulously prepared meals and for those that wish to self-cater or camp, full kitchen facilities are provided. Our campsite is well catered for campers and overland trucks with parking areas, fire places, power points, hot showers and ablutions.
Between safaris, in the midday heat, the big outdoor swimming pool provides the perfect place to relax and cool off. Hammocks are also scattered around the camp over-seeing the river and the swimming pool. The bar is open until 21:30 and serves ice cold drinks throughout the day.
Croc Valley Camp accepts Zambian Kwacha, US Dollars, GB Pounds, Euros, South Africa Rand and Visa (5% surcharge).
Supplies
Food and other supplies if you are self-catering or camping should be brought with you. If you need to pick-up supplies in Chipata there is a Shoprite supermarket, Barclays and Zambian banks and all manner of other goods suppliers that you may need to stock up on!
In Mfuwe village itself, basic groceries only are available, if you are self-catering it is advisable to do shopping in Chipata for the duration of your stay in the valley.
Fuel
There is a OASIS fuel station here in Mfuwe, we do usually have petrol and diesel, but in case of lack of supply, it is always wise to info@namibweb.comry a couple of full jerry cans with your own vehicle.
Arrival by road
The road up to the park from Chipata is an adventure. As you pass through rural Zambian villages you will see some of the out of the way scenery often missed by tours that do not go off the beaten track. Your efforts will be worth it when you arrive at camp and quench your thirst at our riverside bar and watch the Luangwa River meandering peacefully past the camp.
Directions
If you are coming from Malawi, drive through Chipata as if you are going to Lusaka, then take the signpost to "Lundazi" which is also the South Luangwa National Park road, just keep on going straight, do NOT turn. If coming from Lusaka, it is a left turn just before you enter Chipata Town and just passed the Protea Hotel. Follow the tarred road to South Luangwa National Park. When you reach the Tee Junction at MFUWE ZESCO Sub Station, the airport is to the left, you must turn right to come to Croc Valley Camp. Follow the road for about 20 minutes going passed the Oasis fuel station, also go straight passed the road to the left for another couple of meters on your right hand side you will see a big sign for Croc Valley Camp, turn right there on to a dirt road, another signs about 700m will indicate our camp, turn right and just follow the track as it will lead you straight into our camp.
What to expect
A friendly family welcome, comfortable rooms, laundry service, campsite, hot showers, flushing toilets, restaurant, bar and a hippo friendly swimming pool all on the banks of the Luangwa river.
Park entrance fees
All entrance fees are payable directly to the park, therefore it is advisable to bring enough cash to have ready at the entrance gate.
Safari activities
The morning drives leave camp at 06.00hrs and return around 10.00hrs.
Our night drives leave camp at 16.00hrs and return around 20.00hrs.
The walking safari sets off at 06.00hrs and return around 10:00 hrs.
Community activities
Village Walks & Village Overnight Stays
Project Luangwa Visit
Mulberry Mongoose Visit
Tribal Textiles Shop & Art Safaris
Chipembele Education Center
Accommodation
River Front Tents
Self-Catering Chalets
Backpacker Rooms
Eco Tents
Family Room
Camping
Rates per person per night: on request
Self-catering chalets
Luxury river front tents
Children sharing
Camping, no meals
Backpacker/dorm rooms, no meals
Contact & reservations:
E-mail: info@namibweb.com

To book:
1) you can e-mail us requesting information and/or rates

Reservations are only accepted in writing: by fax or via e-mail.
Final availability confirmation: in writing: by fax or via e-mail.

Terms & conditions, Payment options and Cancellation policy


Page created and serviced by



www.namibweb.com

Copyright © 1998-2023 namibweb.com - The online guide to Zambia
All rights reserved | JOIN | VIDEO PORTFOLIO | VIDEO/PHOTO COLLECTION
Telegram | YouTube | Blog
Page is sponsored by ETS & Exploring Namibia TV
Disclaimer: no matter how often this page is updated and its accuracy is checked, www.namibweb.com and ETS
will not be held responsible for any change in opinion, information, facilities, services, conditions, etc. offered by
establishment/operator/service/information provider or any third party

Description & images: Copyright © Croc Valley Boutique Camp