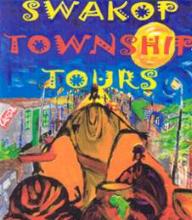 Hosts run daily tours into Mondesa township in Swakopmund, Namibia. Their aim is to give the tourist the opportunity meet the people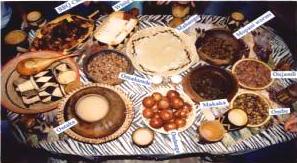 of Namibia and learn more about their cultures and help the people of Mondesa and DRC communities. You walk through the streets of Mondesa taking the opportunity to chat with local people, visiting them at their homes and getting a fascinating glimpse into a typical Namibian township. Hosts are attempting to include as many cultures as possible and people.
At present there are Herero, Nama (medicine man), Damara and Ovambo cultures represented.
The tour includes drinks and culinary discoveries…you stop at the local shebeen (African pub) and indulge in traditional food in an Owambo hut.
At night you are entertained by the OB Street dancing girls. Performing traditional Ovambo dances around the fire and during 11 a.m. tour you visit a kindergarten. These tours are 4 hours in length and depart twice a day at 11 a.m. and 3-4 p.m. Minimum of 2 people per tour is required. Bring a camera along for unique photos ... with permission! But most important bring a big smile, open mind and enjoy meeting our wonderful people of Namibia.
Rates per person: on request
Contact & reservations:
E-mail: info@namibweb.com

To book:
1) you can e-mail us requesting information and/or rates

Reservations are only accepted in writing: by fax or via e-mail.
Final availability confirmation: in writing: by fax or via e-mail.

Terms & conditions, Payment options and Cancellation policy
Page created and serviced by



www.namibweb.com

Copyright © 1998-2023 namibweb.com - The online guide to Namibia
All rights reserved | JOIN | VIDEO PORTFOLIO | VIDEO/PHOTO COLLECTION
Telegram | YouTube | Blog
Page is sponsored by ETS & Exploring Namibia TV
Disclaimer: no matter how often this page is updated and its accuracy is checked, www.namibweb.com and ETS
will not be held responsible for any change in opinion, information, facilities, services, conditions, etc. offered by
establishment/operator/service/information provider or any third party
Description & pictures: Copyright © Hata/Angu Cultural Tours