Shalimpo Game Lodge
Tuli Block
Botswana
ACCOMMODATION

Shalimpo is a small, unassuming, yet stylish lodge accommodating a maximum number of eight guests. All facilities have exq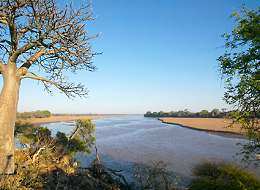 uisite, panoramic views of the reserve, confluence of the Shashe and Limpopo rivers and/or the sandstone hills and rock formations on the Zimbabwean/South African sides of the rivers … setting the tone for your exclusive and stylish, yet informal and relaxed stay in one of Africa's most beautiful destinations.

Facilities at Shalimpo include a well appointed comfortable and functional open plan indoor dining and lounge area, roofed patio flowing into an open air braai facility in an old African boma configuration to spend those crisp clear African nights around the campfire with friends and family. There are four tastefully furnished African safari styled en-suite bedrooms to retire to for some solitude, creating a superb alternative to spending time in the lookout shelter, or just sitting admiring the views from the unique natural vantage points on the precipice of the lodge grounds or relaxing at the plunge pool.
ACTIVITIES

At Shalimpo hosts strive to give their guests a well rounded experience of the area and all it has to offer in respect to game, birding, natural features and history, they offer a variety of safari activities all professionally guided which include sunrise and sunset game drives, safari walks, visits to the waterhole hides, outings to interesting sights and spectacular night drives.

The Shashe River on the east and the Limpopo on the south constitute our boundaries with Zimbabwe and South Africa respectively and provide the reserve with 18 km of riverine woodland. This part of the Limpopo valley lies at an altitude of about 600 metres above sea level, and the Shashe River has a constant subterranean flow when not in flood. The result is some unique vegetation for this latitude similar to areas much closer to the equator, with some of the biggest tree species in the Southern African region.
DIRECTIONS TO SHALIMPO

Driving from Johannesburg
From Johannesburg or Pretoria, take the N1 north to Polokwane (Pietersburg). From Polokwane (Pietersburg) follow the R521 via Dendron, Vivo and Alldays to Pontdrift (see maps). The journey by road takes roughly 5 hours from Johannesburg. Our Safari Guide will await your arrival at Pont Drift. It is advisable for guests to arrive at Pont drift at around 14:00 hrs so as to leave enough time for border formalities etc. so it would be wise to plan to leave Johannesburg at around 9:00am which should give you ample travel time. Guests can leave their vehicles in the parking area within the police enclosure on the South African side of the border and cross the Limpopo River either on the cable car or the Shalimpo vehicle (the cable car is used when the Limpopo is flowing and costs 30 pula). Once across the border in Botswana, it takes about an hour to travel the 30 kilometres to Shalimpo.
Rates per group per night, bed and breakfast: on request
| | |
| --- | --- |
| 1-4 persons | - |
| 5-6 persons | - |
| 7-8 persons | - |
| Game drive, per group | - |
Facebook groups:

NAMIBIA: https://www.facebook.com/groups/namibia.namibia

BOTSWANA: https://www.facebook.com/groups/botswana1

DRONESBERG AERIAL PHOTO/VIDEO: https://www.facebook.com/dronesberg

Contact & reservations:
E-mail: info@namibweb.com



Reservations are only accepted in writing: by fax or via e-mail.
Final availability confirmation: in writing: by fax or via e-mail.

Terms & conditions, Payment options and Cancellation policy

Accommodation in the area:

@

Limpopo River Lodge
@ Mashatu Game Reserve
@ Stevensford Game Reserve
@ Tuli Safari Lodge
@ Wild At Tuli Safaris

Page created and serviced by



www.namibweb.com

Copyright © 1998-2021 namibweb.com - The online guide to Botswana
All rights reserved | JOIN | VIDEO PORTFOLIO | VIDEO/PHOTO COLLECTION
Page is sponsored by ETS & Exploring Namibia TV
Disclaimer: no matter how often this page is updated and its accuracy is checked www.namibweb.com and ETS
will not be held responsible for any change in opinion, information, facilities, services, conditions, etc. offered by
establishment/operator/service/information provider or any third party
Description & images: Copyright © Shalimpo Game Lodge