The Royal Livingstone Hotel
Southern Province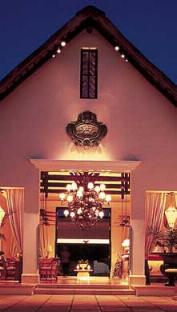 Architecturally, the buildings of The Royal Livingstone Hotel in Zambia, take their cue from African resonances. The Royal Livingstone Hotel, stretches luxuriously along the banks of the Zambezi River. The Hotel consists of a series of 17 colonial-style buildings, with deep verandas, set amidst indigenous trees and plants. The main hotel is a sequence of thatch-roofed buildings, most African in their influence, and incorporates the lounge, restaurant and bar. A classic swimming pool visually links the waters of the river with the terraces of the hotel, with a sweeping timber deck planted in the swirling water of the Zambezi. The reception area is framed by a classic courtyard featuring a fountain and exuding the aroma of herbs from the interior gardens. Overhead, wooden fans cool the charged atmosphere. The resort's deep, shaded verandah, offers an uninterrupted view of the Zambezi River and is the ideal place to curl up with a book discovered in the well-stocked library. The lounge is filled with original artwork depicting scenes of David Livingstone's great African adventures.

Only footsteps from the Zambezi River, the rooms and suites offer a tranquil retreat from the unconstrained beauty of their surroundings. The Royal Livingstone, is a 5-star, 173-roomed luxury hotel. The rooms are two-storey clusters and each cluster comprises approximately 10 en-suite air-conditioned rooms, offering private balconies or terraces. Interior furnishings accentuate the influences of Africa translated into a cultured sumptuousness that reflects the essence of African Bush life. Natural light invades the bathrooms, as the luxurious sized showers allow natural light to filter through a milk-glass window.
The guest rooms comprise the following:

Presidential Suite
Standard Suite
Standard King
Standard Twin
Standard Paraplegic

Standard Room Features & Amenities

Butler service (from 07h00 - 23h00)
Satellite TV, Radio on TV set
Coffee and tea-making facilities
Mini-bar, mini-safe
Telephone with message/wake-up/voice-mail facilities
Dry-cleaning & Laundry
Cots, babysitting service, 24 hour room service
Video in suites
Rates per room per night, bed and breakfast: on request
Contact & reservations:

E-mail: info@namibweb.com

To book:
1) you can e-mail us requesting information and/or rates: e-mail

Reservations are only accepted in writing: by fax or via e-mail.
Final availability confirmation: in writing: by fax or via e-mail.

Terms & conditions, Payment options and Cancellation policy
Accommodation the area:
@ Chanter's Lodge
@ Cholwe Adventures
@ Jollyboys Backpackers Lodge
@ Jungle Junction
@ Kaazmein Lodge & Resort
@ Likute Guest House
@ Limbo Guest Lodge
@ Livingstone Safari Lodge
@ Maramba River Lodge
@ Natural Mystic Lodge
@ New Fairmount Hotel and Casino
@ Ngolide Lodge
@ The Bushfront Lodge
@ The David Livingstone Safari Lodge
@ The River Club Livingstone
@ The Stone Guest House
@ The Wane Guest Lodge
@ The Zambezi Waterfront Lodge
@ Thorntree River Lodge
@ Songwe Village
@ Zambezi Sun
Activities in the area:
@ Safari Par Excellence: activities & tours
@ Safari Par Excellence transfers


Page created and serviced by



www.namibweb.com

Copyright © 1998-2023 namibweb.com - The online guide to Zambia
All rights reserved | JOIN | VIDEO PORTFOLIO | VIDEO/PHOTO COLLECTION
Telegram | YouTube | Blog
Page is sponsored by ETS & Exploring Namibia TV
Disclaimer: no matter how often this page is updated and its accuracy is checked, www.namibweb.com and ETS
will not be held responsible for any change in opinion, information, facilities, services, conditions, etc. offered by
establishment/operator/service/information provider or any third party

Description & pictures: Copyright © Sun International