Border posts
NAMIBIAN IMMIGRATION BORDER POSTS
NAME
TEL
FAX
ADDRESS
HOURS
Ariamsvlei
264-63-280057
264-63-280058
Box 7 Ariamsvlei
24 hours
Eros Airport
264-61-232282
264-61-232001
P/Bag 133200 Windhoek
Depends on schedule
Gobabis (Buitepos), 125 km east of Gobabis
264-62-563518
264-62-564147
P/Bag 896 Gobabis
08h00 - 22h00
Grootfontein
264-67-243328
264-67-243170
P/Bag 2002 Grootfontein
08h00 - 17h00
Holweg
264-63-280683
264-63-280683
Box 1 Aroab
08h00 - 16h30
Hosea Kutako Airport
264-62-540267
264-62-540375
P/Bag 13200 Windhoek
Depends on schedule
Impalila
264-66-218087
264-66-253800
P/Bag 5012 Katima Mulilo
07h00 - 18h00
Karasburg
264-63-270227
264-63-270291
P/Bag 2003 Karasburg
08h00 - 17h00
Kasika
267-6250814
267-6250814
P/Bag 5012 Katima Mulilo
07h00 - 18h00
Katima Mulilo
264-66-253800
264-66-253800
P/Bag 5012 Katima Mulilo
08h00 - 17h00
Keetmanshoop
264-63-222114
264-63-224765
P/Bag 2100 Keetmanshoop
08h00 - 17h00
Klein Manasse, 200 km east of Keetmanshoop en route to Kalahari Gemsbok Park
264-63-280680
264-63-280680
Box 1 Aroab
08h00 - 22h00
Lüderitz
264-63-203116
264-63-202924
Box 87 Lüderitz
08h00 - 17h00
Mohembo, 25 km south of Divundu
264-66-259902
264-66-259902
P/Bag 5012 Katima Mulilo
08h00 - 17h00
Ngoma, 60 km south-east of Katima Mulilo
264-66-252856
264-66-253800
P/Bag 5012 Katima Mulilo
08h00 - 18h00
Noordoewer
264-63-297122
264-63-297021
Box 38 Noordoewer
24 hours
Omahenene
264-65-259504
264-65-259504
P/Bag 2011 Ondangwa
08h00 - 18h00
Ondangwa
264-65-240193
264-65-240247
P/Bag 2011 Ondangwa
08h00 - 17h00
Oranjemund
264-63-232756
264-63-232756
Box 14 Oranjemund
06h00 - 22h00
Oshakati
264-65-220801
264-65-221284
P/Bag 2011 Ondangwa
08h00 - 17h00
Oshikango, 60 km north of Ondangwa
264-65-264615
264-65-264615
P/Bag 2011 Ondangwa
08h00 - 18h00
Ruacana
264-65-270290
264-65-270010
P/Bag 2011 Ondangwa
08h00 - 18h00
Rundu
264-66-255356
264-66-255636
P/Bag 1814 Rundu
08h00 - 17h00
Trans Kalahari
264-62-560404
264-62-560416
Box 1186 Gobabis
07h00 - 24h00
Velloorsdrift, 100 south-east of Karasburg
264-63-269134
264-63-269134
P/Bag 2003 Karasburg
08h00 - 22h00
Walvis Bay
264-64-204036
264-64-203104
P/Bag 5002 Walvis Bay
08h00 - 17h00
Wenela, 4 km north of Katima Mulilo
264-66-253430
264-66-253153
P/Bag 5012 Katima Mulilo
07h00 - 18h00
General notes:
Third party insurance has to be purchased at the airport. Proof of ownership and police clearance certificate must be available.
ROAD LEVY PAYMENTS AT BORDER POSTS
The following border posts have payment offices: Noordoewer, Ariamsvlei, Buitepos, Oshikango, Omahenene, Ruacana.
The following border posts do NOT have payment offices: Holweg, Klein Menasse (payment office at Aroab), Ngoma, Wanella (payment office in Katima Mulilo).
There is one further payment office in Windhoek at Africon's offices. There is NO payment office in Keetmanshoop.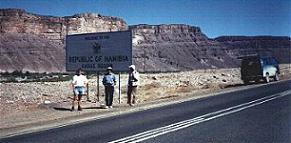 Near Noordoewer border post
Related: