Karasburg
Town in Namibia
Karas Region
Karasburg is a small town with around 4,000 inhabitants in the Karas Region in southern Namibia and the district capital of the Karasburg electoral constituency. It lies at the heart of the southern Namibian sheep farming industry.
Location

There are three main routes that lead into Karasburg. From Grünau in the west, Onseepkans in the south and the B3 main road that leads to the South African border in the east. The town lies 710-kilometre (440 mi) south of Windhoek, 862-kilometre (536 mi) north of Cape Town and 110km West of the Ariamsvlei border post. Karasburg is the only relatively large town south of Keetmanshoop in Namibia.
Economy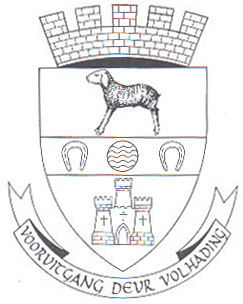 Karasburg's main industry is sheep farming, but it is also an important truck stop for transport vehicles streaming into Namibia from the South African border. The town supports several massive farms in the area. The town also has its own airport Karasburg Airport: (IATA:KAS) which is used mainly for light aircraft or as an emergency landing strip for larger planes. Karasburg has the busiest train station in Southern Namibia and is also the last significant stop before Upington. Bondels Dam, built in 1959, lies 7-kilometre (4.3 mi) west of the town.

Karasburg is scheduled to be downgraded to "town" status before November 2010.

The German association "Fahrräder für Afrika e.V." (Bicycles for Africa) is working together with the Catholic Aids Action (CAA) and the Bicycling Empowerment Network (BEN) Namibia to build a "Bicycle Empowerment Centre" in Karasburg. Local people infected with the HI-virus will be trained to repair and build bikes and also receive the know-how to run the workshop on their own. Bicycles will be sold at low prices to the inhabitants of the region, allowing easy travel and transportation, while the income from the workshops is also used to finance local aid projects. The project is supported by governmental agencies in Germany and Namibia.
Climate

Karasburg has an extreme climate most times of the year with temperatures rising to 48 degrees Celsius in the rainy season and dropping to 2 degrees in the dry season. Low rainfall is seen in this region (annual average rainfall: 128 millimetres (5.0 in) at the Karasburg weather station), but the rains usually come in early January and leave as late as early April, depending on the previous season's nature.

Politics
Local authority results, 2010

In the 2010 local authority election in Karasburg, a total of 808 votes were recorded. SWAPO won with approximately 46% of the vote. Of the three other parties seeking votes in the election, RDP received approximately 33% of the vote, followed by the Democratic Party (14%) and the Democratic Turnhalle Alliance (6%). The resulting local council including three SWAPO members, three RDP members and one DPN member. The DPN's info@namibweb.comoline Arendse was elected mayor as the result of an alliance with SWAPO on 3 December, 2010. However, the national Democratic Party condemned the alliance and called the swearing-in ceremony fraudulent. On 8 December, Arendse was recalled from her position in the council and replaced with Ernest Willem Anderson.
Wildlife

The Karasburg region hosts a variety of large to small game, ranging from Kudu and Springbok to Duiker, Klipspringer, Steenbok, Jackal and info@namibweb.comacal. The Kudu are abundant among the 'koppies' and roam free, leaping over any fence that may come in their way whereas the Springbok on the other hand are bound to single encampments, because they lack the suppleness and length to jump over fences. info@namibweb.comacals are widely hunted down by farmers, because they prey on the lambs of sheep. Gemsbuck are also widely scattered across the region in addition to Zebra and Red Hartebeest.
Small town Karasburg is located 700 km from Windhoek and 110 km from the border with South Africa at Ariamsvlei. It has a number of 24 hour garages and three bed and breakfast establishments: Hoons B&B, Pela Pela Backpackers and Jeannie's B&B. Transport: Intercape Mainliner bus with pick ups and drop offs in front of SP Motors. Bank Windhoek and First National Bank offer money-changing facilities and ATMs. There is a post office (8.00 - 16.30 daily, 8.00 - 11.30 on Saturdays). State Hospital is located on the southern outskirts of town. Phone code: 063. Police: 10111.
Coordinates: 28°1'S 18°45'E
Country: Namibia
Region: Karas Region
Constituency: Karasburg Constituency
Government:
• Mayor Ernest Willem Anderson
Population (2001):
• Total: 4,075
Time zone: South African Standard Time (UTC+1)
Would you like to book accommodation in Karasburg or a trip there? Contact us!
Contact & information:
E-mail: info@namibweb.com
Reservations are only accepted in writing: by fax or via e-mail.
Final availability confirmation: in writing: by fax or via e-mail.
Terms & conditions, Payment options and Cancellation policy
Page created and serviced by



www.namibweb.com

Copyright © 1998-2023 namibweb.com - The online guide to Namibia
All rights reserved | JOIN | VIDEO PORTFOLIO | VIDEO/PHOTO COLLECTION
Telegram | YouTube | Blog
Page is sponsored by ETS & Exploring Namibia TV
Disclaimer: no matter how often this page is updated and its accuracy is checked, www.namibweb.com and ETS
will not be held responsible for any change in opinion, information, facilities, services, conditions, etc. offered by
establishment/operator/service/information provider or any third party