Sesriem Camp is located right next to Sossusvlei section entrance gate and overnight there allows entering park an hour before sunrise, earlier than all other tourists staying outside of the park may enter. Sesriem Canyon is located at the entrance gate to Sossusvlei section of the Namib-Naukluft National Park, where centuries of erosion have cut a narrow gorge around a kilometer in length. At the foot of the gorge, which plunges down to 30 to 40 metres, are pools that become replenished after good rains. Sesriem Camp location is very scenic, with mountains and red sand dunes in the background.
Сесрием Кемп расположен у входа в район Соссусвлей национального парка Намиб-Науклюфт. Кемпинг позволяет въехать в парк за час до рассвета и до того как ворота откроются для всех туристов проживающих вне парка. Расположение кемпинга очень живописное, с видами на горы Науклюфт и красные песчаные дюны. Бронирование: info@namibweb.com
NWR SESRIEM CAMP SITE VIDEO DECEMBER 2020:


Sesriem derives its name from the time when earlier Afrikaner pioneers trekkers tied six (ses in Afrikaans) lengths of rawhide thongs (riems in Afrikaans) together to scoop water from the pools. Explore the Sesriem Canyon and famous Elim Dune from this famous scenic camping site. Sesriem Camp consists of forty four camping sites and six overflow camp sites. Camp sites are set apart from each other and many have old camelthorn trees as a shade.
Solitaire car wrecks outdoor museum:
Sesriem Camp offers clean ablution blocks and has filling fuel station, a shop, a restaurant with a bar.

Tsauchab River may flow occasionally and rock pools sometimes occur during rainy season in Sesriem Canyon and provide excellent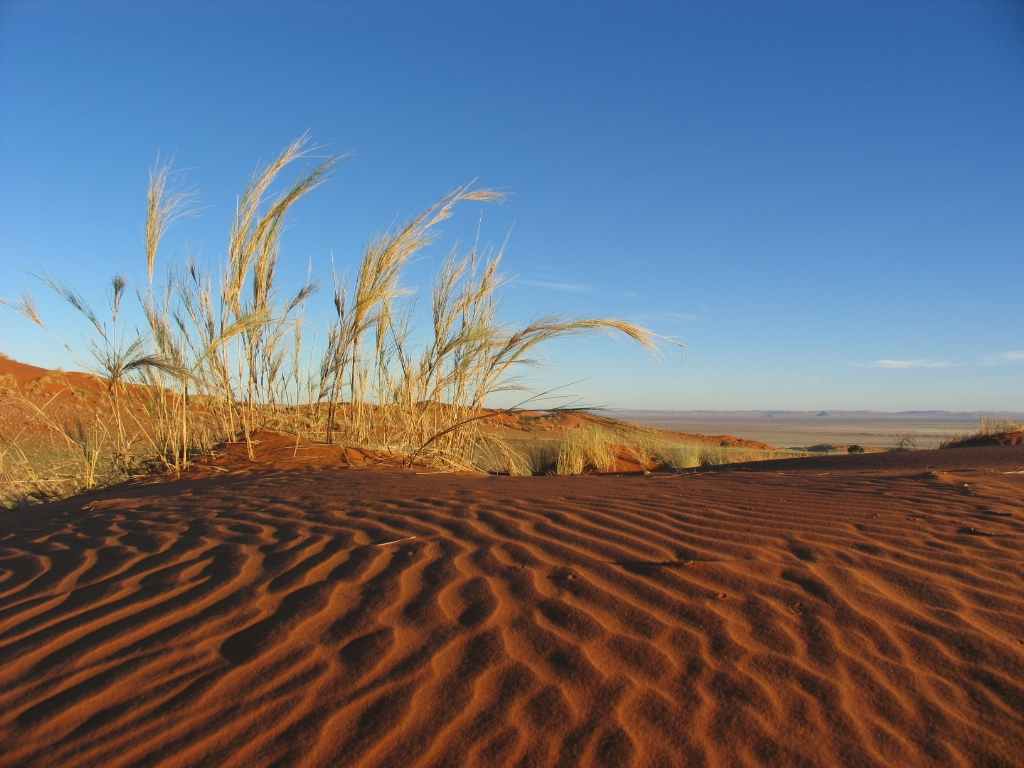 swimming opportunities. Visitors may walk down Sesriem Canyon in dry season. Staying at Sesriem Camp and Sesriem Oshana Camp gives you a bonus: to enter park an hour before sunrise. Main gate for all other visitors opens at sunrise as in all national parks in Namibia.

Ballooning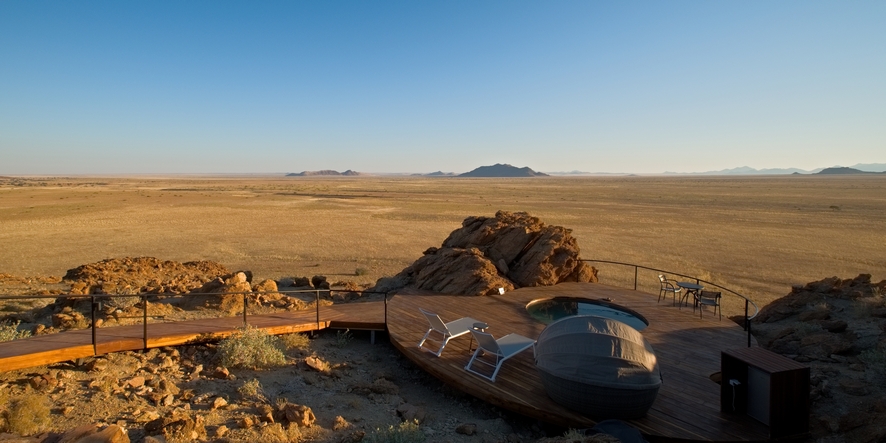 over Sossusvlei is an activity taking off at Sesriem, a champagne breakfast is included on landing.

Scenic flights over Sossusvlei in aircraft and helicopter also depart from Sesriem airstrip.
Sossusvlei (sometimes written Sossus Vlei) is a salt and clay pan surrounded by high red dunes, located in the southern part of the Namib Desert, in the Namib-Naukluft National Park of Namibia. The name "Sossusvlei" is often used in an extended meaning to refer to the surrounding area (including other neighbouring vleis such as Dead Vlei and other high dunes), which is one of the major visitor attractions of Namibia.
The name "Sossusvlei" is of mixed origin, and roughly means "dead end marsh".
Vlei is the Afrikaans word for "marsh", while "sossus" is Nama for "no return" or "dead end". Sossusvlei owes this name to the fact that it is an endorheic drainage basin (i.e., a drainage basin without outflows) for the ephemeral Tsauchab River.
Elim Dune

The Elim Dune is a high and relatively isolated dune located 5 km past the Sesriem gate, on a branch of the main road connecting Sesriem to Sossusvlei. The dune takes its name from a farm that used to be in the area before the National Park was established.
Sesriem & Sossusvlei information and maps
Facebook:
NAMIBIA:
https://www.facebook.com/groups/namibia.namibia
SESRIEM SOSSUSVLEI:
https://www.facebook.com/groups/sossusvlei
NAMIB-NAUKLUFT NATIONAL PARK:
https://www.facebook.com/groups/namib.naukluft
TRAVEL NAMIBIA:
https://www.facebook.com/groups/travelnamibia
DRONESBERG AERIAL PHOTO/VIDEO:
https://www.facebook.com/dronesberg
Contact & reservations:
E-mail: info@namibweb.com
Reservations are only accepted in writing: by fax or via e-mail.
Final availability confirmation: in writing: by fax or via e-mail.
Terms & conditions, Payment options and Cancellation policy
DAILY PARK AND RESORT FEES (PER PERSON AND PER VEHICLE) ARE NOT INCLUDED IN ACCOMMODATION FEES!
---
Page created and serviced by



www.namibweb.com

Copyright © 1998-2023 namibweb.com - The online guide to Namibia
All rights reserved | JOIN | VIDEO PORTFOLIO | VIDEO/PHOTO COLLECTION
Telegram | YouTube | Blog
Page is sponsored by ETS & Exploring Namibia TV
Disclaimer: no matter how often this page is updated and its accuracy is checked, www.namibweb.com and ETS
will not be held responsible for any change in opinion, information, facilities, services, conditions, etc. offered by
establishment/operator/service/information provider or any third party
Images: Copyright © www.namibweb.com