Located near Cape Cross Reserve, north of Henties Bay. The Cape Cross Lodge offers top-class luxury in 17 well-appointed double rooms, all with en-suite bathroom, all rooms are allocated on the top floor that ensure for a private balcony all sea facing and equipped with deck chairs and table that ensures for private relaxation.
The dinning and lounge area is classically appointed with individual fire places to ensure a warm and cozy atmosphere. The dinning and lounge walks out on to open deck and pristine beach with the break water level about 200 m from the deck. The dinning area could cater for 30 guests as a stop over to and from the Skeleton Coast or Damaraland area. For small groups an al a carte menu will be available, it is however preferred to cater on buffet for bigger groups. The cocktail bar and private cellar ensures for the finest selection of wines and spirits.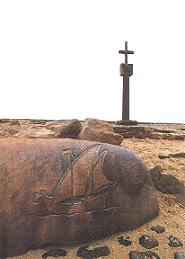 Cape Cross Lodge is situated right on the edge of the cold fertile Atlantic Ocean: a serene haven for visitors to this vast untamed, seldom-explored wilderness. The curious mix of Cape Dutch and West Boast fishing village architecture with colossal windows happily embraces the natural light and affords endless contemplative vistas.

Location
Cape Cross Lodge is located some 120km north of the elegant town of Swakopmund, with the quant town of Henties Bay nestled midway between the two. Windhoek lies some 400km inland. Excellent road network and an airstrip, some five minutes drive from the lodge – S21˚ 45'50".E13˚ 59'23".

Accommodation
Cape Cross offers 18 standard double sea view rooms and 2 Luxury double sea view suites. The en-suite bathrooms are a statement of elegant simplicity, while the private balconies glow with the warmth of wooden deckchairs and tables. Two rooms have inter-leading doors to create a family suite.
Abandoned oil rig near Toscanini:

Facilities
A large patio overlooking the beach and ocean, curio shop housing an array of local gifts, cocktail bar and lounge, a quirky wine cellar and a dining area.

Activities
Cape Cross Lodge offers tours to the Messum Crater, Seal visits, seal and saltcristals tours, coastal angling, and boat cruises, honeymoon dinners on the beach, picnic excursions into the surrounding desert, small conference groups.
A well stocked curio shop with quality goods and emergency needs is available at the main reception area. The Cape Cross Lodge is allocated on the only privately owned beach front land in the Skeleton National Park. Ideally situated 4 km from the entrance gate to the Cape fur seal reserve, the Lodge is 50km north from Henties Bay on the C34 road in the direction to Torra Bay easy accessible by passenger car and 5 min drive from the 600 m gravel airstrip. Distances: from Windhoek 430 km,178 km from Torra Bay, 120 km from Swakopmund and 50 km from Henties Bay.
The building style is a mix of Cape Dutch and west-coast fishing village, with an enormous amount of natural light harnessed by the fully-glassed frontage. Power is supplied by generators, and normal shaving and recharging equipment can be used by guests. Water is trucked from inland and carefully conserved. Gas powers the hot water systems in the rooms due to the uncertainty of solar powered units in this environment. Laundry is not carried out at the lodge due to water restrictions, and is out-sourced to community members in Henties Bay. Garbage is removed from site during every laundry cycle, and no disposal takes place at the lodge. Sewerage is handled by the "septic tank" system, with final-stage effluent being trucked off site.
Activities obviously center around the presence of the seals, and visitors can self-drive or even walk to the colony, ensuring they first visit the Ministry office to complete entry requirements. Guided tours to the colony can also be organised for guests wishing more detailed insight, or for those on fly-in itineraries.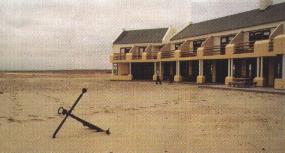 There are also lichen fields and unique desert flora close by, and attention to detail will reveal the "Little 5" (or more!) in terms of reptiles, insects, scavengers and carnivores. The common black-backed jackal is seen constantly, prowling the edges of the colonies looking for a chance to grab and run, whilst the brown hyena, though seldom seen during the day, is a bolder predator amongst the nurseries and younger seals during darkness. Barking geckos, spiders and a multitude of smaller denizens of the desert are out there.
Surf fishing, kiting, just strolling the endless beaches or playing a game of chess in front of the fire, the guest's choice comes first at all times. A range of board games and cards is available in the lounge, and a library offers insight into the natural history of the area.
Unusual requests from house guests will always be met with pleasure, amongst these being special honeymoon packages, private dinners on the beach, picnic excursions into the surrounding desert or along the bay north of the lodge, team-building or small conference facilities. The lodge offer short safaris into the Tsiseb Conservancy, which comprises the Messum Crater, the Ugab River West and the Brandberg mountain.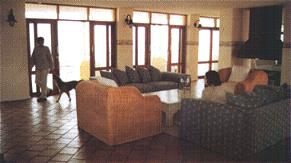 Fly-in guests are collected free of charge from the airstrip which is suitable for most small charter aircraft. The strip is not owned by the lodge and no responsibility is accepted for its use.
We offer "day-visitor-fly-ins" a transfer, lunch and return to airstrip package that can be added to coastal flight itineraries or pleasure flight programs with ease. Day-visitors are welcome, normally, but not restricted to the same timing as the seal colony hours (around 10 a.m. to 4 p.m.), with house guests being afforded privacy after 5 p.m. and until after breakfast the next day.
The lodge is "family-friendly" and two of the bedrooms have been linked with double doors to create a family suite when needed. The only place where children are not permitted is the bar and wine cellar. Children under 10 sharing with parents stay free. Baby-sitting at night can be organised directly with certain staff members.
We have set up scaling and gutting facilities for fishing guests (well away from sensitive eyes and noses, in the scullery yard!). Fishermen who fly in or do not have equipment can rent full rigs from the lodge. Bait is normally available in frozen form as well. We will arrange permits and coaching for first-timers, or full-on fishing safaris can be arranged.
The single supplement can be waived with certain conditions, and tour guides with groups of six or more guests stay free of charge.
Food is of high standard, mainly homely and substantial and based on a blend of local and South African cuisine, with a "fast-food" component in operation between 10 a.m. and 4 p.m. for day visitors, where light meals, teas and cakes, drinks and snacks can be enjoyed. House guests staying over are entitled to free tea, coffee and cakes during the afternoon. South African estate wines will be available in a small but pleasing range. As we build up the stock in the huge cellar, this will become more comprehensive. The curio shop will stock emergency supplies and personal hygiene products, along with a good range of quality branded clothing and jewellery.
History: Opened in September 2001.
Facilities and statistics:
Member of Hospitality Association of Namibia, 16 beds are available in the 8 double rooms.
Rates dinner, bed and breakfast, per person per night: on request
| | |
| --- | --- |
| Rooms | Luxury sea front rooms with balcony |
| Double/single | - |
Activities

Messum Crater Excursion includes Entrance Fees & Lunch Packs (The Messum trip is approximately 5-7 hours long), per person
Seal Excursion (Includes Entrance Fees), per person
Including Lunch

-

Excluding Lunch
-
Seal & Petrified Lagoon Excursion (Including Entrance Fees & Lunch Pack), per person
Per person
-
Coastal Fishing Excursion (Including Entrance Fees, Permit & Lunch Pack), per person
CHILDREN POLICY: ACCOMMODATION & BREAKFAST
Under 2 years: Free, 3 - 11 years inclusive: 50%, 12 years and older: full rate
Special meals can be booked in advance. Rates are subject to change without prior notice should tax be increased or Government levies introduced. Rates include Value Added Tax.
Contact & reservations:
E-mail: info@namibweb.com
To book:
1) you can e-mail us requesting information and/or rates
Reservations are only accepted in writing: by fax or via e-mail.
Final availability confirmation: in writing: by fax or via e-mail.
Terms & conditions, Payment options and Cancellation policy
Pictures:
Page created and serviced by



www.namibweb.com

Copyright © 1998-2024 namibweb.com - The online guide to Namibia
All rights reserved | JOIN | VIDEO PORTFOLIO | VIDEO/PHOTO COLLECTION
Telegram | YouTube | Blog
Page is sponsored by ETS & Exploring Namibia TV
Disclaimer: no matter how often this page is updated and its accuracy is checked, www.namibweb.com and ETS
will not be held responsible for any change in opinion, information, facilities, services, conditions, etc. offered by
establishment/operator/service/information provider or any third party
Pictures, description and logo: Copyright © Cape Cross Lodge