Booking of resorts situated in Namibian Nature Reserves and National parks
How to do it
Do you need to reserve resorts in Namibia's national parks? How to proceed: send us a e-mail or fax message with required accommodation establishments in our resorts and parks, dates of arrival, size of the group, etc. We can also book private establishments for you. The full amount should be deposited into our bank account not later than 60 days prior to your arrival date. Cash payment on arrival or by credit card is also possible.
If you like to book less than 30 days prior to your arrival we will need our booking form filled in and faxed back to us (our fax number: ). Please also indicate date of your arrival, flight number, time of arrival, details of accommodation required.
Unpaid reservations or reservations not secured by credit card are cancelled within 2 days from the date of reservation.
We need from you
The information we need to make a booking must include: passport number, credit card details, full address, telephone and fax numbers, type of accommodation required, name of resort, date of arrival and departure, number of adults, number and age of children.
NEW!
25% non-refundable deposit is required to confirm your reservations.
PLEASE NOTE!
Unpaid reservations or reservations not secured by a deposit can be cancelled by Namibia Wildlife Resorts at any time before or after paym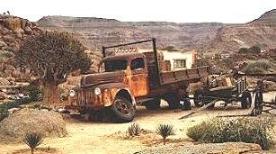 ent due date!
Cancellation fees
Follow the link below. Claims must be accompanied by the original receipt.
Reservations
Reservations are done by e-mail: info@namibweb.com or fax: or fax to e-mail 0865 459 316. Please state your e-mail address for a reply.
When inquiring state the following in ENGLISH: name of resort/lodge/camp/hotel, dates, number of persons, ages of all children by the time of arrival (if any), type of accommodation required.
Reservations of other establishments, Namibia Travel Directory, Payment options, Cancellation policy
NWR daily entrance & usage fees
GPS COORDINATES OF CAMP SITES IN NAMIBIA
Notes to visitors
The first day of occupancy is from 12:00 on the first day (date of arrival) which appears on the booking form. Camping and caravan sites must also be reserved in advance. In addition to accommodation fees, park entrance and usage fees are payable on arrival at the resort concerned.
Please note that accommodation in our parks is inexpensive, very popular and limited. Make your reservation always in advance especially during Namibian/South African school holidays, in August-October, during Christmas and Easter weekends.
Please reserve well in advance!

No time? We can book your entrance fees in advance! Booking fee applicable (once-off).
List of resorts and parks with information and contacts:
*Also Fish River Hiking trail
**Also Naukluft Hiking trail and 4x4 Trail, Naukluft 4x4 trail
***Also Daan Viljoen Hiking trail
****Terrace Bay, Torra Bay and Ugab River Hiking trail
*****Waterberg Wilderness trail (guided and unguided hiking trails)
Pricing
All prices, including accommodation and meals are subject to change without prior notice.
Contact & reservations:
E-mail: info@namibweb.com
To book:
1) you can e-mail us requesting information and/or rates
Reservations are only accepted in writing: by fax or via e-mail.
Final availability confirmation: in writing: by fax or via e-mail.
Terms & conditions, Payment options and Cancellation policy
DAILY PARK AND RESORT FEES (PER PERSON AND PER VEHICLE) ARE NOT INCLUDED IN ACCOMMODATION FEES!
Related links: Hiking trails in Namibia, Regulations for visitors to Etosha Park, NWR's rates, Meals rates
Page created and serviced by



www.namibweb.com

Copyright © 1998-2020 namibweb.com - The online guide to Namibia
All rights reserved | JOIN | VIDEO PORTFOLIO | VIDEO LIBRARY | VIDEO/PHOTO COLLECTION
Page is sponsored by ETS & Exploring Namibia TV
Disclaimer: no matter how often this page is updated and its accuracy is checked www.namibweb.com and ETS
will not be held responsible for any change in opinion, information, facilities, services, conditions, etc. offered by
establishment/operator/service/information provider or any third party