Luderitz town and Shark Island Resort information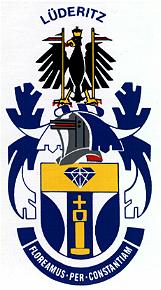 Luderitz town photo gallery
Coastways Safaris photo album
Information about small coastal town, history of Luderitz, accommodation, tours and activities in and around Luderitz.
Video Luderitz, Swakopmund & West Coast region
Name:
The coastal town Luderitz is named after its founder, German merchant Adolf Luderitz and it is located 815 kilometres from Windhoek. The town was named Angra das Voltas in 1487 by Bartolomeu Diaz, renamed to Golfo de Sao Cristovao next year also by him and later changed to Angra Pequena.
YouTube video of Shark Island Camp:
Bartolomeu Diaz erected a stone cross, similar to one at Cape Cross on 25 July 1488. The one you can see now at Diaz Point was made of dolerite and erected five centuries later in 1988 during Diaz Festival.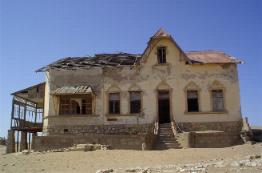 Buildings.
Railway station. Built in 1914 by the building division of Metje & Ziegler and an interesting example of combination of various architectural styles. The Government architect was responsible for the design of the building.
Goerke House. The one of the most beautiful buildings in town, Goerke House is located on Diamond Hill and was built in 1909. Named after Hans Goerke, shareholder and manager of three diamond companies.
Deutsche Afrika Bank. This private bank was established in 1905 with its headquarters in Hamburg. The building itself was constructed in 1907.
Inside Kolmanskop ruins YouTube video:
Troost House. Built in typical colonial style in 1909 by Hermann Metje for Edmund Troost.
Post Office. Built in 1907 and designed by Rukwied, the railway commissioner of southern railway area.
Kreplin House. The house belonged to Emil Kreplin, the first major of Luderitz, was built in 1909.
Woermann House. Designed by Friedrich Hoft the building was constructed in 1906 as an office for the Woermann Line.
Lutheran church (Felsenkirche). Built in 1912 with Albert Bause responsible for design and construction. The costs amounted to 46 000 German marks and were donated from Germany. One of the stained glass windows was donated by Kaiser Wilhelm.
Kolmanskop town YouTube video:
Sights:
Redford Bay. Named after first white settler and trader David Redford.
Diaz Point. The place where Bartolomeu Diaz erected padrao in 1488. The wooden bridge to Diaz Point was built in 1911 to access fog horn originally located there.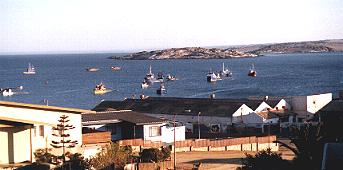 Lighthouse. Built in 1910.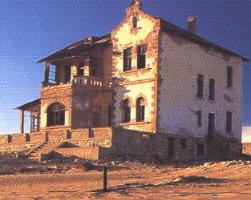 Kolmanskop. The ghost town, abandoned on the middle of 50's, is located 10 kilometres outside of Luderitz off the main road to Aus. Guided tours are conducted daily in the mornings and permits obtainable from Luderitz Tours and Safaris. The town was named after a driver Coleman who frequently stopped here.
First diamond was found here in 1908 by worker Zaharia Levala and became a centre of diamond industry. By the middle of fifties operations were moved to Oranjemund and last inhabitants abandoned Kolmanskop in 1956.
Guided tour: Monday-Saturday 9.30 am, Sunday 10.00 am.
What to do in Luderitz.
Sedina boat tours. Boat tours on ''Sedina'' boat to Halifax island with a possibility to see dolphins and jack ass penguins. Duration of the tour is approximately 2 hours. Departure: daily in the morning.
Tours to Elizabeth Bay by Mukorob Adventures.
Goerke House excursions. Open: Monday-Friday 14.00-15.00, Saturday and Sunday 16.00-17.00.
Luderitz Museum. Located on Diaz street. Monday-Friday 8.30-11.00, 16.30-18.00 (15.30-17.00 in the winter), Saturday 9.00-11.00
Felsenkirche. Located on the corner of Hohe and Kirch street. Open: Monday-Saturday 18.00 (in the winter), 17.00 (in the summer).
Karakul carpet factory. Located on Bismarck Street.
Grosse Bucht & Irmgard shipwreck
Luderitz Shark Island Resort: Usage and entrance fees per day (payable on arrival or pre-booked): click here
Day visitors are only allowed from 8.00 to 17.00. Visitors should report to the office in Schinz Street first for checking in and out. Office hours from 8h00 to 17h00, seven days a week.
Luderitz Shark Island Resort
Accommodation per night: on request
Unit type
Number of units
Daily rates per person
Single rate
Note
Lighthouse (4 beds), min 2
1
-
-
Maximum 4 adults
Island chalets (2 beds)
3
-
-
Maximum 2 adults
Camping
20
-
-
Maximum 8 persons per site
Accommodation only: children under the age of 6 stay free of change, 6-12 years old pay 70%.
Provision for children will be made upon arrival; however the booking must be made in advance.
Reservations
(click for more information)
Facebook:
NAMIBIA: https://www.facebook.com/groups/namibia.namibia
LUDERITZ: https://www.facebook.com/groups/luderitz.group
TRAVEL NAMIBIA: https://www.facebook.com/groups/travelnamibia
DRONESBERG AERIAL PHOTO/VIDEO: https://www.facebook.com/dronesberg
Contact & information:
E-mail: info@namibweb.com
Reservations are only accepted in writing: by fax or via e-mail.
Final availability confirmation: in writing: by fax or via e-mail.
Terms & conditions, Payment options and Cancellation policy
DAILY PARK AND RESORT FEES (PER PERSON AND PER VEHICLE) ARE NOT INCLUDED IN ACCOMMODATION FEES!
Page created and serviced by



www.namibweb.com

Copyright © 1998-2023 namibweb.com - The online guide to Namibia
All rights reserved | JOIN | VIDEO PORTFOLIO | VIDEO/PHOTO COLLECTION
Telegram | YouTube | Blog
Page is sponsored by ETS & Exploring Namibia TV
Disclaimer: no matter how often this page is updated and its accuracy is checked, www.namibweb.com and ETS
will not be held responsible for any change in opinion, information, facilities, services, conditions, etc. offered by
establishment/operator/service/information provider or any third party
Description and logo: Copyright © Namibia Wildlife Resorts