Hardap Dam Resort Mariental
Information on the largest dam in Namibia and game park.
The Hardap Recreation Resort, situated at the largest dam in Namibia, is one of the most popular holiday
resorts in the country. It lies on the upper reaches of the Fish River, 254 km south of Windhoek just off the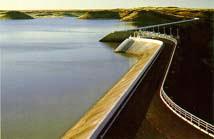 main road to
Keetmanshoop, and some 24 km from the town of Mariental. It is open throughout the year, and a year ticket is available to visitors who wish to come here on a regular basis. With its vast surface area of 25 sq km the Hardap Dam is a most impressive sight in the surrounding arid landscape. It is a paradise for water sport enthusiasts, and boat houses on the shore of the dam can be rented for added convenience. Fishing in these waters is exceptionally good and kurper, barbel, yellow-fish, carp and bass all abound. Angling competitions are a regular feature and angling permits can be obtained from the camp office. With many inlets and small islands this man-made lake provides a safe breeding place for a large variety of birds, including flamingoes, fish eagles, goliath herons, reed cormorants and ospreys. One of the three largest great white pelican breeding colonies in the country is found here, and more than 800 pelicans have been counted at one time. Boats are prohibited in certain areas of the dam, and it is here especially that one can marvel at the colourful variety of birds that enjoy the peaceful waters.
Video Hardap Resort:
History
First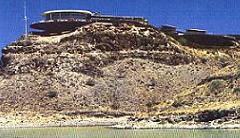 investigations were carried as early as 1897 by geologist Dr. T. Rehbock to determine viability of construction of the dam in the area. The construction commenced in 1960 and the dam was completed in 1963. The capacity of the dam 320 million cubic meters. and a surface area of 25 square kilometres. The gate can discharge up to 5 500 cubic meters per second which has been done in February - March 2000 to release heavy inflow of water during exceptionally good rainy season. As a result town Mariental was flooded twice, in February and March.
The Hardap Game Park is approximately 25 000 hectares and divided on two sections by the dam.
Photo gallery: link

There is a network of the roads leading to several view points over the dam.


The rest camp itself is perched high above the northern shore of the dam. From here one has an unforgettable view of the wide expanse of water. There are both 5-bed and 2-bed bungalows with a fridge, hotplate (only in the larger bungalows), and hot water shower. In addition there are dormitories with 10 beds each, and these are close to convenient communal facilities and field kitchens. The resort also has a shady caravan park, a swimming pool and a playground. Pets are not allowed in the resort but there are kennels available at the gates. Owners are responsible for their care.

Licensed restaurant in the rest camp has a unique situation overlooking the dam. It is open seven days a week for all meals,
and especially its fresh fish specialties are very popular. For the convenience of visitors there is also a shop that stocks
fresh produce, groceries, liquor, fire wood, souvenirs etc.
An important aspect of the Hardap Dam is the research undertaken by the Freshwater Fish Institute. One of its functions is to provided fish farms and the other state controlled dams in the country with the best breeding material available.
Intensive fish production is research and endangered species are also bred here. An enjoyable sight for visitors is the
beautiful aquarium of coloured freshwater fish in the resorts office.
Vegetation. The vegetation in the area has been classified as dwarf shrub savanna. The following trees occur: camel thorn, wild green-hair tree and buffalo thorn.
Wildlife. In the game reserve on the southern side of the dam visitors can view various species of game such as kudu, gemsbok, springbok, steenbok, mountain zebra and ostriches. Here there are two hiking trails along which one can explore the area.
the shorter route of 9 km takes 2 and a half hours to complete, whereas one needs approximately 4 hours for the longer route of 15 km. Among these trails many points of interest are indicated.
Facebook:
NAMIBIA: https://www.facebook.com/groups/namibia.namibia
TRAVEL NAMIBIA: https://www.facebook.com/groups/travelnamibia
MARIENTAL: http://www.facebook.com/groups/mariental.namibia
KEETMANSHOOP: https://www.facebook.com/groups/keetmanshoop.namibia
Images:
Related:
Usage and entrance fees per day (payable on arrival or pre-booked): click here
Accommodation and camping per night: RESORT IS CLOSED FOR RENOVATIONS TILL AROUND DECEMBER 2012/JANUARY 2013
Unit type
Number of units
Daily rates per person
Single rate
Note
Family chalet 4 beds
3
-
-
Bed and breakfast maximum 4 adults
Bush chalet 4 beds
17
-
-
Bed and breakfast maximum 4 adults
Bush chalet 2 beds
30
-
-
Bed and breakfast maximum 2 adults
Camping
20
-
-
Maximum 8 persons per site
Accommodation only: children under the age of 6 stay free of change, 6-12 years old pay 70%.
Provision for children will be made upon arrival; however the booking must be made in advance.
Other facilities:
Shop, kiosk, swimming pool, restaurant, fuel. No banking facilities.
Restaurant:
Open: 7.00-9.00, 12.00-14.00, 18.00-22.00
Meal times:
7.00-8.30, 12.00-13.30, 18.00-20.30
No pets allowed. No motorcycles allowed. Day visitors admitted between sunrise and 18.00 only. Restaurant guests may leave later. Overnight visitors with reserved accommodation may enter unrestricted provided that fees are paid during office hours, but may not leave the resort between 23.00 and 6.00.
Conferencing facilities for up to 20 people are available.
Reservations
(click for more information)
Contact & reservations:
E-mail: info@namibweb.com
Terms & conditions, Payment options and Cancellation policy
DAILY PARK AND RESORT FEES (PER PERSON AND PER VEHICLE) ARE NOT INCLUDED IN ACCOMMODATION FEES!
Page created and serviced by



www.namibweb.com

Copyright © 1998-2023 namibweb.com - The online guide to Namibia
All rights reserved | JOIN | VIDEO PORTFOLIO | VIDEO/PHOTO COLLECTION
Telegram | YouTube | Blog
Page is sponsored by ETS & Exploring Namibia TV
Disclaimer: no matter how often this page is updated and its accuracy is checked, www.namibweb.com and ETS
will not be held responsible for any change in opinion, information, facilities, services, conditions, etc. offered by
establishment/operator/service/information provider or any third party
Description and logo: Copyright © Namibia Wildlife Resorts