Duwisib Castle
National Monument built in the beginning of the century.

Duwisib Castle is located south-west of Maltahohe and can be reached by taking road D826 from Sesriem to Helmeringhausen.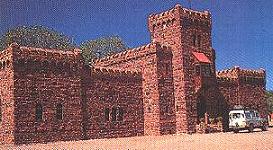 The castle was bought by the state in 70s, restored in 1991 and proclaimed National Monument. There is a coffee shop and camping sites available. Accommodation is available at nearby Farm Duwisib.
History. The castle was built in 1908 by Hans Henrich von Wolf, member of noble Saxon family and captain in Schutztruppe. He was born in Dresden in 1873 and joined military service following his father's footsteps. In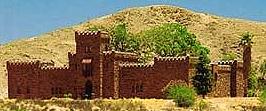 1904 he was sent to German South West Africa. After the end of Nama-Herero uprising in 1907 baron von Wolf returned back to Germany and married Jayta Hemphries. They decided to settle in South West Africa and bought eight farms in the Maltahohe area.
Well known architect Willi Sander was hired next year to design a building and construction commenced in 1908. Most materials were imported from Germany and stonemasons were hired from Italy, Sweden and Ireland. The only local material was a building stone mined from small quarry some 3 kilometres from construction site.
Baron von Wolf returned to Germany in 1914 and was killed in 1916 during First World War in France. His wife never returned to South West Africa. In 1937 farm was bought by Duwisib Pty Ltd.
There is one interesting theory about wild horses of the Namib that they are descendants of baron von Wolf's stud.
Çàãàäêà çàìêà â ïóñòûíå Íàìèá - ãëàâà èç êíèãè Ëîóðåíñà Ãðèíà "ÏÎÑËÅÄÍÈÅ ÒÀÉÍÛ ÑÒÀÐÎÉ ÀÔÐÈÊÈ"
Related:
Activities in the area:
Duwisib Castle entrance fees are payable on arrival only
Camping per night: on request
Unit type
Number of units
Daily rates per person
Note
Camping, no power points
10
-
Maximum 8 persons per site
Children under the age of 6 stay free of change. Provision for children will be made upon arrival; however the booking must be made in advance
Additional information:
Day visitors are admitted between sunrise and sunset only. The castle may be visited daily from 8.00 to 17.00.
Reservations
(click for more information)
Contact & reservations:
E-mail: info@namibweb.com
Reservations are only accepted in writing: by fax or via e-mail.
Final availability confirmation: in writing: by fax or via e-mail.
Terms & conditions, Payment options and Cancellation policy
DAILY PARK AND RESORT FEES (PER PERSON AND PER VEHICLE) ARE NOT INCLUDED IN ACCOMMODATION FEES!
Page created and serviced by



www.namibweb.com

Copyright © 1998-2023 namibweb.com - The online guide to Namibia
All rights reserved | JOIN | VIDEO PORTFOLIO | VIDEO/PHOTO COLLECTION
Telegram | YouTube | Blog
Page is sponsored by ETS & Exploring Namibia TV
Disclaimer: no matter how often this page is updated and its accuracy is checked, www.namibweb.com and ETS
will not be held responsible for any change in opinion, information, facilities, services, conditions, etc. offered by
establishment/operator/service/information provider or any third party
Description and logo: Copyright © Namibia Wildlife Resorts