Accommodation Namibia - Western Region
DISCOVER DORO !NAWAS

Doro Nawas Camp is located in the dry Aba-Huab River Valley, within the Doro !Nawas Conservancy in central Damaraland, and commands spectacular views of the Etendeka Mountains to the north and the red sandstone cliffs of Twyfelfontein in the south. Doro Nawas Camp rests on a sparse, rocky hill in central Damaraland in the breathtaking Aba-Huab River Valley, a short distance inland from the Skeleton Coast. This luxury accommodation commands spectacular views of the Etendeka Mountains and the red sandstone cliffs of Twyfelfontein. This diverse and dramatic landscape varies from tabletop outcrops, small canyons and dry riverbeds, to savannah and grassland vistas. Doro Nawas Lodge is known for the close working relationship established with the local community, who share ownership in the lodge. All of the staff at the lodge come from the surrounding villages, and have been specially trained to fill specific roles and positions here.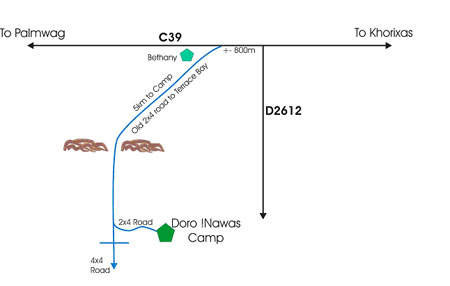 Accommodation at Doro Nawas Camp consists of 16 units: a mix of natural stone and canvas walls with wood and glass doors, shaded by a thatch roof. Each unit, is designed to blend into the surrounding scenery, and consists of a bedroom, en-suite bathroom (with outdoor shower) and a veranda for stargazing or sleep outs.

The main building of Doro Nawas Camp is perched atop a sparse, rocky knoll and offers unspoilt panoramic views. This diverse and dramatic landscape varies from tabletop outcrops, small canyons and dry riverbeds, to savannah and grassland vistas. The main area is made up of indoor and outdoor dining areas, pool area, bar and local curio area. A staircase to the roof allows for relaxing sundowners and stargazing.

Doro Nawas Camp provides an excellent base for self-drive and fly-in guests. Activities revolve around extensive game drives and exploratory hikes through this unparalleled landscape. A trip to the fascinating Twyfelfontein San art engravings is not to be missed. Namibia's first World Heritage Site, Twyfelfontein has the largest collection of petroglyphs (prehistoric rock art) in Africa. Visit the Damara Living Museum and learn about the fascinating traditional culture of the Damara people. This combination of Africa past and present makes for a truly unique and unforgettable experience.

Wildlife viewing at Doro Nawas Camp concentrates on the game found in the riverbed and along the valleys that fill with floodwaters during particularly good rainy seasons. There are no large concentrations of wildlife, but this arid environment is home to desert-adapted elephant, gemsbok, springbok and variety of other species such as bat-eared fox. This includes the occasional glimpse of the endangered black rhino and cheetah. Birdlife is excellent with several Namibian endemics, such as Damara Hornbill, Carp's Tit and Rüpell's Korhaan.

A visit to Doro Nawas Camp is also a wonderful opportunity to contribute to economic empowerment of the local community while enjoying a luxury safari experience.
The synergy and symbiosis of this development is a logical and mutually beneficial one that in 2004 resulted in Damaraland Camp and the Torra Conservancy being the proud recipient of the United Nations Development Programme Equator Prize for biodiversity conservation and poverty alleviation. In 2005 the project was further recognised with the award of the prestigious World Tourism Council's Tourism for Tomorrow Award in the conservation category.

Doro Nawas is based on similar principles and is a joint venture between Wilderness Safaris, the Doro Nawas community and a Namibian empowerment company. The enormous Doro Nawas Conservancy is 407 300 hectares and represents some 450 community members who, in addition to acting as landlords in the conservancy, together hold a 40% share in Doro Nawas Camp. As with Damaraland Camp, all camp staff have been sourced from the community and trained by Wilderness Safaris with the same benefits as at Damaraland Camp flowing to the conservancy and its members. The aims of this venture, as with those of Damaraland camp can be summarised as follows:

• To create a high-income, low-impact tourism camp for sustainable tourism
• To train members of the local community in all aspects of tourism
• To create immediate employment in a previously low-employment area
• To uplift the local area financially and socially
• To allow local wildlife numbers to increase and stabilise.
Doro Nawas provides a memorable quality service in a luxury safari lodge for self-drive and fly-in guests while sharing economic and empowerment benefits with local communities.
Morning activity from 7h30 until 12h00:
· Twyfelfontein, Burnt Mountain & Organ Pipes
· Aba - Huab River Safari

Afternoon activity from 2h30 until 18h00:
· Twyfelfontein (not including Burnt Mountain & Organ Pipes)
· Petrified Forest
Walks are free of charge.
Rates per night per person - DBB / FI: on request
Activities: Scheduled afternoon/morning nature drive
CHILDREN'S POLICY
No age restriction, under 6 years old sharing with parents: free of charge.
6 - 12 years old sharing with parents or in family unit: above discounted rates.
13 years old and above: full rate even if sharing with parents.
All Wilderness Safaris' establishments: due to a high demand the full balance is due strictly not later than 10 weeks prior to arrival!
Special meals can be booked in advance. Rates are subject to change without prior notice should tax be increased or Government levies introduced. Rates include Value Added Tax.
Contact & reservations:


E-mail: info@namibweb.com
To book:
1) you can e-mail us requesting information and/or rates
Reservations are only accepted in writing: by fax or via e-mail.
Final availability confirmation: in writing: by fax or via e-mail.
Map, Terms & conditions, Payment options and Cancellation policy
PHOTO GALLERY: DORO! NAWAS CAMP
Page created and serviced by



www.namibweb.com

Copyright © 1998-2020 namibweb.com - The online guide to Namibia
All rights reserved | JOIN | VIDEO PORTFOLIO | VIDEO LIBRARY | VIDEO/PHOTO COLLECTION
Page is sponsored by ETS & Exploring Namibia TV
Disclaimer: no matter how often this page is updated and its accuracy is checked www.namibweb.com and ETS
will not be held responsible for any change in opinion, information, facilities, services, conditions, etc. offered by
establishment/operator/service/information provider or any third party
Images, description and logo: Copyright © Wilderness Safaris