The Swakopmund Hotel & Casino, four-star resort conveniently situated at the gateway to the Skeleton Coast - in Swakopmund, Namibia, earned its stars within months of opening. Meticulously renovated and restored to its former glory, the historic Old Station Building came to life again on 10 December 1994.

Within weeks of opening, the Hotel walked off with the highest accolade in the hospitality industry when it was voted the "Best Hotel In Namibia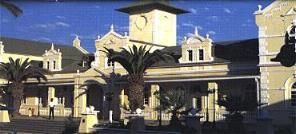 for 1994/ 1995". True to the standard set by the management and staff during the first year, the Swakopmund Hotel was again voted the "Best Hotel in Namibia for 1995/1996". This achievement is a front runner in Namibia as this is the first time the same Hotel claims the award for two consecutive years.

Swakopmund Hotel has enjoyed an exciting inaugural year in 1995 and among others has hosted 85 of the world's mo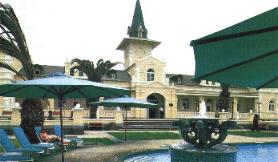 st beautiful women in the lead up to the 1995 Miss Universe Pageant held in Namibia in May. Presidents, Prime Minister, Business Leaders, Royalty, Celebrities, Local and International Television Crews, World-wide product launches and Major International Conferences, have all had a part to play in this enfolding charter.

Swakopmund Hotel is a luxury resort that caters for all your needs. From the 90 spacious rooms and two sumptuous Presidential suites to the warm and inviting Platform One Restaurant, the Hotel combines traditional Namibian hospitality with service excellence.

Namibia's premier resort offers the best seafood in town at the Captain's Tavern and world class gambling in the state-of-the-art Mermaid Casino with tempting progressive jackpots. This resort also has an Entertainment Centre, complete with a gym, two cinemas, a video-arcade with the latest games specialty shopping and fast food outlet.
Tour to Mondesa | Township singers Vocal Galore | Swakopmund
See a full list of Namibian coast shipwrecks.
YouTube video quad bike & other adventure tours:
The Swakopmund Hotel & Entertainment Centre has found a lucrative niche in the conference market and accommodate up to 350 delegates with ease in the Spitzkoppe Conference Centre. And if you want something a little different this year, the Hotel can cater for the once-in-a-lifetime experience of a conference in the desert ! Major product launches and many productive hours have been spent in this venue. Two spacious courtyards are available for display or outdoor launches.
Activities and transfers (optional) can be organized & booked.
Mondesa tour video - Swakopmund, Namibia:
Directions:
Turn right at the sign from the main Sam Nujoma Avenue.
Facilities and statistics:
ACCOMMODATION
44 Twin Rooms (Hollywood Twins)
30 Family Rooms (Hollywood twins with fold out couch)
14 Luxury Rooms
2 Luxury Suites (king bed & interleading living room)

ENTERTAINMENT CENTRE
The Entertainment Centre features the Mermaid Casino boasting a variety of games including American Roulette, Stud Poker, Blackjack and Slot machines.
The Mermaid Casino also features a Salon Prive.



SERVICES IN THE HOTEL
Baby sitting services and cots
Two on site tour operators
Car rental | Parking
Credit cards & foreign exchange
House doctor on call
Same day laundry & dry cleaning
Internet & e-mail facilities
Shops & cinema | TV / MNET
Valet service | Hair salon
Children's games room


CONFERENCE & BANQUETING CAPACITIES
| | | | |
| --- | --- | --- | --- |
| Rooms | Spitzkoppe | Spitzkoppe 1 | Spitzkoppe 2 |
| Cinema | 450 | 225 | 225 |
| School room | 320 | 160 | 160 |
| U-shape | 120 | 60 | 60 |
| Cocktails | 500 | 250 | 250 |
| Buffet | 320 | 160 | 160 |
| Banquet | 320 | 160 | 160 |
FACILITIES
IN ROOM DINING
24 hour snack menu
PLATFORM 1 RESTAURANT
Breakfast 07h00 - 10h00
Lunch 12h30 - 14h00
Dinner 18h30 - 22h30
Light Meals 10h00 - 22h00 (Courtyard)
A relaxed elegant Victorian style restaurant offering a gourmet a la carte menu and a speciality buffet.
CAPTAINS TAVERN RESTAURANT
Enjoy our superb selection of seafood in true "seafaring style"
Dinner only 19h00 - 23h00
History: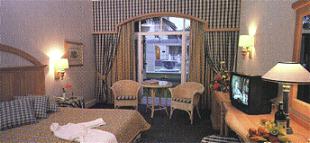 The hotel was opened in 1994.
---
Rates: on request
01 January to 31 December per night per room
Single/double room, B&B
Children: under 12 years old: free of charge, accommodation only.
If children occupy own room: full rate.
Suites rates: on request
Meals per person:
Sunday lunch buffet
Dinner buffet
---
List of SA properties:
THE MICHELANGELO ON NELSON MANDELA SQUARE – JOHANNESBURG, SOUTH AFRICA
THE MICHELANGELO TOWERS – JOHANNESBURG, SOUTH AFRICA
SUNNYSIDE PARK HOTEL – JOHANNESBURG, SOUTH AFRICA

THE AIRPORT GRAND HOTEL AND CONFERENCE CENTRE – JOHANNESBURG, SOUTH AFRICA

CENTURION LAKE HOTEL – CENTURION, SOUTH AFRICA

BAKUBUNG BUSH LODGE - PILANESBERG NATIONAL PARK, SOUTH AFRICA
MALARIA FREE, BIG FIVE TERRITORY

KWA MARITANE BUSH LODGE – PILANESBERG NATIONAL PARK, SOUTH AFRICA
MALARIA FREE, BIG FIVE TERRITORY

TSHUKUDU BUSH LODGE – PILANESBERG NATIONAL PARK, SOUTH AFRICA
MALARIA FREE, BIG FIVE TERRITORY

KRUGER PARK LODGE – MPUMALANGA, SOUTH AFRICA

BROOKES HILL SUITES – PORT ELIZABETH, SOUTH AFRICA

THE COMMODORE – V&A WATERFRONT, CAPE TOWN, SOUTH AFRICA

THE PORTSWOOD – V&A WATERFRONT, CAPE TOWN, SOUTH AFRICA
Notes:
Rates are subject to change without prior notice should tax be increased or Government levies introduced.
Rates include Value Added Tax and breakfast.
Contact & reservations:
E-mail: info@namibweb.com
Reservations are only accepted in writing: by fax or via e-mail.
Final availability confirmation: in writing: by fax or via e-mail.
Terms & conditions, Payment options and Cancellation policy
Photo gallery:
Page created and serviced by



www.namibweb.com

Copyright © 1998-2024 namibweb.com - The online guide to Namibia
All rights reserved | JOIN | VIDEO PORTFOLIO | VIDEO/PHOTO COLLECTION
Telegram | YouTube | Blog
Page is sponsored by ETS & Exploring Namibia TV
Disclaimer: no matter how often this page is updated and its accuracy is checked, www.namibweb.com and ETS
will not be held responsible for any change in opinion, information, facilities, services, conditions, etc. offered by
establishment/operator/service/information provider or any third party
Images & description: Copyright © Legacy Hotels