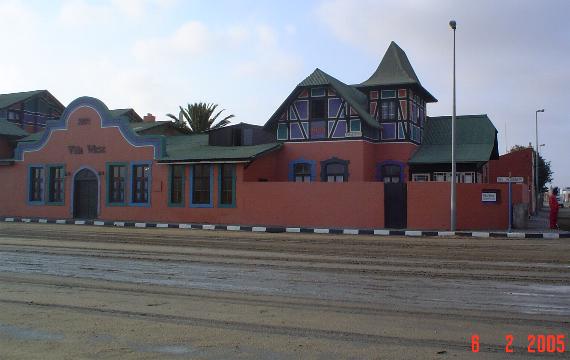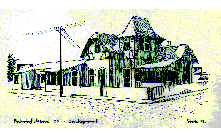 New budget accommodation establishment Villa Wiese is situated in Bahnhof Street in Swakopmund and located in old historical building. Accommodation offered at Villa Wiese are dorms, single and double rooms - all en-suite. Activities in and around Swakopmund can be booked in advance.
Services:
Money changing: Pounds / Dollars / Traveller's Cheques, all changed at a very competitive rate
Laundry services
Food and beverages
Fully stocked bar with tab system
Catered group meals
3 Course dinner
Cooked breakfast
Continental breakfast
Tour to Mondesa | Township singers Vocal Galore | Swakopmund
See a full list of Namibian coast shipwrecks.

Braai facilities
Braai packs for sale
Rates: on request
Bed and breakfast
Dorm per person per night
-
Single/double/triple room per room per night
-
Notes:
Rates are subject to change without prior notice should tax be increased or Government levies introduced. Rates include Value Added Tax.
Contact & reservations:
E-mail: info@namibweb.com
To book:
1) you can e-mail us requesting information and/or rates
Reservations are only accepted in writing: by fax or via e-mail.
Final availability confirmation: in writing: by fax or via e-mail.
Terms & conditions, Payment options and Cancellation policy
Page created and serviced by



www.namibweb.com

Copyright © 1998-2020 namibweb.com - The online guide to Namibia
All rights reserved | JOIN | VIDEO PORTFOLIO | VIDEO LIBRARY | VIDEO/PHOTO COLLECTION
Page is sponsored by ETS & Exploring Namibia TV
Disclaimer: no matter how often this page is updated and its accuracy is checked www.namibweb.com and ETS
will not be held responsible for any change in opinion, information, facilities, services, conditions, etc. offered by
establishment/operator/service/information provider or any third party
Picture & description: Copyright © S. Mitrofanov