HUNTING
@ Hunting information
@ Hunting medals in Namibia
@ Special hunting trophies
@ Hunting Botswana
@ Hunting Mozambique
@ Die Keiler
RENTALS & HIRE
@ Car rental
@ Car rental conditions, driving tips, general information and how to book
@ Description of vehicles to rent
@ Description of camper vehicles
@ Special vehicles to rent
Bow hunting in Namibia
7 and 10 day Namibia hunts.
Daily fees: on request.
Excellent hunting for bows.
Bow hunting in Namibia at a very special prices. The hospitality of Namibian people is incredible, the animals all come in close as they drink at waterholes. There are 700 springboks and many more gemsbok, with horns of over 40 inches.
The rancher has concession ground of 400 000 acres next to him for hunting trips. This is an opportunity that does not come around every day!
Optional nights out in the bush to experience the sounds of Africa are also available.
Comfortable accommodation is provided in the form of German architecture bungalows with bathrooms. There are email & fax facilities, as well as 50 television channels, swimming pool and pool table.
Groups of two are preferable, however groups of 3 can be accommodated if required.
Liability
Any safari is a potentially hazardous and it is essential that all lawful directions and advice of the Safari Operator be followed. Two Waters Safaris accepts no responsibility for any illness, accident or loss whatsoever incurred in the course of the safari or for any expenses arising from such illness, accident or loss.
| | |
| --- | --- |
| Species available | - |
| Kudu | - |
| Gemsbok | - |
| Black wildebeest | - |
| Burchell's zebra | - |
| Red hartebeest | - |
| Ostrich | - |
| Springbok | - |
| Grey Duiker | - |
| Steenbok | - |
| Warthog | - |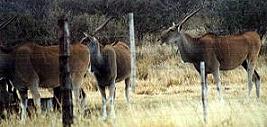 Eland antelopes - the largest in Africa
SERVICES, BOOKINGS AND TOURS
@ Self-drive tours
@ Budget camping tours
@ Budget travel shop
@ Conference services
@ Windhoek city tours
@ Katutura Face to Face tours*
@ Shuttle & transfer services
@ Tours to game farms
@ Lions, leopards, cheetahs
@ Tours to the Atlantic Coast
@ Other tours
@ Diamond shopping tours
@ 2 days overnight tours*
@ Geological tours
@ Our safaris
@ Our safaris-1
@ Other safaris*
@ Other safaris-1*
@ Safari consultancy
@ Chauffeur services
@ Paul Graetz tour
@ Arnhem Cave tours
@ Other products and services
@ 4x4 desert tours from Luderitz*
@ Reservations of resorts in National parks