Coastways Safaris:
self-catering 4x4 tours from Luderitz to Saddle Hill & Spencer Bay
Coastways' specialized 5/4 days/4/3 nights or 3 days/2 nights tours from coastal town Luderitz.

The program:
Day 1: 1. Leave Luderitz after breakfast. 2. Travel through spectacular desert scenery approx. 70km. 3. Travel through spectacular dune scenery approx. 95km. 4. Arrive at camp. Remainder of day relax at campsite, beach or have fun in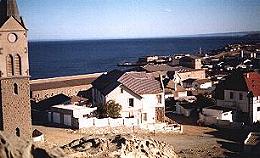 the dunes.

Day 2: 1. Breakfast. 2. Travel on beach at low tide to Saddle Hill South and enjoy scenery along the way. Look at mining camp engulfed by shifting sand dunes, sightseeing at old earthmoving equipment left to the elements of mother nature. 3. Travel northwards to Spencer Bay and enjoy spectacular scenery. 4. At Spencer Bay's beach, climb over hill top to view a magnificent shipwreck of the vessel
"Otavi" stranded on the beach in its own tiny bay, guarded by seals. This wreck can only
be reached by foot or by sea. This resulted in the wreck being virtually left untouched.
The vessel ran aground in the forties whilst loading guano from Mercury Island. 5. Travel northwards to sightsee the detonated vessel "United Trader", a vessel that ran aground in the early seventies with 700 tons of explosives on board. The vessel, with load, was detonated in 1974 with pieces of metal falling in an area to 5km radius. The explosion was even felt in the Luderitz area. Travel further north to another shipwreck, the vessel
"Arkona". 6. Return to camp travelling past a small fountain where Oryx drink and graze.
YouTube video of Elizabeth Bay ruins, Namibia:

Day 3: 1. Breakfast. 2. Travel back to Luderitz via the dunes. 3. Wildlife can be observed.
Ablution & kitchen facilities are available. Minimum of 8 persons per trip.
Included:
1) on route: tour guide, tow rope, jack, air compressor, shovels, radio, GPS, water, shackles.
2) at camp: kitchen with kitchen utensils, gas stove, paraffin lamps, deep freezer, fire wood, sitting benches, chairs, ablution facilities, drinking water, mattresses and pillows, tables. Sheltered sleeping inside buildings, beds with mattresses and pillows, cold showers (brackish water). Sharing of rooms (7 rooms with 32 beds).
Departure: 07h30 / 08h00 on 1st day. Return: 16h00 on 4th/3rd day.
Needed on route:
Fuel (minimum 140 ltr) per vehicle.
Request extra fuel in advance.
Needed for camp:
Torch, food & drinks, wood, drink water if possible, water for showering if you should choose to shower in fresh water, SHOES for mountain climbing.
TRIP: RETURN 360KM + SIGHTSEEING: 100KM
Minimum: 3 days.
Rates per person per trip, catering inclusive: on request
Adults: 3, 4 or 5 days
Children 6-12 years: 50%
Children 13-17 years: 75%
(Prices are subject to change without prior notice).
BOOKINGS IN ADVANCE ARE ESSENTIAL!
*Information provided by operator
Facebook:
NAMIBIA: https://www.facebook.com/groups/namibia.namibia
LUDERITZ: https://www.facebook.com/groups/luderitz.group
TRAVEL NAMIBIA: https://www.facebook.com/groups/travelnamibia
DRONESBERG AERIAL PHOTO/VIDEO: https://www.facebook.com/dronesberg
Contact & reservations:
E-mail: info@namibweb.com
Reservations are only accepted in writing: by fax or via e-mail.
Final availability confirmation: in writing: by fax or via e-mail.
Terms & conditions, Payment options and Cancellation policy
Images:
Page created and serviced by



www.namibweb.com

Copyright © 1998-2024 namibweb.com - The online guide to Namibia
All rights reserved | JOIN | VIDEO PORTFOLIO | VIDEO/PHOTO COLLECTION
Telegram | YouTube | Blog
Page is sponsored by ETS & Exploring Namibia TV
Disclaimer: no matter how often this page is updated and its accuracy is checked, www.namibweb.com and ETS
will not be held responsible for any change in opinion, information, facilities, services, conditions, etc. offered by
establishment/operator/service/information provider or any third party
Description & images: Copyright © Coastways Safaris