First railway lines in Namibia
NATH Central Training tour September 1997
The first railway line in then German South West Africa was built after discovery of rich guano deposits near Cape Cross by Walter Mathews, an Englishman. He had been sent up to the coast by the German Government to investigate reports of fur seals and he did his own investigating discovering the guano deposits to the south. This resulted in the formation of the Damaraland Guano Company. A concession was obtained from German Colonial Government to kill seals and to work any guano deposits.
The railway was laid with 18-pound rails to gauge of 24 inches and had a total length of approximately 13 miles when completed.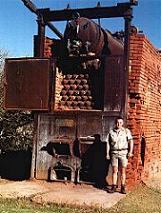 No great difficulty was experienced during the construction of the line. Equipment for the railway consisted of one locomotive and several cars supplied by Kerr Stuart in 1895. The line was used for transporting of guano from Cape Cross.
1897 State Northern Railway. Construction of the line between Swakopmund and Windhoek began in September 1897. About 1000 workers were employed. The reason for construction was outbreak of Renderpest (lethal decease of cattle and oxen). In October 1899 rails reached Karibib, in June 1902 - Windhoek. The costs of this railway line was DM 15,000,000 and although it was operated by the military, it was made available for civilian use as well. Duration of the trip from Windhoek to Swakopmund was reduced from 10 (with oxen) to 3 days. State line (Staatsbahn) was completed in 1902. Length was 382 km with a gauge of 600 mm (German standard).
1897-99. The construction of the first public railway line by the British Government in Walvis Bay was completed. The engine named ''Hope No. 652'' served 1899-1915. There was a terminal 18 km from Swakopmund named ''Plum''.
1903-1906 Otavi Railway. Construction of this line by German private company OMEG (Otavi - Minen und Eisenbahngesellschaft) mining copper began in October 1903. From the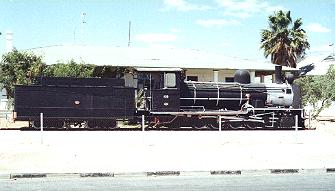 beginning of construction there was a labour problem. It was not possible to continue using of Herero labour because of the uprising and the only available alternative was to import European labour. An Italian contractor was contacted and he arrived with 300 of his countrymen. Later another 750 Italians and 500 Owambos were employed as well. For the purpose of maintenance the line was divided into sections 25 kilometres in length under a care of a section foreman who had under him several white men and 8-12 natives. They were paid a DM 1 a day and their food. The contract price of the railway was DM 20,000,000 with a length of 570 km and standard 600 mm gauge.
1907-08. The construction of Otavi-Grootfontein line by the South-West Company which was a mother company of OMEG.
1905-08. The construction of South line connecting Luderitzbught (Luderitz) with Keetmanshoop via Seeheim, from where the line was continued to Kalkfontein Süd (now Karasburg). The gauge was laid at 1067 mm standard (present standard).
1910-12. The construction of the line between Windhoek and Keetmanshoop. Construction began from both ends of line. The same time a line between Karibib and Windhoek was rebuilt to 1067 mm gauge. The length of the line was 340 miles.
1915. The line between Nakop and Kalkfontein-Süd was built. The same year lines between Walvis Bay, Swakopmund and Usakos were completed to 1067 mm gauge.
YouTube video of Mondesa township tour - Swakopmund, Namibia:
The construction of first railway lines was a step of a great importance for the development of the country's economy.
Photo album - vintage trains in Namibia
Facebook:
NAMIBIA: https://www.facebook.com/groups/namibia.namibia
SWAKOPMUND: https://www.facebook.com/groups/1swakopmund/
WALVIS BAY: https://www.facebook.com/groups/1walvisbay/
DRONESBERG AERIAL PHOTO/VIDEO: https://www.facebook.com/dronesberg
Contact & information:
E-mail: info@namibweb.com
Reservations are only accepted in writing: by fax or via e-mail.
Final availability confirmation: in writing: by fax or via e-mail.
Terms & conditions, Payment options and Cancellation policy
@ Desert Express
@ Desert Express Northern Namibia tour
@ Desert Express Southern Namibia tour
@ TransNamib Railway museum and station
@ Shongololo train trips
Page created and serviced by



www.namibweb.com

Copyright © 1998-2024 namibweb.com - The online guide to Namibia
All rights reserved | JOIN | VIDEO PORTFOLIO | VIDEO/PHOTO COLLECTION
Telegram | YouTube | Blog
Page is sponsored by ETS & Exploring Namibia TV
Disclaimer: no matter how often this page is updated and its accuracy is checked, www.namibweb.com and ETS
will not be held responsible for any change in opinion, information, facilities, services, conditions, etc. offered by
establishment/operator/service/information provider or any third party
Copyright © S. Mitrofanov