OTAVI BAHNHOF & OMEG HAUS |

ÂÎÊÇÀË ÎÒÀÂÈ ÑÂÀÊÎÏÌÓÍÄ ÍÀÌÈÁÈß

SWAKOPMUND NAMIBIA
Otavi Bahnhof and OMEG Haus - historical buildings in Swakopmund, west coast of Namibia in southern Africa.

Street address: 73 Sam Nujoma Avenue, Swakopmund, Namibia
ÈÑÒÎÐÈ×ÅÑÊÈÅ ÇÄÀÍÈß ÂÎÊÇÀËÀ ÎÒÀÂÈ È ÑÊËÀÄÀ ÎÌÅà  ÃÎÐÎÄÅ ÑÂÀÊÎÏÌÓÍÄ, ÀÒËÀÍÒÈ×ÅÑÊÎÅ ÏÎÁÅÐÅÆÜÅ, ÍÀÌÈÁÈß. ÈÍÔÎÐÌÀÖÈß: info@namibweb.com

The OMEG house is a historic administrative and residential building in the Namibian coastal town of Swakopmund.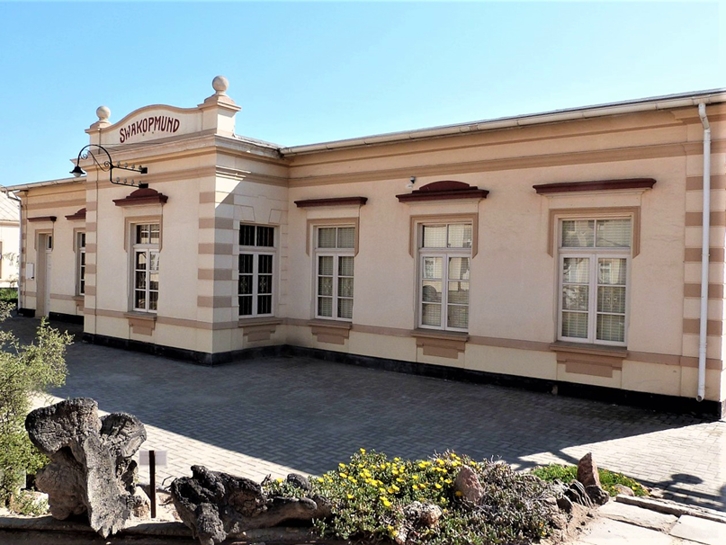 It was declared a National Monument of Namibia on 19 September 1975. This old goods shed from the early railways is still very well preserved. Otavi Bahnhof - the original station building, build in 1906 and used until 1914 for the export of copper.
Small symmetrical house with a typical German hipped roof. Besides the State Railway, Swakopmund had a parallel second line running: private Otavi Railway used for mining. The terminal building still exists, next to the OMEG-Haus, the goods shed. The line to Tsumeb had been constructed between 1903 and 1906. In 1910, the German government closed the State line and used the Otavi line to Karibib instead.
Because its terminal was too small, the State terminal was used and the Otavi-Bahnhof buildings became a residence. In 1971, the OMEG-Haus was taken over and restored by the "Society for Scientific Development" and now serves as its guest house. Last relic of the "Otavi Railway" - goods shed - residence - guest house.

It is housed in the historical Otavi-Bahn building, which served as the terminal for the mining railway line. The goods shed next to this building, built in 1911 and called OMEG-Haus, is a national monument.

The house was built as the administration building of the Otavi Mining and Railway Company (OMEG). Together with the Otavi train station, it belongs to the Swakopmund Scientific Society since 1971.
YouTube video of OMEG Haus & Otavi Bahnhof:

About the Society
The Scientific Society Swakopmund is the governing body of the Swakopmund Museum and Sam Cohen Library.

The Scientific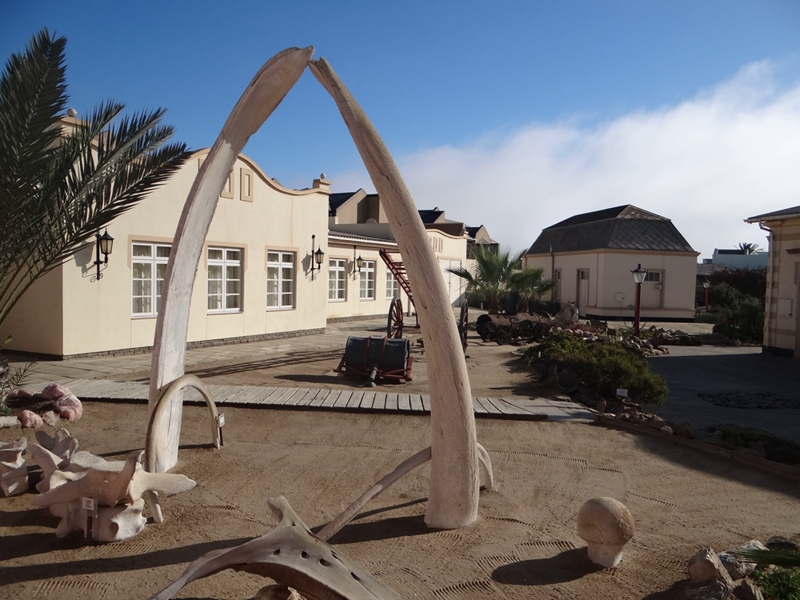 Society Swakopmund collects, preserves and exhibits cultural goods and scientific objects. It serves furthermore as a platform to share scientific information through lectures, excursions, information distribution and publications such as the regular "Berichte-Reports". The Society was founded in 1968 and is managed by a board of directors.

The Scientific Society Swakopmund was originally a regional subgroup of the S.W.A. Scientific Society, Windhoek. This regional body was founded in 1951 to establish the Swakopmund Museum and secure its financial support.

In 1968 the subgroup opted to become autonomous and the Society for Scientific Development, Swakopmund was established to optimise its administration and secure its importance at the coast.

The former goods shed of the Otavi Bahn has been named ''OMEG-Haus'' after the "Otavi Minen-und Eisenbahn Gesellschaft". This building and the Otavi Bahnhof have been recently renovated.

Next to the OMEG-Haus and behind the Otavi Bahnhof is also an open air museum and a small botanical garden where some indigenous plants can be found.

The Scientific Society is a privately run, non-profit organization and is the governing body of the Swakopmund Museum and the Sam Cohen Library. The society was founded in 1968. The Sam Cohen Library, Otavi Bahnhof and OMEG-Haus are situated on the corner of Sam Nujoma and Windhoeker Street, the entrance to the library is in Windhoeker Street.

Facebook groups:

NAMIBIA: https://www.facebook.com/groups/namibia.namibia

SWAKOPMUND: https://www.facebook.com/groups/1swakopmund

DRONESBERG AERIAL PHOTO/VIDEO: https://www.facebook.com/dronesberg

Contact & information:
E-mail: info@namibweb.com


Terms & conditions, Payment options and Cancellation policy

Page created and serviced by



www.namibweb.com

Copyright © 1998-2023 namibweb.com - The online guide to Namibia
All rights reserved | JOIN | VIDEO PORTFOLIO | VIDEO/PHOTO COLLECTION
Telegram | YouTube | Blog
Page is sponsored by ETS & Exploring Namibia TV
Disclaimer: no matter how often this page is updated and its accuracy is checked, www.namibweb.com and ETS
will not be held responsible for any change in opinion, information, facilities, services, conditions, etc. offered by
establishment/operator/service/information provider or any third party
Description & images: Copyright © www.namibweb.com