Visiting Namibia is a stunning experience. Almost the size of France and Italy combined and with an estimated population much smaller than that of most European cities, Namibia is one of the world's last remaining wildernesses. Whether you are elephant-spotting in the Etosha National park, trekking in the spectacular Fish River Canyon in the south, or crossing the great Namib desert en route to the coastal town of Lüderitz, you will be overwhelmed by the usually cloudless, deep blue sky, the piercing sun, the clear air, and scenery which quite takes your breath away.
There is something for everyone in Namibia - young and old. Quadbike riding on sand dunes; majestic hot air balloon rides across the desert at dawn; fishing, boat trips to seal colonies; shopping - for quality goods at prices a fraction of those in Europe; good eating, including oysters and calamari you would pay a fortune for elsewhere, and excellent wine at extraordinarily reasonable prices. Good accommodation in all categories is available too - from back-packers' hostels and B&B to five star luxury. A self catering double bedroom apartment or wildlife resort bungalow costs around £30, is clean and of a good standard.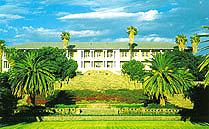 Package tours are available after your arrival, and for those who prefer to be independent, four-wheel-drive hire can easily be arranged.
It is tragic that the civil war in Angola has spilled over into Northern Namibia, and that the regions of Caprivi and Kavango, so famous for their wildlife, are inaccessible for now. Lodges have closed because of cancellations, precious jobs have been lost and the local economy is suffering. But the current security problems, which we all hope are temporary, need to be seen in perspective. The problem area is as far from Windhoek as London is from Aberdeen. The rest of the country is presently as safe to travel in as any other major holiday destination, and still has a great deal to offer. There is crime, of course. Isn't there everywhere? But it's on a small scale, and if you take sensible precautions you are unlikely to become a victim.
So if you're thinking of visiting Namibia, don't be deferred by reports of trouble in the north. Despite its present, localised problems, the country still has numerous attractions. You are guaranteed a warm, friendly welcome in Namibia, and a holiday like no other - which you will long remember.
Windhoek city tours
About us
Search our site
Tours to game farms
Horse and camel trails
Lions, leopards, cheetahs
Tours to the Atlantic Coast
Our safaris
Kaokoland tours
Lions, leopards, cheetahs
Tours to the Atlantic Coast
Budget travel shop

Flights and fly-in safaris

Car rental

African Art on-line souvenir shop