Nestled in one of the planet's most inhospitable yet hauntingly beautiful places, the Skeleton Coast Camp lies within the Skeleton Coast Park. The Park takes its name from its stark, strikingly beautiful landscape - littered with bleached whalebones, skeletal remains and the rusted carcasses of many shipwrecks. The scenic splendour is diverse, from roaring sand dunes and windswept plains to towering canyons, saltpans to freshwater springs.
YouTube video: Swakopmund - Epupa Falls flight to Himba village:
Abandoned oil rig near Toscanini:


Exclusivity is taken a step further as a trip to Skeleton Coast Camp is solely a fly-in safari. Access and departure from the camp takes place only on Wednesday and Saturday, offering a choice of either three or four nights. In addition there is a maximum of 12 guests per scheduled trip due to the fragile and pristine landscape, making Skeleton Coast Camp one of the most remote places on the African continent.

Skeleton Coast Camp is built on an island in the dry Khumib riverbed, about 20km inland from the coastline. Accommodation comprises six Meru-style tents with spacious bedrooms and en-suite bathrooms. A central area is made up of an open-plan lounge, bar and dining area with sweeping views of the desert. Weather permitting, evening meals may be served in the open-air 'dining room' under an old, gnarled leadwood tree.

Activities at Skeleton Coast Camp revolve around the exploration of this unique, wild and desolate environment in 4x4s that are closed to the elements, although all vehicles have pop-top roofs and sliding windows to enjoy the fine weather come midday.

There is plenty of opportunity to stretch the legs too, with many parts in this pristine setting accessible only on foot, as vehicle tracks can damage the environment. Many specially-adapted plant species such as Lithops and Welwitschia can only be visited in this way. Extended walks with a picnic lunch, returning to camp in the evening, are incredibly popular.

Other excursions at Skeleton Coast Camp comprise visits to the clay castles of the Hoarusib River; Rocky Point; the roaring dunes; lichen fields; Cape fur seal colonies and Himba villages. Shipwrecks, now fast being devoured by the salty and vigorous coastline, can be viewed on request.

Secret water seeps which create freshwater springs attract wildlife, so guests can see desert-adapted elephant, gemsbok, springbok, giraffe, ostrich, brown hyaena, Hartmann's mountain zebra and, occasionally, lion and cheetah.
The area
This camp is built in a sheltered bend on the dry Khumib River, within the private concession of the Skeleton Coast National Park. The concession stretches from south of the Hoarusib River to Cape Fria in the north and covers the width of the National Park. This National Park was Diamond area No. 3 before being proclaimed. Due to restricted access very few people have visited this enchantingly desolate and windswept piece of paradise.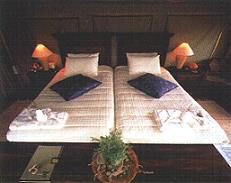 The cold Benguela current sweeping up from Antarctic allows little moisture to be picked up from it by the prevailingly onshore winds, hence the very low rainfall and the desert conditions. This cold current is also highly oxygenated, nutrient rich resulting in a plankton and krill heaven that forms the basis of the food chain for the teeming marine life along this coast.
Accommodation
The camp has 6 luxury tents with doors, as opposed to the old style zips. Each tent is stylishly appointed with en suite facilities, the interiors are in keeping with the environment and the ' shipwrecked ' feel of this coastline. Each tent is on decking off the ground and has a veranda area with private view. The main area consists of a comfortable, stylish lounge and bar with a small library and dining area should the elements cause retreat from the open air dining area under an aged Leadwood Tree (Combretum imberbe). The tents all have 12V power for lighting and solar geysers for hot water.
Activities & wildlife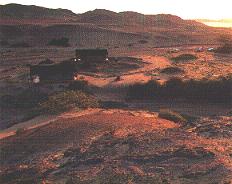 Because of the uniqueness and vastness of this area, most activities are done in 4x4 vehicles that are closed to the elements. All vehicles have pop-top roofs and sliding windows to enjoy the fine weather. There is however plenty of opportunity to walk and stretch the legs too.
Activities include either full day nature drives or walks with a picnic lunch, returning to camp in the evening, or half day nature drives or walks returning to camp for lunch and venturing out again in the afternoon. Excursions may include visits to the clay castles of the Hoarusib River, Rocky Point, the roaring dunes, lichen fields, seal colonies, Himba villages, shipwreck sites and secret water seeps that attract game like Oryx, springbok, giraffe, ostrich, brown hyena, jackal and other smaller mammals. Walking also plays a part in the activities; due to the pristine nature of this area many parts are accessible only on foot, as vehicle tracks can damage the environment. Many specially adapted species of plants like lichens and Welwitschia can be visited in this way.
Access
This area can only be accessed by air and there will be bi-weekly departures from Windhoek on a 4 day (departs Wednesday) or 5 day safari (departs Saturday).
Please note
Due to the shortage of water at the Skeleton Coast, laundry facilities are NOT available.
Please make sure that all guests have enough clothes to last them for the duration of their trip to the Skeleton Coast.
The Skeleton Coast Safaris
This safari has bi-weekly departures based on a minimum of 2 guests traveling. The scenic flight from Windhoek to one of the most inhospitable and desolate, but hauntingly beautiful places in Namibia is an awesome experience in itself. Life on the Skeleton Coast is an ongoing struggle for survival, a coast of mammal skeletons, shipwreck sites, roaring dunes, windswept plains, seal colonies and wild desolation.
Day 1 Arrival Saturday (5 day safari) / Wednesday (4 day safari)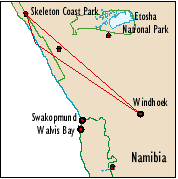 The flight from Windhoek (2 ˝ hrs) to Skeleton Coast Camp takes you northwest over the interior plateau of Namibia. We fly over the striking geological features of Damaraland, over craters of long-dead volcanoes and meteorite impact sites meeting the coastline at the Hoarusib River mouth. From there we do some low level flying along the coast as far as Rocky Point, viewing the coastal plains and dunes from the air.
Arrive in time for lunch and settle into camp on the Khumib River. An afternoon introduction to the desert environs of the region includes a drive through dry riverbeds, gravel plains, natural springs and dunes, concluding with sundowners on the rugged coast near the loneliest grave in the world!
Day 2 + 3 (+ 4)
After breakfast, we depart on the selected excursion for the day taking in the highlights of this harsh environment. Activities are either full day nature drives or walks with a picnic lunch, returning to camp in the evening, or half day nature drives or walks returning to camp for lunch and venturing out again in the afternoon. The areas we traverse are vast and excursions vary somewhat depending on weather, season, animal movements etc. Areas you may visit include the clay castles of the Hoarusib River, Rocky Point, coastal shipwreck sites, seal colonies, cultural Himba villages, natural fresh water springs, lichen fields, roaring dunes and more. Your guide also provides an in-depth look at the specially adapted reptiles, birds, insects and plants that have evolved over the ages to survive in this seemingly inhospitable place.
Return to camp at sunset for dinner.
Departure Day 4 (Saturday) / Day 5 (Wednesday)
On the morning of departure guests may either spend their time at leisure in and around camp, or go on a regular early morning activity returning with ample time to pack and have lunch.
At lunch time depart for Windhoek by light aircraft, flying over the interior of Namibia.
Special interests and weather conditions
Each group may have different interests, i.e. photography, botany, ornithology etc. The above itinerary will be flexible enough to accommodate this, and to allow the guides to concentrate on the interests of their guests.
Activities are influenced by weather conditions, and we will endeavor to arrange an itinerary which maximizes optimum weather conditions in each area.
Rates: on request
Code

Total number of days and nights

Departs

Days

Ends

US$ Rate Per Person Sharing

US$

Single Room Supplement

01 December to 15 November

SC04

4 days/3 nights

Windhoek International or Eros Airport

Every Wednesday (returning on Saturday)

Windhoek International or Eros Airport

-
-

SC05

5 days/4 nights

Windhoek International or Eros Airport

Every Saturday (returning on Wednesday)

Windhoek International or Eros Airport

-
-
»» Wednesday and Saturday scheduled departures with a minimum of two guests. One person can be accommodated if more participants booked.
»» Pick up/drop off at Damaraland, Palmwag, Okonjima or Swakopmund free of charge.
»» Luggage restriction is 12kg per person in a soft bag.
Included: charter flights Windhoek to Windhoek, accommodation on a shared basis, all meals, all activities, all park fees, drinks (except imported liqueurs and champagne).
Excluded: scheduled flights to and from Windhoek, transfers to and from Eros airport, insurances, all items of a personal nature, gratitudes.
---
Archives
February 2012

Dear All,
Closure of the Wilderness Skeleton Coast Camp & opening of Hoanib Skeleton Coast Camp

As you may already be aware, our operation of Skeleton Coast Main and Research camps have been subject to annual concession continuity for the last few years, with the latest extension expiring at the end of May this year. An unexpected fire at the end of 2011 damaged the main area at Skeleton Coast Main Camp and prompted us to make an earlier firm decision on our continued operation in this area. As we have a very short term remaining on our lease, and it would not make economic sense to re-build the camp for this period, we have made the decision to close the camp.

That said, we have for some time been in negotiation with the Namibian government and communities to establish a new Skeleton Coast Camp south of the existing concession on Namibia's most productive ephemeral river system, the Hoanib. We are pleased to advise that as of last week, we have now secured tenure in an area which will be able to provide a new Skeleton Coast offering that in many ways we believe will surpass that of our former camp.

This does of course mean that a new camp has to be built and as a result, we are unable to offer a Skeleton Coast experience for the period 1 March to 31 July 2012. Where available, we have provisionally booked all guests currently staying in Skeleton Coast Camp into Serra Cafema Camp as an alternative. While not identical to Skeleton Coast, Serra Cafema does offer a similar experience in terms of its absolute remoteness, the vastness of its scenery, a great variety of Namib desert along a river system, and interaction with authentic Himba communities. If Serra Cafema is full on the dates required, your Journey Consultant will liaise with you directly on any affected bookings in order to make suitable alternative arrangements for your clients.

We are hopeful that the new camp will open by 1 August 2012. Confirmation of this is expected within the next week, at which time all existing Skeleton Coast bookings from that date onwards will be moved to the new camp.

Tentatively named Hoanib Skeleton Coast Camp, it will be located adjacent to the magnificent Hoanib River in the northern reaches of the Palmwag Concession. Activities (game drives and walking) will access the game rich riverbed (elephant, giraffe, lion, oryx), the plains, river valleys and hillsides to the south (black rhino, oryx, mountain zebra, springbok) and most importantly the downstream reaches of the Hoanib River in the Skeleton Coast National Park. This last area has a very important seep and water system that is frequented by many different game species, as it cuts through a spectacular dune field and accesses the Atlantic Ocean coastline. We expect that the new camp will be a 9-roomed Classic camp, with 8 twins and 1 family room. Confirmation of this and additional information on the camp, the offering, access and pricing will follow shortly.

We would also like to take this opportunity to apologize for any inconvenience, frustration and possible disappointment experienced as a result of this closure. Circumstances beyond our control have made it a more difficult process than we would have intended. We are however really excited about the new camp and believe that this will become an integral part of the northern Namibian ecotourism circuit.
---
All Wilderness Safaris' establishments: due to a high demand the full balance is due strictly not later than 10 weeks prior to arrival!
Facebook groups:
NAMIBIA: https://www.facebook.com/groups/namibia.namibia
KAOKOLAND: https://www.facebook.com/groups/kaokoland
DRONESBERG AERIAL PHOTO/VIDEO: https://www.facebook.com/dronesberg
Contact & reservations:
E-mail: info@namibweb.com
Reservations are only accepted in writing: by fax or via e-mail.
Final availability confirmation: in writing: by fax or via e-mail.
Terms & conditions, Payment options and Cancellation policy
Photos:
Related:
Page created and serviced by



www.namibweb.com

Copyright © 1998-2023 namibweb.com - The online guide to Namibia
All rights reserved | JOIN | VIDEO PORTFOLIO | VIDEO/PHOTO COLLECTION
Telegram | YouTube | Blog
Page is sponsored by ETS & Exploring Namibia TV
Disclaimer: no matter how often this page is updated and its accuracy is checked, www.namibweb.com and ETS
will not be held responsible for any change in opinion, information, facilities, services, conditions, etc. offered by
establishment/operator/service/information provider or any third party
Pictures, description and logo: Copyright © Wilderness Safaris & www.namibweb.com