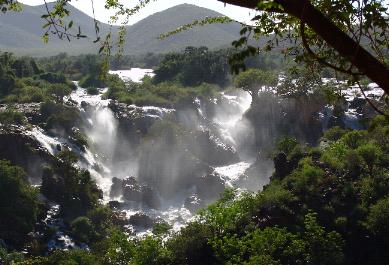 Accommodation Namibia - Northern Region - Photo gallery
Epupa Falls Camp
AWARD OF EXCELLENCE HOSPITALITY ASSOCIATION OF NAMIBIA 1999 & 2000 & 2001 & 2002 & 2003 & 2004
LOCATION
Epupa Camp is located on the banks of the Kunene River in Kaokoland, north-western Namibia, ± 700m east of the main falls. The most suitable route to reach the area is via Opuwo and Okongwati - road number DR3700. Epupa is about 950 km from Windhoek by road.
The airfield is ± 7km from Epupa Camp on the road to Opuwo. Pilots need to buzz Epupa Camp.
Co-ordinates: S 17° 03' 00 E 13° 15' 00 Length: 945m
Please ensure that our booking office knows the estimated time of arrival of guests.
YouTube video: Swakopmund - Epupa Falls flight to Himba village:
FACILITIES
Our accommodation consists of nine luxury safari-style tents with two single beds in each. All tents are fitted with electrical lights and mosquito netting at the door and windows. All nine tents have en-suite bathrooms with water-borne toilets, shower and hand washbasin with hot and cold water.

The tents each have four windows on the sides, which can also close from the inside. Shade netting covers the tent as well as the bathroom. Seven of the nine tents face the Kunene River. The other two tents are positioned underneath large shady trees.
YouTube video: Himba Village:
The dining room and outdoor relaxing area as well as swimming pool face the Kunene River. The reception area doubles as a sitting room with an information centre. A generator supplies 220V electrical power.

COMMUNITY LINKS AND ENVIRONMENTAL POLICY
Epupa Camp works closely with the local community to provide them with access to development opportunities and direct benefits through tourism. Epupa Camp has a sound ecological policy that includes removing all solid waste from the area and whenever practical, recycling waste.

ACTIVITIES AND THINGS TO DO
Apart from a guided visit to a Himba village and Himba gravesites there are wonderful nature walks and informal hiking trails. Birdlife in the area is rich and varied with some endemic species. Sundowners from a hill overlooking the falls provide excellent photographic opportunities of the spectacular views provided by Epupa Falls and the Kunene River.

The Corkwood Walk – a one-hour, self-guided botanical hiking trail has been designed to introduce our guests to some of the more interesting plants in the area. Together with exciting views this is an interesting way to learn more about the traditional usage of the plants by the Himba people.

All activities (excluding river rafting) are included in the full board rate.

RAFTING
Epupa Camp offers the opportunity for river rafting on the Kunene River. This is a complete new way to experience the Kunene River and surrounding environment combined with the excitement of river rafting.

DISCOVER EPUPA – WHAT TO SEE, EXPERIENCE AND DO
With its waving palms, spectacular sunsets and perennial waters, the Epupa area offers much to see, experience and do. As Epupa Camp is not merely an overnight stop on the way to another destination, but an experience in itself, we suggest a three-night stay, or at least two nights, for our guests.

Following is an idea of what Epupa Camp offer to guests. Most of our guests have travelled quite long distances to reach Epupa and are travel weary on arrival. This, together with the natural tranquility, excellent meals and personal service at Epupa Camp makes it an ideal stopover for two or more days.

VISIT A HIMBA VILLAGE
Of the few nomadic tribes left in this world, one is found in Namibia. The Ochre People or Himba, tall, graceful and lovely, who follow the seasonal rains as their ancestors have done since time out of mind, live in Kaokoland. We offer our guests a special introduction to the Himba people by means of a guided tour to one of their temporary villages. Learn about the sacred fire, the twin that stayed behind, the holy oxen and how a day is spent in Africa by people who do not need calendars.

There are many questions regarding this unique people's lifestyle. Our guides will introduce guests to the people in the village and show them how they live their daily lives. Photography is allowed after a customary request. To return the goodwill, we supply them with foodstuff such as maize meal, salt and sugar. Guests will also be taken to Himba graves and told about their customs regarding the dead.

EPUPA FALLS
In former days the Kunene River, the border between Namibia and Angola, was the destination of many early explorers. To this day it has retained its aura of adventure and discovery. The confluence of several rivers, which rise in the highlands of Angola, the Kunene, becomes Namibia's fastest-flowing river as it descends rapidly westwards through narrow gorges and steep ravines to the Atlantic Ocean.

With its richly coloured rock walls and dense variety of trees, the Epupa Falls are one of Namibia's prime scenic destinations. The rushing water, which is clearly audible from Epupa Camp, has a seasonal peak flow of more than 500 000 litres per second and occasionally 1 000 000 litres per second.

A guided nature walk on a footpath along a hill will show your guests not only the main falls, but also the little side falls not always visible. Hundreds of little rock pools provide a relaxing time at the falls.

Sundowners are served from a little hill overlooking the main and side falls to offer guests the best photographic opportunities in the orange glow of sunset.

NATURE WALKS
There are several informal footpaths to discover the fauna and flora of the area. The Epupa area is characterised by dense reed banks and tall trees, of which the ana tree, Faidherbia albida, is the most dominant. Also conspicuous are wild fig trees, baobab, borassus, makalani and oil palms and many flowering shrubs. Fauna in the river ranges from crocodiles and clawless otters to freshwater shrimps
and common water turtles.

The Kunene River with its associated vegetation makes for a very unique birding experience. A host of Namibian inland endemics, including Barecheeked Babbler, Monteiro's Hornbill, Ruppell's Parrot and White-tailed Shrike are common in the area. Specials include Rufoustailed Palmthrush (resident in Epupa Camp), Grey Kestrel (not so common) and Cinderella Waxbill (rare). The unmistakable cry of the African
Fish Eagle reminds one of the presence of water where a number of aquatic species such as Black Crake, Goliath Heron and a variety of Kingfishers can be observed.

RELAX AT EPUPA CAMP
For guests who just need time to relax, we offer some interesting literature on the area and the Himba. Coffee/tea and cake are served every afternoon. Guests will be amazed to see what can be served in the bush! In the evenings, if not out on a sundowner drive, drinks are served on an island opposite Epupa Camp. Watch the sunset when the birds hurry to their nests and the bats welcome the night. The opportunities for star watching are endless after 'lights out' in the pitch dark.

As Epupa Camp is situated on the banks of the Kunene River, the sound of running water stays with you during your visit. Many of the bird species can been seen and heard at Epupa Camp as well. Therefore many guests enjoy sitting at the Camp next to the river or on the island, relaxing and listening to the sounds of the Kunene and its many unique inhabitants.

TOUR GUIDES, PILOTS AND DRIVERS
Three twin tents provide accommodation to tour guides, pilots and drivers.

RIVER RAFTING EXCURSIONS
Half day excursions:
Rafters meet at Epupa Camp and travel ± 7km upstream from where the trip will start after a short training session. Under normal circumstances, the duration of the trip is ± 3 hours.

Equipment:
Epupa Camp will provide all equipment required. We use a 2-person croc raft, made by African River Craft. Each participant is issued with a buoyancy aid (life jacket), helmet and two-bladed paddle. The River Guide will have a small dry bag for storing of small items of participants, during the trip, but other personal items can be left with the support vehicle. Epupa Camp cannot be held responsible for damage or loss of any items during the trip.

Difficulty:
Difficulty is rated on a scale from 1 to 6, where Class 1 is moving water, Class 2 & 3 offers great excitement, Class 5 is extremely difficult, long and violent, while Class 6 is essentially unrunable. Most rapids in this excursion are Class 2 and 3, which makes it easy but exciting.

River Guide:
All tours are undertaken by a fully qualified River Guide with at least a Level 1 River Guide Certificate and are a member of the African Paddling Association.

First Aid:
The River Guide holds a first aid certificate and a basic first aid kit will be in the guide's dry bag for emergency use. A comprehensive first aid kit is available on the support vehicle.

Drinks:
Cold drinks and bottled water will be served during a break on an island. Cost included in the price. Bottled water will be available on the boats. Please note: No alcohol will be allowed or served on the boats.
Rates per night: on request
Dinner, bed and breakfast

Single | Double
-
Children 0-3 years old
FOC
Children 4-11 years old
-
Children 12 years and older

Full rate

Camping: 5 exclusive sites, each with own ablutions/river view/private/shady/spacious
Activities per person
Himba village visit, includes soft drinks
-
Sundowner, includes soft drinks/snacks & guided walk to Epupa Falls
-
Half day rafting, includes soft drinks
-
Full day rafting, includes soft drinks
-
3 hours guide walk, includes soft drinks
-
Transfer to/from airfield, per vehicle (max 8 pax)
-
Epupa day trip, min 2 pax, return transfer from airfield, Himba village/Epupa Falls visit, lunch
-
Notes:
Rates are subject to change without prior notice should tax be increased or Government levies introduced. Rates include Value Added Tax. Transfers between landing strip and the camp (+- 8 km) are payable directly to the camp.
Facebook:
NAMIBIA: https://www.facebook.com/groups/namibia.namibia
KAOKOLAND: https://www.facebook.com/groups/kaokoland
DRONESBERG AERIAL PHOTO/VIDEO: https://www.facebook.com/dronesberg
Contact & reservations:
E-mail: info@namibweb.com
Reservations are only accepted in writing: by fax or via e-mail.
Final availability confirmation: in writing: by fax or via e-mail.
Terms & conditions, Payment options and Cancellation policy
Photo gallery:
Page created and serviced by



www.namibweb.com

Copyright © 1998-2023 namibweb.com - The online guide to Namibia
All rights reserved | JOIN | VIDEO PORTFOLIO | VIDEO/PHOTO COLLECTION
Telegram | YouTube | Blog
Page is sponsored by ETS & Exploring Namibia TV
Disclaimer: no matter how often this page is updated and its accuracy is checked, www.namibweb.com and ETS
will not be held responsible for any change in opinion, information, facilities, services, conditions, etc. offered by
establishment/operator/service/information provider or any third party
Rates, image & description: Copyright © Epupa Camp