Kunene River Lodge Namibia has a lot to offer - from stunning sunsets over the Kunene valley to raging white water action, or simply waking up to the twittering of birds. Situated on the banks of the Kunene River, 50 km west of the Ruacana Falls and 100 km east of the Epupa Falls, the rustic Kunene River Lodge is an excellent destination. The Lodge offers bungalows with en-suite facilities, campsites, restaurant, bar, pool, shop and much more. Activities include white water rafting and river boarding, bird watching, sundowner cruises, canoeing, hiking, fishing and mountain biking.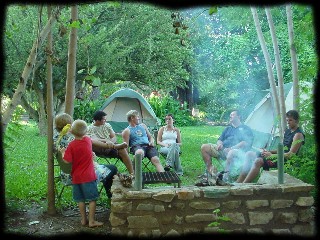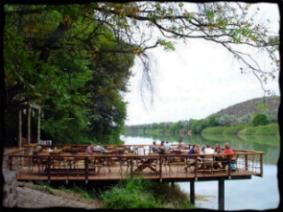 Kunene River Lodge has been offering white water rafting since the beginning of 1996 and has a large in-house rafting operation, equipped exclusively with top quality rafting equipment made by ARK. Large 8-man as well as small 2-man rafts are available.
The lodge employs APA trained guides on a permanent basis and can handle large groups with the necessary care and expertise.
The level of the river permitting, river boarding can be done along with rafting. Although our rafting operations are concentrated on the Ondorussu Gorge, we also offer tailor-made rafting trips of up to 5 days. Our Quad Bike trips offers the nature lover an exhilarating experience into the secluded areas of the Zebra mountains where one can see some of the most untouched parts in Africa and see the Himba people in their ways as they have been living for hundreds of years.
YouTube video: Swakopmund - Epupa Falls flight to Himba village:
Kunene River Lodge is very popular for it's bird life. Although the Riverine Forest offers a rich and varied bird life, many people actually find the bird life more concentrated in the camp itself. You can also spoil yourself with an early morning birding trip downstream with the sun rising behind you and enjoy a cup of coffee while you watch the bird life from close up on the riv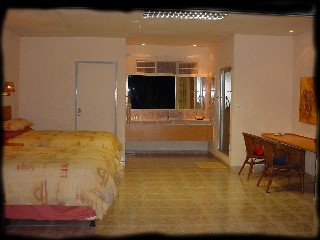 er bank, drifting in a raft towards the Ondoto River. You can enjoy your sundowner overlooking the Kunene Valley with the sun setting over the Zebra Mountains, or you can take part in a sundowner cruise with a difference, quietly floating down the Kunene River, enjoying your favourite drink.
GPS co-ordinates are S17 21' 244, E013 52' 874.
Rates per room per night: on request
Bed and breakfast/dinner, bed and breakfast per night
Deluxe room single/double
-
Children (3 years old and younger) deluxe rooms only
Free of charge
A-Frame bungalow single/double
-
-
-
Camping*
-
Camping (3 years old and younger)
Free of charge
Activities/transfers per person
Swartbooisdrif airstrip
-
Sundowner / Bird watching boat trip
-
Rent a canoe (part or full day)
-
Rent a fishing rod (full day)
-
Himba village visit
-

Rafting adventure: Ondoruzu Gorge

-

Rafting adventure: Ruacana to Ondoruzu (1 day)

-
* Some campsites have electricity – the generator runs from 8am until midday and from 6 until 10pm at night.
There are hot and cold showers.
There are laundry facilities.
There is a policy of no noise in the campsites after 10pm.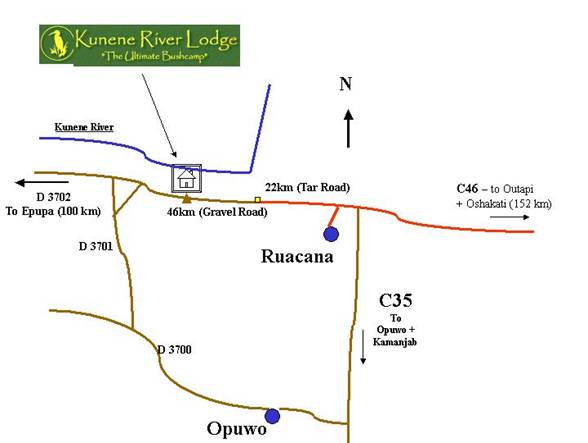 Notes:

Rates are subject to change without prior notice should tax be increased or Government levies introduced. Rates include Value Added Tax.
Facebook groups:
NAMIBIA: https://www.facebook.com/groups/namibia.namibia
KAOKOLAND: https://www.facebook.com/groups/kaokoland
DRONESBERG AERIAL PHOTO/VIDEO: https://www.facebook.com/dronesberg
Contact & reservations:
E-mail: info@namibweb.com
Reservations are only accepted in writing: by fax or via e-mail.
Final availability confirmation: in writing: by fax or via e-mail.
Terms & conditions, Payment options and Cancellation policy
Related:
Accommodation in the area:
Activities in the area:
Page created and serviced by



www.namibweb.com

Copyright © 1998-2023 namibweb.com - The online guide to Namibia
All rights reserved | JOIN | VIDEO PORTFOLIO | VIDEO/PHOTO COLLECTION
Telegram | YouTube | Blog
Page is sponsored by ETS & Exploring Namibia TV
Disclaimer: no matter how often this page is updated and its accuracy is checked, www.namibweb.com and ETS
will not be held responsible for any change in opinion, information, facilities, services, conditions, etc. offered by
establishment/operator/service/information provider or any third party
Description & pictures: Copyright © Exclusive Reservations