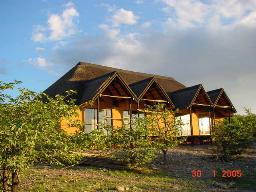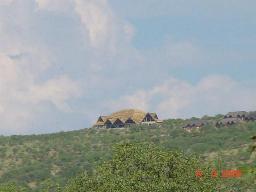 Opuwo Country Lodge (previously country hotel) is located in small town Opuwo - the gateway to the Kaokoveld Region in the north-western part of Namibia or also known as the Kunene Region. The remote area south of the Kunene River is the home of the Himba people, who have kept their ethnic individuality and culture in the seclusion of remote Kaokoland.

Opuwo Country Lodge was officially opened by His Excellency, Hifikepunye Pohamba on 25 August 2005.
The hotel provides comfortable luxury accommodation with air-conditioning and is your ideal base from where to explore Kaokoland.
YouTube video: Swakopmund - Epupa Falls flight to Himba village:
Accommodation: 28 Luxury rooms, 12 standard rooms, dining room, bar, lounge, wine cellar, curio shop, patio and swimming pool.

Self-drive excursions to Epupa Falls, Swartbooisdrift (Kunene), Kaoko-Otavi and other points of interest or a guided excursion to an authentic Himba village can be undertaken from the Hotel.
YouTube video: Himba Village:
Enjoy a perfect end to your day with your selected wine from the cellar and a magnificent sunset over the beautiful landscape of Namibia's extreme North West.
Standard rooms

Luxury rooms

Small veranda (looks onto Lux rooms).

Air-conditioner.

No sitting/reading corner.

Smaller room.

Standard furniture.

No TV.

Smaller bathroom/shower curtain.

2 x Single beds.

Has a private balcony with a nice view over the valley.

Air-conditioner.

Nice sitting/reading corner.

Bigger room.

More luxurious interior and furniture.

No TV.

Bigger/more spacious bathrooms with glass shower doors.

2 x ¾ beds.
CATERING: All meals are served in our restaurant and at the pool terrace.
Breakfast : 07h00 - 09h30 Lunch : 13h00 - 14h30 Dinner : 18h30 - 21h30
Lunch packs : Please order at reception the evening before departure.
No room service is available.
EXCURSIONS: Morning and afternoon excursions to surrounding Himba villages can be arranged.
AIRSTRIP: Opuwo has an airstrip with Avgas available. Please contact the lodge for pick-up and refuelling.
CAMPING: Opuwo Country Lodge introduces their camp site.
The site has 10 camping spots available all with their own BBQ spot as well as an electrical point. Wood is for sale.
Ablution blocks are available for both ladies and gentlemen with running hot and cold water. Also at this venue are washbasins where pots and pans can be washed.
Rates per person per night: on request
Bed and breakfast
Single/double luxury or standard room
-
Camping
-

Activities:

Himba excursion: morning or afternoon
-
Himba excursion for fly-in guests
-
Epupa Falls excursion
-
Hidden Treasures of Kaokoland: Joubert Pass - Baobab Tree - Sesfontein - Warmquelle - Khowarib
-
Facebook:
NAMIBIA: https://www.facebook.com/groups/namibia.namibia
KAOKOLAND: https://www.facebook.com/groups/kaokoland
DRONESBERG AERIAL PHOTO/VIDEO: https://www.facebook.com/dronesberg
Contact & reservations:
E-mail: info@namibweb.com

Reservations are only accepted in writing: by fax or via e-mail.
Final availability confirmation: in writing: by fax or via e-mail.

Terms & conditions, Payment options and Cancellation policy
Page created and serviced by



www.namibweb.com

Copyright © 1998-2023 namibweb.com - The online guide to Namibia
All rights reserved | JOIN | VIDEO PORTFOLIO | VIDEO/PHOTO COLLECTION
Telegram | YouTube | Blog
Page is sponsored by ETS & Exploring Namibia TV
Disclaimer: no matter how often this page is updated and its accuracy is checked, www.namibweb.com and ETS
will not be held responsible for any change in opinion, information, facilities, services, conditions, etc. offered by
establishment/operator/service/information provider or any third party
Description & pictures: Copyright © Namibia Country Lodges