| | |
| --- | --- |
| Omarunga Camp Epupa Falls | |
Omarunga Camp is located on the banks of the Kunene River, only a short walk upstream from the spectacular Epupa Falls. Hidden in the shade of the exotic Makalani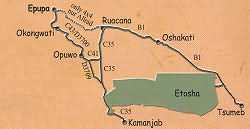 palmtrees, this little paradise is definitely one of Namibia's most secluded getaways. The lush vegetation along the majestic Kunene forms a sharp contrast with the surrounding Kaokoland mountains and dusty plains.

Guests at Omarunga will be tempted to just relax and absorb the breathtaking scenery of the mountains on the Angolan side of the river and indulge themselves in the personal attention and European style hospitality of our managers, but there is a whole variety of activities awaiting them too!
YouTube video: Swakopmund - Epupa Falls flight to Himba village:
They can explore the spectrum of smaller waterfalls created by the approximate 800 meters wide river system. The more adventurous ones may want to cool off in one of the crocodile-safe pool just above the falls. In our off-road vehicle and in the accompaniment of our local translator, we offer excursions to the famous Himba who inhabit this area. Largely untouched by modern civilization the Ovahimba still live mach as they did centuries ago. We will take our guests to one of the typical small villages where they can experience the traditional way of the Himbas. They will get an inside view of how they herd and milk their cattle, build their houses and create their own jewellers. As Omarunga only caters for small groups a personal and undisturbed interaction with the Himba can be achieved.
Welcome to Omarunga Camp!
| | | | |
| --- | --- | --- | --- |
| | | | |
Omarunga Camp's guests may also join a Sundowner Tour and enjoy a drink and snacks high atop a mountain overlooking the Epupa waterfalls. Back in Camp a three-course dinner will be prepared for guests. Omarunga offers comfortable tents, all separately located and fitted out with comfortable wooden beds, tables and quality bed linen. Washbasins are located adjacent to every individual tent, furthermore hot and cold showers are provided. Hosts guarantee personal service and high standard at all times.
| | | | |
| --- | --- | --- | --- |
| | | | |
Rates per night: on request
Camping: no power points
Camping site: per person, camping only
-

Dinner, bed and breakfast or all inclusive

Per person
-
Activities per person
Sundowner tour
-
Himba tour 4 hours
-
Crocodile trail
-
Meals per person
All inclusive: accommodation, breakfast, lunch, dinner, return airstrip transfer, Himba and sundowner excursion
Notes: Rates are subject to change without prior notice should tax be increased or Government levies introduced. Rates include Value Added Tax.
Facebook groups:
NAMIBIA: https://www.facebook.com/groups/namibia.namibia
KAOKOLAND: https://www.facebook.com/groups/kaokoland
DRONESBERG AERIAL PHOTO/VIDEO: https://www.facebook.com/dronesberg
Contact & reservations:
E-mail: info@namibweb.com
Reservations are only accepted in writing: by fax or via e-mail.
Final availability confirmation: in writing: by fax or via e-mail.
Terms & conditions, Payment options and Cancellation policy
Page created and serviced by



www.namibweb.com

Copyright © 1998-2023 namibweb.com - The online guide to Namibia
All rights reserved | JOIN | VIDEO PORTFOLIO | VIDEO/PHOTO COLLECTION
Telegram | YouTube | Blog
Page is sponsored by ETS & Exploring Namibia TV
Disclaimer: no matter how often this page is updated and its accuracy is checked, www.namibweb.com and ETS
will not be held responsible for any change in opinion, information, facilities, services, conditions, etc. offered by
establishment/operator/service/information provider or any third party
Description & pictures: Copyright © Omarunga Camp