Ruacana Eha Lodge in northern Namibia, is only short drive of 20 km to Ruacana Falls. It is a convenient stopover to the sites of Kaokoland, Etosha National Park, Epupa Falls and the vibrant African culture of the Omusati, Oshana, Ohangwena and Oshikoto regions.
YouTube video: Swakopmund - Epupa Falls flight to Himba village:
This glittering oasis in the rugged landscapes, offers relaxation, conferencing and opportunity to experience real Africa in northern Namibia.
Facilities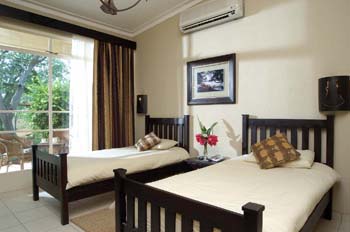 at Ruacana Eha
Rooms:
21 double rooms
1 family suite
Bathrooms en-suite
Air-conditioner
Tea & coffee facilities
TV (6 channels)
Telephone
Fridge
Private verandah
YouTube video: Himba Village:
Traditional huts:
6 traditional huts
2 beds each
shared braai area
Camp sites at Ruacana Eha:
15 camp sites
own braai facility
lawn (big enough for two tents)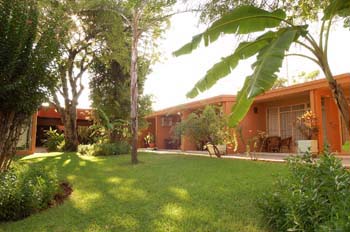 water point
electricity
Campsites and huts make use of communal ablution facilities:
Hot water and electricity
Showers, toilets, paraplegic facilities
Conferencing at Ruacana Eha:
Seating for 42 (cinema style)
PA System
Proxima
Overhead projector
Internet connectivity
Activities at Ruacana Eha:
Visit to Ruacana Falls
Visit to Ruacana Hydro Power Station
Visit traditional Himba Village
Walking trail to rock pool
Visit to Witsand
Scenic Sundowners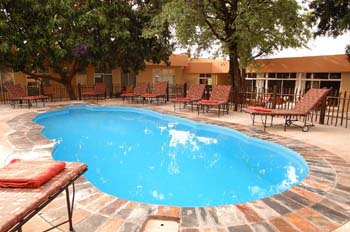 * Please note that the flow of the Ruacana river (Falls) are seasonal and beyond the control of the Lodge Management. Reservations for activities must be made at least 48 hours in advance.
The higher water level is during rainy season between November and March depending on a rains in Angola.
Location of Ruacana Eha:
Ruacana, Springbok Avenue
Distance from:
Windhoek- 860km
Oshakati- 152km
Etosha Adoni Gate- 290km
Ruacana Falls- 20km
Road from Oshakati: C 46 (all tarred)
Airfield:
Closest airfield: Ruacana
Co-ordinates 17 25'05"S 014 22'20"E
Distance from Airfield - 10km
Huts & camping:
BAR (best available rates) per room per night: on request
Type of accommodation
Bed and breakfast
Single/double room
-
Huts per person per night, accommodation only, maximum 2 persons per hut
-
Camping per person per night, maximum 4 persons per site, camping only
-
Activities: all rates are based on a minimum of 4 participants
Airport transfers (per person/one way)
-
Guided walk to Ruacana Valley 1 hour (per person)
-
Visit to Ruacana Falls (per person)
-
Visit to Traditional Village (per person)
-
Visit to Ruacana Falls & Traditional Village (per person)
-
Notes:
Rates are subject to change without prior notice should tax be increased or Government levies introduced. Rates include Value Added Tax.
Facebook:
NAMIBIA: https://www.facebook.com/groups/namibia.namibia
KAOKOLAND: https://www.facebook.com/groups/kaokoland
DRONESBERG AERIAL PHOTO/VIDEO: https://www.facebook.com/dronesberg
Contact & reservations:
E-mail: info@namibweb.com
Reservations are only accepted in writing: by fax or via e-mail.
Final availability confirmation: in writing: by fax or via e-mail.
Terms & conditions, Payment options and Cancellation policy
Page created and serviced by



www.namibweb.com

Copyright © 1998-2023 namibweb.com - The online guide to Namibia
All rights reserved | JOIN | VIDEO PORTFOLIO | VIDEO/PHOTO COLLECTION
Telegram | YouTube | Blog
Page is sponsored by ETS & Exploring Namibia TV
Disclaimer: no matter how often this page is updated and its accuracy is checked, www.namibweb.com and ETS
will not be held responsible for any change in opinion, information, facilities, services, conditions, etc. offered by
establishment/operator/service/information provider or any third party
Images & description: Copyright © Ruacana Eha Lodge