Khowarib Lodge Kaokoland

"Where true Kaokoland adventure begins"



Khowarib Lodge nestles on the banks of the Hoanib River in the magnificent Khowarib Gorge in north-western Namibia. Here, on the fringe of Kaokoland, the lodge offers a perfect jumping off point to explore the remote north-west of Namibia.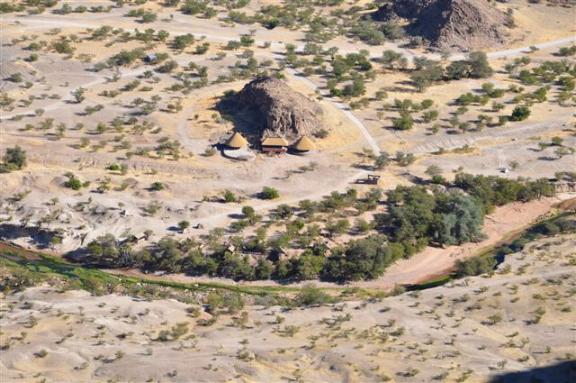 Location

Khowarib Lodge is situated 70 km north of Palmwag, 30 km south of Sesfontein on D3706 road between Palmwag to Sesfontein, 1 km to the east of the Khowarib settlement.

Photo album

Accommodation

Khowarib Lodge offers 14 luxury en-suite tents comprising of either twin or double sleeping arrangements built on stilts. Large Mopane trees offer shaded viewing points on your private veranda. 2 of the tents are wheelchair accessible & offer special facilities. Tents are also within walking distance of the main lodge area.

YouTube video: Swakopmund - Epupa Falls flight to Himba village:

Camping at Khowarib Lodge

X8 shaded campsites , with wash-up area, "braai-area" and electricity/power. All of campsite pitches have shade, the campsites on top level (1-4) have shade nets, and the campsites on lower level along the river (5-8) are shaded by trees.

YouTube video: Himba Village:

At the campsite, each camping pitch has its own braai area as well as a washing up station. Each pitch has a light and is equipped with an electricity outlet.
The ablutions are located on the top level of the campsite and there is hot water from the showers.

Campers are welcome to make use of bar and swimming pool at the lodge which is just a 2 minute walk from the campsite itself. Firewood, braai packs and bags of ice for campers are sold at the lodge.

Facilities at Khowarib Lodge

The centre-piece of the lodge complex is a "lapa", an immense thatched structure with a great view of the surroundings. Also offering a reception area, lounge, bar, dining area & curio shop as well as a veranda for viewing the natural surroundings.

Activities

Khowarib Lodge offers Desert Elephant & Rhino tracking (Full day excursions), Himba Village excursions, nature walks, bird watching, nature drives as well as rock art excursions.

Landing strip is located at Sesfontein.

BAR (best available) rates per person per night: on request
Single/double, dinner, bed and breakfast
-
Camping
Per person per night, no meals
-
Transfers per person one way
Sesfontein-Khowarib: for 2-10 persons
-
Palmwag-Khowarib: for 2-10 persons
-
Activities per person
Desert Elephant Experience: full day
-
Rhino Tracking: full day
-
Meet The Himba: half day
-
Guided Hoanib Nature Walk: half day
-
Birding: half day
-
Morning Nature Drive to Khowarib Gorge
-
Afternoon Nature Drive
-
Rock Art Excursion: half day
-
Facebook:
NAMIBIA: https://www.facebook.com/groups/namibia.namibia
DAMARALAND: https://www.facebook.com/groups/damaraland
KAOKOLAND: https://www.facebook.com/groups/kaokoland
DRONESBERG AERIAL PHOTO/VIDEO: https://www.facebook.com/dronesberg
Contact & reservations:
E-mail: info@namibweb.com
Reservations are only accepted in writing: by fax or via e-mail.
Final availability confirmation: in writing: by fax or via e-mail.
Terms & conditions, Payment options and Cancellation policy
Page created and serviced by



www.namibweb.com

Copyright © 1998-2024 namibweb.com - The online guide to Namibia
All rights reserved | JOIN | VIDEO PORTFOLIO | VIDEO/PHOTO COLLECTION
Telegram | YouTube | Blog
Page is sponsored by ETS & Exploring Namibia TV
Disclaimer: no matter how often this page is updated and its accuracy is checked, www.namibweb.com and ETS
will not be held responsible for any change in opinion, information, facilities, services, conditions, etc. offered by
establishment/operator/service/information provider or any third party
Images and description: Copyright © Khowarib Lodge