Kulala Desert Lodge is located within the arid Namib Desert on the 37 000-hectare private Kulala Wilderness Reserve, and is closest to the iconic dunes of the Sossusvlei in Namib Naukluft Park. Activities at Kulala include a guided 4x4 Sossusvlei tours, balloon safaris, nature walks, scenic sundowners.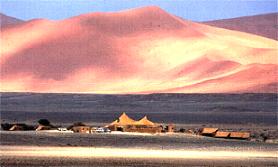 Accommodation at Kulala Desert Lodge comprises 23 thatched and canvas "kulalas" ("to sleep" in Oshiwambo) with en-suite bathrooms and verandas. This includes three family tents which can accommodate two adults and two children. Each unit is built on a wooden platform to catch the cooling breezes and has a deck on the flat rooftop where bedrolls are placed for guests to sleep under the myriad stars that Namibia's clear skies portray.

Kulala Desert Lodge has a main area, lounge, bar, dining area, plunge pool, and wrap-around veranda overlooking the waterhole - a perfect location to view and photograph the desert vista. The overall setting is a true delight to the senses, bringing together the rhythm of Namibia, wholesome meals and intimacy. The waterhole in front of camp attracts a number of local wildlife such as gemsbok, springbok, ostrich and jackal.

Activities at Kulala Desert Lodge revolve around early morning guided nature drives to the spectacular dunes of Sossusvlei through the private gate on the Tsauchab River. World-famous Sossusvlei is an enormous clay pan flanked by the famous sand dunes that stand out starkly against the blue sky and flash red in the early morning sun. These dunes have developed over millions of years, the wind continuously transforming the contours of this red sand sea. The 'vlei' itself only fills after rare, heavy rainfalls when, in a complete turn-around, it becomes a spectacular turquoise lake.

Nature drives, walks and eco-sensitive, guided quad-biking are also offered through the private Kulala Wilderness Reserve to take in those incredible views and to catch a glimpse of the denizens of the desert. Another option, at an extra cost, is early morning ballooning, beginning at first light. The balloon safari offers a truly unique experience to soar silently above the magnificent sand dunes and desert with a champagne breakfast being served at your landing site.

In 1996 Wilderness Safaris set up an operation on land close to the spectacular Sossusvlei. As this locale had previously been used for subsistence goat farming, precious little indigenous wildlife remained. Yet after a removal program of stock fences and exotic species, the wildlife slowly began to return. The area was then extended to adjoin the massive Namib Naukluft Park - and became the Kulala Wilderness Reserve.

With the creation of the Kulala Wilderness Reserve arose an opportunity to study and assess the rehabilitation of this 37,000 hectare area after years of intensive subsistence farming. The Small Carnivore Research Project began in 2000, when bat-eared fox were studied on the reserve as an indicator species for land rehabilitation, followed by studies on aardwolf, black-backed jackal, Cape fox and African wildcat. This project is supported logistically by the Wilderness camps in the Kulala Wilderness Reserve.
Directions to Kulala Lodge:
Take the main road B1 going south, and turn right into the road C24 after Rehoboth. In about 36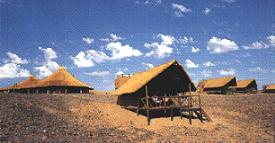 km turn into the road 1261 going through Reemhoogte Pass. Later you join road C14 and after Solitaire petrol station you turn into C36 road. Last turn is into the road 826 going to Sesriem. The turn-off is signposted (road to Sesriem/Sossusvlei). From Sesriem take a road 826 until the sign "Kulala lodge" (lodge is approx. 10 km further on off the 826 road to the right).

Facilities and statistics of Kulala Lodge:
Kulala Lodge is a member of Hospitality Association of Namibia, swimming pool, tours to Namib Naukluft National Park, horse riding.
Rates per night per person - DB&B or FI: on request
Activities: Scheduled afternoon nature drives/morning Sossusvlei tours.
CHILDREN'S POLICY OF KULALA LODGE:
No age restriction, under 6 years old sharing with parents: free of charge.
6 - 12 years old sharing with parents or in family unit: above discounted rate.
13 years old and above: full rate even if sharing with parents.
Sossusvlei Morning Excursion & Afternoon Property Excursion

Summer:
Wake-up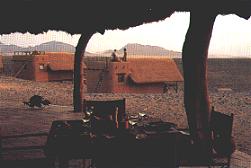 call 05h00
Light breakfast - consisting of cereals, yoghurt, muffins, croissants, bread, fruit, juice, coffee, tea. Depart from camp at 05h45 through the private gate situated +/- 45km away from Sossusvlei.
Not many animals will be encountered while driving through this section of the Namib Naukluft Park.
Stunning landscapes, dry river beds and contrasting sand dunes reflecting the morning sun rays capture the eye while driving towards Sossusvlei Pan where the seasonal Tsauchab River meets the ever encroaching barrier of red sand.

Guests will have the opportunity to walk to Dead Vlei which is 1,1km from the parking area. Almost all our guests prefer scaling the Big Daddy dune +/- 345ft high to take Photographs of this fascinating landscape. This activity alone can take up to two hours. Guest who prefers to take it easy can explore the dry pans and surrounding sand dunes in the area. A hearty brunch with beverages is served round about 10h00 at the picnic tables in Sossusvlei consisting of, cold meats, chicken drumsticks, mini sausage rolls, samoosas, spring rolls, cheese platter, salads, breads, juice, coffee, tea and fruit platter.

Guests arrive back at the lodge between 12h00 - 13h00.

Afternoon Property Excursion including Sundowners
This activity starts with beverages, savoury and cakes in the main area where everybody meets at 17h00, departing at 17h30. The drive is conducted on our 30 000ha property with the possibility of seeing Oryx, Springbok, Ostrich, Jackal and Hyena but, sightings are not guaranteed. The main focus is the scenic landscape and the panoramic vista of the Namib Desert. The vehicle will stop at a suitable spot where sundowner's drinks and snacks can be enjoyed while the sun sets over the red dunes Guests will return to Camp between 20h00 and 20h30 to freshen up and have dinner.

Winter
Sossusvlei trips wake-up call 04h30
Depart 05h15
Return 12h00-13h00

Scenic Nature Drive
Depart 16h30
Return round about 19h00
---
Guests' comments about Kulala Lodge:
The most spectacular place in Namibia we have seen. Thank you very much. Mr and Mrs S., Switzerland
Spectacular scenery, great trips in the air and on the ground, very good food and great staff, see you again some time. I., England
A magnificent site with a very picturesque lodge and most of all a great service. Mr and Mrs D., Germany
We had a wonderful stay at Kulala, the staff was wonderful, especially the singing in the evening will make us remember Kulala. Mr and Mrs N., England
A real oasis in this beautiful part of the world. Thank you for looking after us so well. Italy Thank you for wonderful trips under expert and knowledgeable guides. Our spirits have been uplifted, nice company and good food. Mr and Mrs S., UK
We stayed four few days and we could have stayed for four weeks. What a beautiful restful place. Thank you to all the staff who made it so. Mr and Mrs W., Georgia USA
---
Archives
Kulala Desert Lodge will close for renovations from 10 January 2013 till 15 April 2013 with reopening expected on 16 April 2013.
---
Notes:
All Wilderness Safaris' establishments: due to a high demand the full balance is due strictly not later than 10 weeks prior to arrival!
Special meals can be booked in advance. Rates are subject to change without prior notice should tax be increased or Government levies introduced. Rates include Value Added Tax.
Facebook:
NAMIBIA:
https://www.facebook.com/groups/namibia.namibia
SESRIEM SOSSUSVLEI:
https://www.facebook.com/groups/sossusvlei
NAMIB-NAUKLUFT NATIONAL PARK:
https://www.facebook.com/groups/namib.naukluft
TRAVEL NAMIBIA:
https://www.facebook.com/groups/travelnamibia
Contact & reservations:
E-mail: info@namibweb.com
Reservations are only accepted in writing: by fax or via e-mail.
Final availability confirmation: in writing: by fax or via e-mail.
View of surrounding plains and mountains, Map of all three Kulalas and Wilderness camp (Kulala Wilderness Reserve), Terms & conditions, Payment options and Cancellation policy
PHOTO GALLERY: KULALA DESERT LODGE
Related:
Accommodation in the area:
Activities in the area:
Page created and serviced by



www.namibweb.com

Copyright © 1998-2023 namibweb.com - The online guide to Namibia
All rights reserved | JOIN | VIDEO PORTFOLIO | VIDEO/PHOTO COLLECTION
Telegram | YouTube | Blog
Page is sponsored by ETS & Exploring Namibia TV
Disclaimer: no matter how often this page is updated and its accuracy is checked, www.namibweb.com and ETS
will not be held responsible for any change in opinion, information, facilities, services, conditions, etc. offered by
establishment/operator/service/information provider or any third party
Images, description and logo: Copyright © Wilderness Safaris