Namib Dunes
Namib dunes are the oldest in the world (approximately 30 million years old) and spread over 32 500 square kilometres (300 km along the coast and up to 140 km into the inland).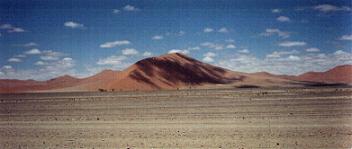 Dunes have regular and irregular forms. The sand comes as a deposit o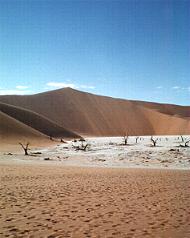 f rivers into the ocean and than blown onshore and further inland.
Formation of the dunes: obstacle on the way (example roughness of soil) where force of the wind is broken and sand kept on the spot. Sand falls on the angle of 30% and the largest amount of sand is on the sides which grow faster than the middle.
There are two types of dunes: earchans and barchans.
Dunes grow about 20 meters a year. Dunes in Walvis Bay have wooden sticks on top and sides of it to prevent the movement of it. Another measure taken is process of planting of special bush watered with sea water only which keeps a dune more stable. It is known fact that the Municipality of Walvis Bay spends approximately 1 million dollars a year to keep streets of the town sand free.
Facebook:
NAMIBIA:
https://www.facebook.com/groups/namibia.namibia
SESRIEM SOSSUSVLEI:
https://www.facebook.com/groups/sossusvlei
NAMIB-NAUKLUFT NATIONAL PARK:
https://www.facebook.com/groups/namib.naukluft
TRAVEL NAMIBIA:
https://www.facebook.com/groups/travelnamibia
Contact & information:
E-mail: info@namibweb.com
Page created and serviced by



www.namibweb.com

Copyright © 1998-2023 namibweb.com - The online guide to Namibia
All rights reserved | JOIN | VIDEO PORTFOLIO | VIDEO/PHOTO COLLECTION
Telegram | YouTube | Blog
Page is sponsored by ETS & Exploring Namibia TV
Disclaimer: no matter how often this page is updated and its accuracy is checked, www.namibweb.com and ETS
will not be held responsible for any change in opinion, information, facilities, services, conditions, etc. offered by
establishment/operator/service/information provider or any third party