Solitaire Country Lodge is located at the remote little settlement of Solitaire, on your way to Sossusvlei from central Namibia, that does justice to its name in more than one way.
YouTube video of Solitaire car wrecks outdoor museum video:
As a stop-over on your tour of south-western Namibia and on the way to Sossusvlei it is a must. The nostalgic general dealer offers home-baked bread and apple pie, and, of course, drinks, fuel, tyre repair.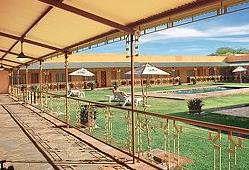 Solitaire Country Lodge located on road C14 between Maltahohe and Walvis Bay and offers 25 en-suite bedrooms, each with two single beds or double bed and air-conditioning.
All rooms face the central courtyard with the huge swimming pool in the centre. Camping, bungalows and limited meals are on offer in an environment with a unique character and unsurpassed hospitality. Swimming pool is available.
YouTube video: walk around Solitaire:

Solitaire Country Lodge is only 83 km from Sesriem, Sossusvlei and is the ideal base from where to explore the Naukluft mountains. It is the perfect stopover for self-driving guests.
YouTube video: Solitaire store:

Scenic drives and spectacular sunsets from the top of the escarpment can be taken through Spreetshoogte or Remhoogte passes.

A general motor repair garage with emergency workshop is available as well.
The co-ordinates for the landing strip are S 23.53 E 016.01.
Rates per room per night: on request
Type of accommodation
Bed and breakfast
Single/double room
-
Camping per person, camping only
-
Activities
Sossusvlei excursion
Rates
Hot air balloon trips
Click here for details
Camping: 30 sites, power, motorhomes/caravans are accepted, ablutions, hot/cold water, wash up facilities, braai. GPS coordinates:
23° 53' 37.4" Latitude
16° 0' 19.6" Longitude
---
Archive
August 2012:
Solitaire Country Lodge has been purchased by Solitaire Guest Farm.
---
All rooms at Solitaire Country Lodge will have air-conditioners from 2014.
---
Notes:
Rates are subject to change without prior notice should tax be increased or Government levies introduced. Rates include Value Added Tax.
Facebook:
NAMIBIA:
https://www.facebook.com/groups/namibia.namibia
SESRIEM SOSSUSVLEI:
https://www.facebook.com/groups/sossusvlei
NAMIB-NAUKLUFT NATIONAL PARK:
https://www.facebook.com/groups/namib.naukluft
DRONESBERG AERIAL PHOTO/VIDEO:
https://www.facebook.com/dronesberg
Contact & reservations:
E-mail: info@namibweb.com
Terms & conditions, Payment options and Cancellation policy
Page created and serviced by



www.namibweb.com

Copyright © 1998-2023 namibweb.com - The online guide to Namibia
All rights reserved | JOIN | VIDEO PORTFOLIO | VIDEO/PHOTO COLLECTION
Telegram | YouTube | Blog
Page is sponsored by ETS & Exploring Namibia TV
Disclaimer: no matter how often this page is updated and its accuracy is checked, www.namibweb.com and ETS
will not be held responsible for any change in opinion, information, facilities, services, conditions, etc. offered by
establishment/operator/service/information provider or any third party
Images and logo: Copyright © Namibia Country Lodges