| | |
| --- | --- |
| Wolwedans - "where the wolves dance" | |
NamibRand Safaris
Covering an area
of some 200.000 hectares close to Sossusvlei, NamibRand Reserve is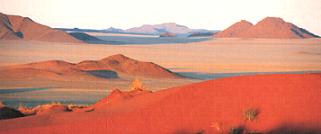 bordered by the Namib Naukluft Park in the west and Nubib mountain range in the east. The special attraction of the reserve lies in the diversity of desert landscapes. Mountains plunging down into endless grassy plains, which are interspersed by red vegetated dunes, create a living tapestry of colours and shapes that make it a visual utopia for artists and photographers. Game species found in the reserve include gemsbok, mountain and plains zebra, springbok, red hartebeest, bat-eared fox, spotted hyena, Cape Fox and African wild cats. The more rocky areas are inhabited by kudu, klipspringer, baboon and leopard. Over a hundred species of birds have been recorded in the area.
Wolwedans consists of four camps: Dunes Lodge, Dune Camp, Boulders Camp and Private Camp.
Dunes Lodge
The Dunes Lodge aims at providing a unique experience close to nature, yet without compromising comfort and style. The entire lodge is constructed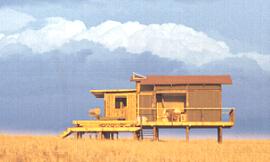 on wooden platforms and overlooks panoramic vistas in all directions, capturing the desert in an intimate and memorable way. The building style is a combination of wooden poles and large canvas blinds/windows that open up to the desert beyond. The lodge reflects the ambience of a tented camp, but provides the comfort and protection of a permanent building.
Each of the eight spacious chalets with en-suite bathrooms leads onto a private verandah and stretches of untouched sand. info@namibweb.comeful selection of furniture, light coloured linen as well as the selection of accessories give the Dunes lodge a distinct natural charm.
The main complex - also built on stilts - consists of a bar and lounge, sundowner decks with a fireplace and a spacious dining room. All communal areas open out onto a verandah with a superb view of the surroundings. Five chalets are directly accessible from the main complex by wooden walkways, also easily accessible for elderly and handicapped guests.
Dune Camp
Located on the very edge of a 250-meter high dune, this camp overlooks the prominent Losberg mountain towards the east. Heading west, the Chate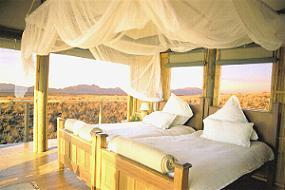 au viewpoint - one of the reserves' most enchanting panoramas - can be reached by foot in less than five minutes. A sundowner in the dunes, facing the sun as it sets over the Bushman Hills, is an experience to share with someone close.
The camp sleeps a maximum of 12 guests in a totally unspoilt setting. Guests stay in comfortable tents pitched on wooden platforms and these are furnished with standard beds, bedside tables and a suitcase rack. Each tent has a spacious verandah and a private bathroom fitted with a hot shower, washbasin and flush toilet. Meals are enjoyed at the central lapa. The lounge, dining area and an open-plan kitchen, which allows guests to chat to their chef while he is preparing a three-course dinner, guarantee a cozy ambience.
A sundowner deck with fireplace provides a relaxed atmosphere for brilliant star-gazing. Whilst the lodge aims at accommodating those guests in need of relaxed comfort, the camp is a more down-to-earth and close to nature experience.
Private Camp
Situated in the quiet seclusion of an idyllic valley, this splendid Suite catering for two guests, is the perfect getaway for honeymooners or individuals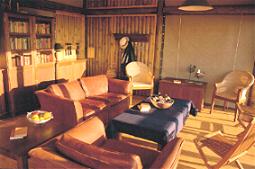 seeking uncompromising privacy and solitude. The idea of the Private camp is to get away for a day or two - not doing much except relaxing and spending quality time with a partner. Guided activities are not part of the package and the emphasis is on pure relaxation.
Browsing through the library, taking walks in the plains and preparing your own meals (we supply all foods and beverages, you cook and serve 'entre nous') will keep you fully occupied. It is recommended that guests, who have not been with us before, book the Private camp in combination with a night at the lodge or Dune camp, joining some of the activities before seeking total seclusion.
The Suite comprises a spacious bedroom, en-suite bathroom, a verandah and the lounge, combining a study, a living-room arrangement, a dining area and a fully equipped open plan kitchen. The building style is a combination of wood and canvas, and the info@namibweb.comefully selected furnishings bring alive the true romance of Africa.
The camp requires a minimum stay of two nights and is only available from 15 April to 15 October. The Private camp can also be booked with all services and activities included, for example a private chef and your personal field guide.
Boulders Camp
It is a cosy satellite camp 40km south of Wolwedans sleeping 8, is normally for one night and can only be booked in conjunction with Wolwedans or two or more nights without Wolwedans. Boulders has a similar standard as the Dunes Lodge. The tents are more wood & canvas and more spacious then the ones at the Dune Camp but bathrooms are not en-suite, are few meters away from the tent like at the Dune Camp.

Sample itinerary
Day one: Arrive at Wolwedans (by info@namibweb.com or plane) before 16h00 (summer) and 14h00 (winter). Scenic transfer to Boulders (takes about 1.5 - 2 hours). Enjoy as sundowner on top of granite boulder at camp. If arrival at Wolwedans is before lunch, we would probably serve lunch at the Dune Camp or lodge.
Day 2: Early morning walk (extended) with brunch on return. After siesta extended p.m. drive into the South of NamibRand with sundown's in the field.
Day 3: Transfer back to Wolwedans and fly - or drive out. Pending on ongoing travel arrangements one could be back at Wolwedans between 09h00 (in time
for Dune Hopper) or 10h00.
Rates full board: on request
Wolwedans Dunes Lodge (18 beds: open all year round - third night at 50% discount):
Children (6-11 years old)
Mountain View Suite (2 beds)
Boulders Safari Camp (8 bed satellite camp: seasonal from 01 March to 30 November):

Children (6-11 years old)
Wolwedans Dune Camp (12 beds: seasonal from 01 March until 30 November - minimum stay: two nights):
Children (6-11 years old)
Wolwedans Private Camp (4 beds and Sala: open all year round - third night at 50% discount):
Visitors at Camp rate (4 pax fully catered, no private drives)
Visitors at Lodge rate (3 pax fully catered, no private drives)
Private (2 pax, fully catered. Private drives/activities guaranteed)
No single supplement: 2 persons minimum, if 3 persons - no single supplement charged
Notes:
Well in advance bookings are strongly recommended. Full payment is required 10 weeks prior to arrival. Special meals can be booked in advance. Rates are subject to change without prior notice should tax be increased or Government levies introduced. Rates include Value Added Tax.
Facebook:
NAMIBIA:
https://www.facebook.com/groups/namibia.namibia
SESRIEM SOSSUSVLEI:
https://www.facebook.com/groups/sossusvlei
NAMIB-NAUKLUFT NATIONAL PARK:
https://www.facebook.com/groups/namib.naukluft
TRAVEL NAMIBIA:
https://www.facebook.com/groups/travelnamibia
DRONESBERG AERIAL PHOTO/VIDEO:
https://www.facebook.com/dronesberg
Contact & reservations:
E-mail: info@namibweb.com
Reservations are only accepted in writing: by fax or via e-mail.
Final availability confirmation: in writing: by fax or via e-mail.
Terms & conditions, Payment options and Cancellation policy
Photo gallery is here
New Wolwedans:
Reception
Reception deck
Lounge deck
Small lounge
Lounge
Kitchen
Dining room
Details of bathroom
Details of lounge
Page created and serviced by



www.namibweb.com

Copyright © 1998-2023 namibweb.com - The online guide to Namibia
All rights reserved | JOIN | VIDEO PORTFOLIO | VIDEO/PHOTO COLLECTION
Telegram | YouTube | Blog
Page is sponsored by ETS & Exploring Namibia TV
Disclaimer: no matter how often this page is updated and its accuracy is checked, www.namibweb.com and ETS
will not be held responsible for any change in opinion, information, facilities, services, conditions, etc. offered by
establishment/operator/service/information provider or any third party
Pictures, description and logo: Copyright © Wolwedans & Stephan Bruckner