Windhoek
Windhoek (German: Windhuk) is the capital and largest city of the Republic of Namibia. It is located in central Namibia in the Khomas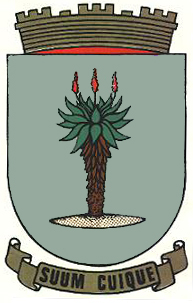 Highland plateau area, at around 1,700 metres (5,600 ft) above sea level. The 2001 census determined Windhoek's population was 233,529. A population influx from all over Namibia has caused researchers to estimate the figure now to be well over 300,000.

Due to its relative size Windhoek is, even more than many other national capital cities, the social, economic, and cultural centre of the country. Nearly every national enterprise is headquartered here. The University of Namibia is, too, as are the country's only theatre, all ministry head offices, and all major media and financial entities. The governmental budget of the city of Windhoek nearly equals those of all other Namibian local authorities combined.
History
Etymology

The City of Windhoek is traditionally known by two names: |Ai|Gams, (Khoekhoe: hot springs) and Otjomuise (Otjiherero: place of steam). Both traditional names reference the hot springs near today's city centre.

Theories vary on how the place got its modern name of Windhoek. Most believe it is derived from the Afrikaans word Wind-Hoek (wind corner). Another theory suggests that Captain Jonker Afrikaner named Windhoek after the Winterhoek Mountains at Tulbagh in South Africa, where his ancestors had lived. The first mention of the name Windhoek occurred in a letter from Jonker Afrikaner to Joseph Tindall, dated 12 August 1844.
Pre-colonial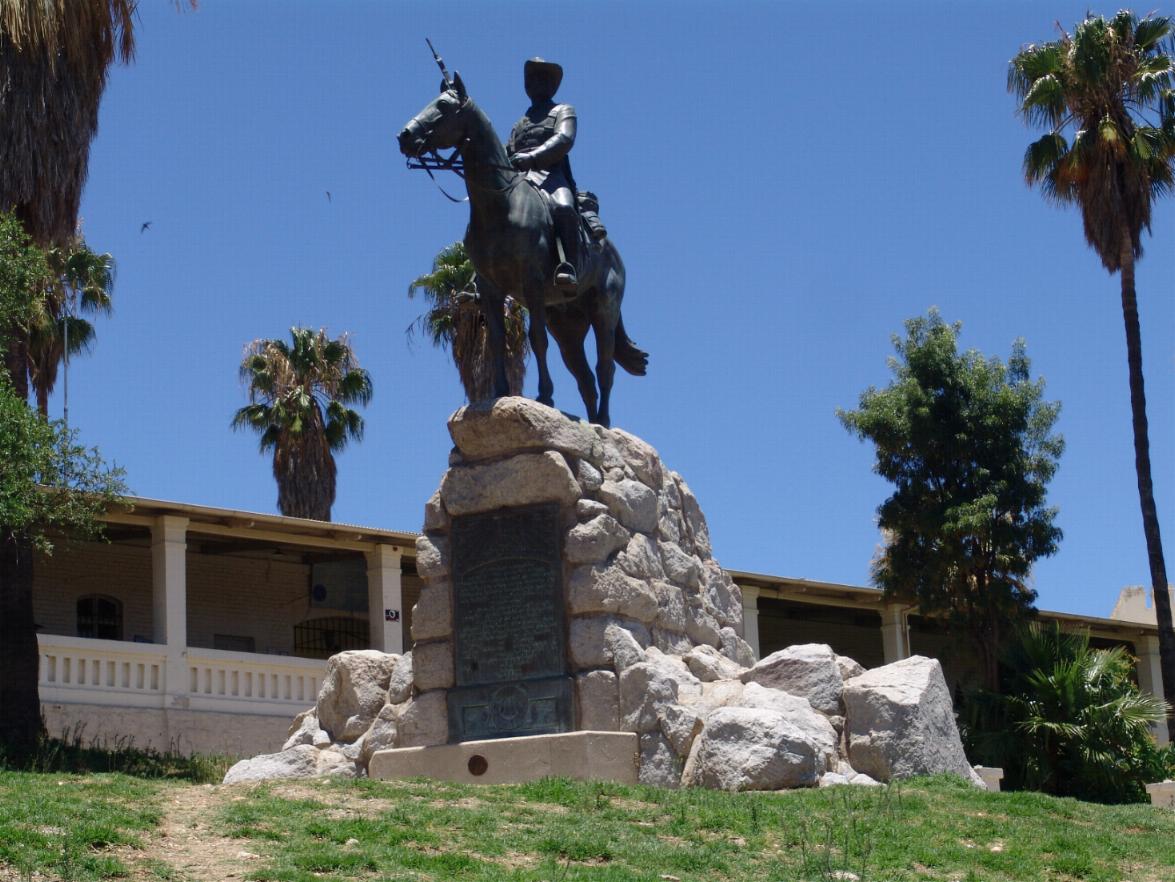 Around 1840, Jonker Afrikaner established a settlement at Windhoek. He and his followers stayed near one of the main hot springs, located in the present-day Klein Windhoek suburb. He built a stone church that held 500 people, which was also used as a school. Two Rhenish missionaries, Carl Hugo Hahn and Franz Heinrich Kleinschmidt, started working there in late 1842 and were two years later driven out by two Wesleyans, Richard Haddy and Joseph Tindall. Gardens were laid out and for a while Windhoek prospered, but wars between the Nama and Herero eventually destroyed the settlement. After a long absence, Hahn visited Windhoek again in 1873 and was dismayed to see that nothing remained of the town's former prosperity. In June 1885, a Swiss botanist found only jackals and starving guinea fowl amongst neglected fruit trees.

Colonial era

In 1878, Britain annexed Walvis Bay and incorporated it into the Cape of Good Hope in 1884, but Britain did not extend its influence into the hinterland. A request by merchants from Lüderitzbucht resulted in the declaration of a German protectorate over German South-West Africa in 1884. The German colony came into being with the determination of its borders in 1890 and Germany sent a protective corps, called the Schutztruppe under Major Curt von François, to maintain order. Von François stationed his garrison at Windhoek, which was strategically situated as a buffer between the Nama and Herero, while the twelve strong springs provided water for the cultivation of food.

Present-day Windhoek was founded on 18 October 1890, when Von François fixed the foundation stone of the fort, which is now known as the Alte Feste (Old Fortress). After 1907, development accelerated as people migrated from the countryside to the city. There was also a larger influx of European settlers arriving from Germany and South Africa. Businesses were erected on Kaiser Street, present Independence Avenue, and along the dominant mountain ridge over the city. At this time, Windhoek's three castles, Heinitzburg, Sanderburg, and Schwerinsburg, were built.
South African administration after World War I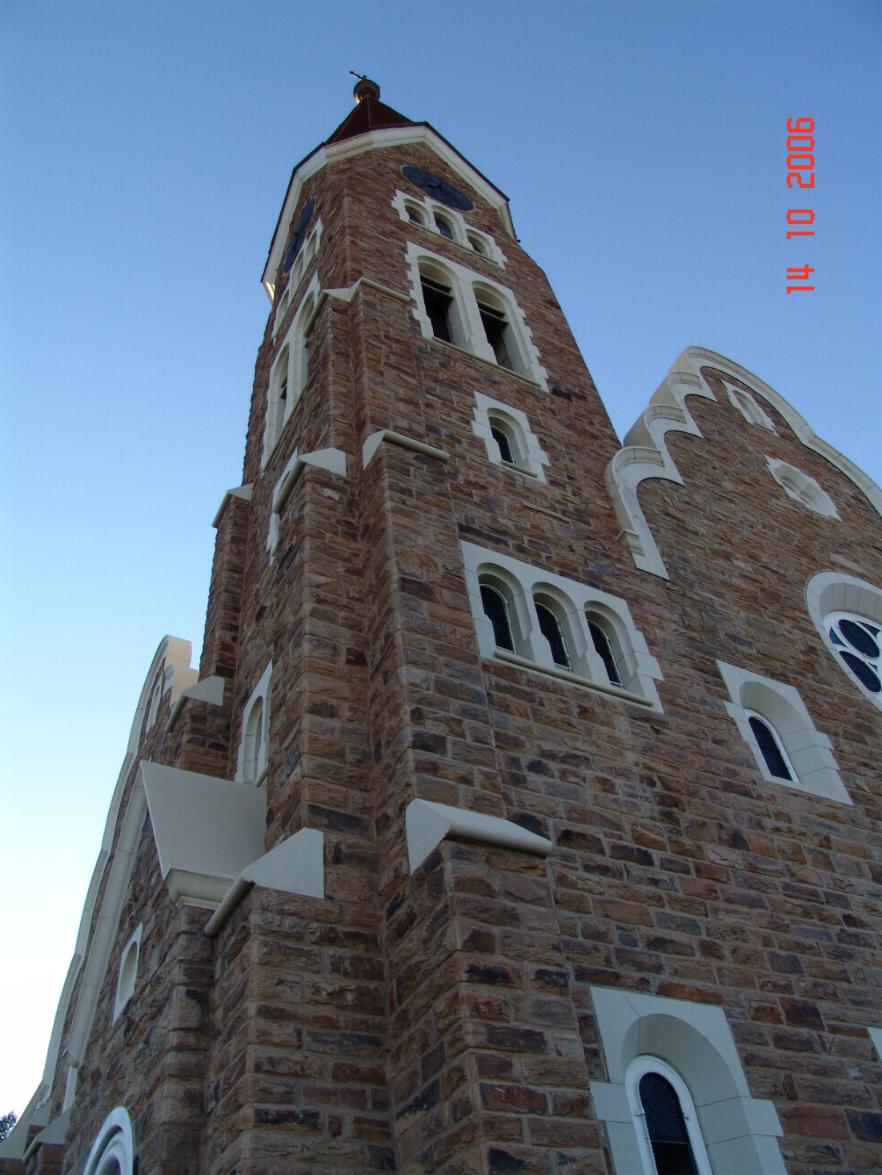 The German colonial era came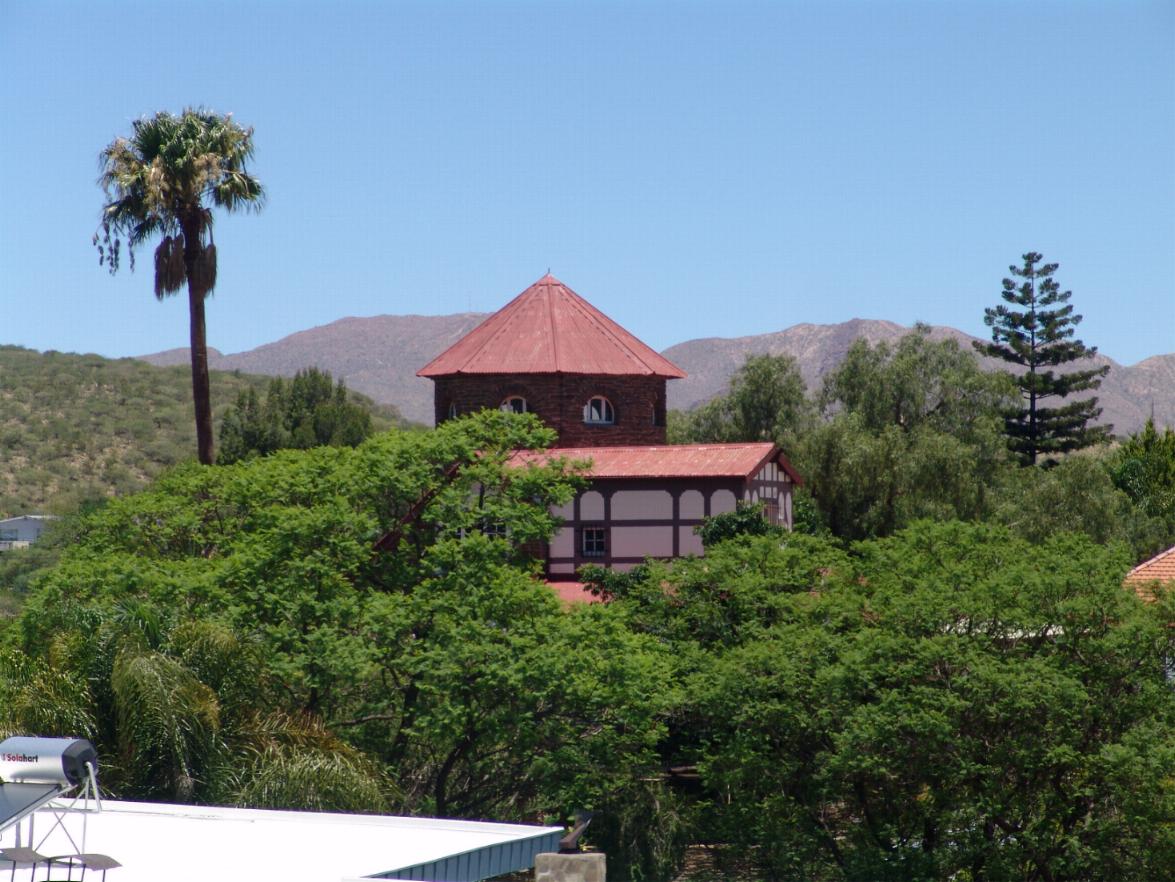 to an end during World War I when South African troops occupied Windhoek in May 1915 on behalf of the British Empire. For the next five years, a military government administered South West Africa. Development of the city of Windhoek and the nation later to be known as Namibia came to a virtual standstill. After World War II, Windhoek's development gradually gained momentum, as more capital became available to improve the area's economic climate. After 1955, large public projects were undertaken, such as the building of new schools and hospitals, tarring of the city's roads (a project begun in 1928 with Kaiser Street), and the building of dams and pipelines to finally stabilize the water supply. It also introduced the World's first potable re-use plant in 1958, treating recycled sewage and sending it directly into the town's water supply.
Since Namibian independence

With Namibia's independence from South African administration in 1990, Windhoek was recognised as the capital city of South-West Africa as administered by the South African government. It continues to be the capital city of the Republic of Namibia, as well as the provincial capital of the central Khomas Region. Since then the city experienced accelerated growth and development.
Geography

The city is the major commercial and financial center of Namibia. It sits on a sloping plain on the northern side of the Khomas Hochland (Khomas Highlands) at an altitude of 1,728 metres (5,669 ft).

Expanding the town area has – apart from financial restrictions – proven to be challenging due to its geographical location. In southern, eastern and western direction Windhoek is surrounded by rocky, mountainous areas which make land development costly. The southern side is not suitable for industrial development because of the presence of underground aquifers. This leaves the vast Brakwater area north of town the only feasible place for Windhoek's expansion.

Suburbs

Windhoek is divided into different suburbs:

Academia
Auasblick
Avis
Cimbebasia
Dorado Park
Eros
Eros Park
Greenwell Matongo
Goreangab
Hakahana
Havanna
Hochland Park
Katutura
Khomasdal
Kleine Kuppe
Klein-Windhoek
Lafrenz Industrial Area
Ludwigsdorf
Luxury Hill
Northern Industrial
Olympia
Otjomuise
Pioneers Park
Prosperita
Rocky Crest
Southern Industrial
Suiderhof
Wanaheda
Windhoek Central
Windhoek North
Windhoek West

Climate

Windhoek is situated in a semi-arid climatic region. Days are mostly warm with very hot days during the summer months, while nights are generally cool. The average annual temperature is 19.47 °C (67.05 °F), which is high for a site at such a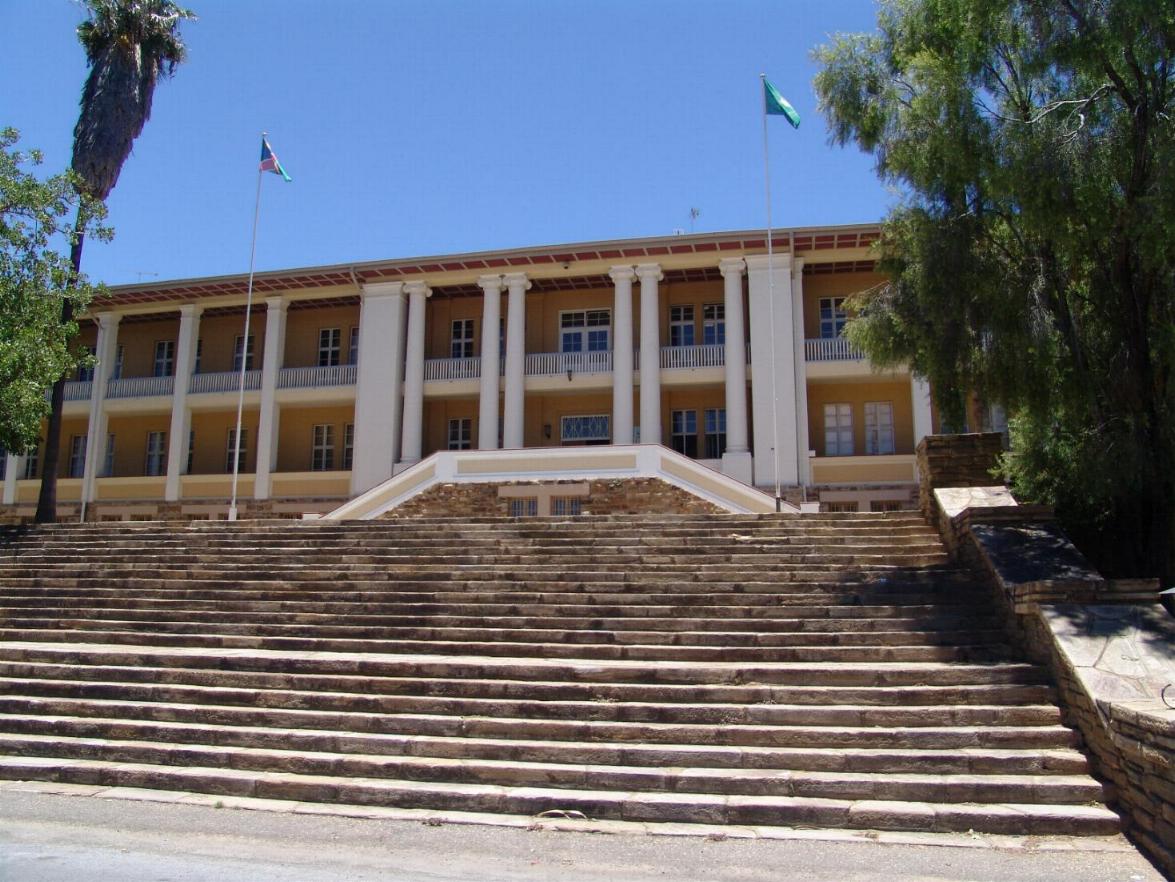 high altitude on the edge of the tropics. This is mainly due to the prevalence of a warm northerly airflow and the mountains to the south, which shelter the city from cold southerly winds.

The winter months of June, July and August usually experience little or no rain. Minimum temperatures range between 5 °C (41 °F) and 18 °C (64 °F). Nights are usually cool, although the temperature seldom drops below 0°C, and it almost never snows. Days are usually warm to hot, varying from a maximum of 20 °C (68 °F) in July to 31 °C (88 °F) in January.

Although the 2010/2011 rainy season brought a record of over 1,000 millimetres (39 in), mean annual rainfall is around 360 millimetres (14 in), which is too low to support crops or gardens without heavy use of watering. The natural vegetation of the area is scrub and steppe. Droughts are a regular occurrence; dry and wet years run through a cycle that lasts around 10 years.

Demographics

In 1971, there were roughly 26,000 Whites living in Windhoek, outnumbering the Black population of 24,000 but no longer. About one third of Whites, 9,000, were Germans.

Windhoek's population currently stands at over 300,000 (67% blacks, 16% whites, 17% Coloureds, Basters and Asians) and grows by over 4% annually with the informal settlements growing at almost 10% per year.
Economy

Air Namibia has its main office in the Trans Namib Building in Windhoek. Several shopping malls were built in the post-independence era, including Maerua Mall, and Wernhil Park Mall.
Notable landmarks

Alte Feste - (English: Old Fortress) Built in 1890, today houses the National Museum.
Christ Church - A Lutheran church opened in 1910, built in the gothic revival style with Art Nouveau elements. Situated in the historic center of Windhoek next to Parliament Gardens and Tintenpalast.
National Library of Namibia
St. Mary's Cathedral
Supreme Court of Namibia - situated in Michael Scott Street on Eliakim Namundjebo Plaza. Built between 1994 and 1996 it is Windhoek's only building erected post-independence in an African style of architecture.
The three castles of Windhoek built by architect Wilhelm Sander: Heinitzburg, Sanderburg, and Schwerinsburg.
Tintenpalast - (English: Ink Palace) within Parliament Gardens, the seat of both chambers of the Namibian legislature. Built between 1912 and 1913 and situated just north of Robert Mugabe Avenue.
Turnhalle - neo-classicist building of Wilhelmine architecture, inaugurated in 1909.
Windhoek Public Library - built in 1925, next to the Alte Feste.
Windhoek Railway Station
Zoo Park - a public park on Independence Avenue in downtown Windhoek. The current park is landscaped and features a pond, playground and open-air theatre.
Transport
Rail

Windhoek is connected by rail to:

Okahandja (north)
Rehoboth (south)
Gobabis (east)
Highways

In 1928, Kaiserstraße, now Independence Avenue, was the first paved road in Windhoek. Ten years later the next one, Gobabis road, now Sam Nujoma Drive, was also paved. Today out of ca. 40,000 kilometres (25,000 mi) of Namibia's total road network, about 5,000 kilometres (3,100 mi) is sealed.

Windhoek's three main access roads from Rehoboth, Gobabis, and Okahandja are paved, and are designed to be able to withstand the largest possible flood to be expected in fifty years. Sealed roads can carry traffic moving at 120 kilometres per hour (75 mph) and should last for 20 years.

Taxis are readily available, and are easily recognized around the city with characters consisting of one letter and as much as up to three numbers. For example (A22, T655, B3).
Air transportation

Windhoek is served by two airports. The closest one is Eros 7 kilometres (4.3 mi) south of the city center for smaller craft, and Windhoek Hosea Kutako International Airport 42 kilometres (26 mi) east of the city. A number of foreign airlines operate to and from Windhoek. Air charters and helicopter and fixed-wing aircraft rentals are also available.
Windhoek International Airport (WDH)

Windhoek Hosea Kutako International Airport, situated 45 kilometres outside Windhoek, handles well over 400,000 passengers a year. It has one runway without capacity limitations. Other international airports are located in Walvis Bay and Luderitz. It directly connects daily to Frankfurt. Southern Africa's hub, Johannesburg, is only a two-hour flight away, from where it is possible to connect to more than 50 cities. South African Airways, LTU, and Air Namibia all have daily flights to Windhoek International Airport, whilst TAAG Angola Airlines has bi-weekly turnarounds to Luanda.
Eros Airport

Eros Airport is the busiest airport in Namibia in terms of take offs and landings. This city airport handles around 12,000 individual flights a year, the majority of which are light aircraft. Primarily, limitations such as runway length, noise, and air space congestion have kept Eros from developing into a larger airport. Most of Namibia's charter operators have Eros as their base.
Sport

The city has several football clubs which include African Stars F.C., Black Africa F.C., F.C. Civics Windhoek, Orlando Pirates F.C., Ramblers F.C. and SK Windhoek.

Many boxers such as Paulus Moses, Paulus Ambunda and Abmerk Shindjuu are from the city.

The Namibia national cricket team plays the majority of its home games at the Wanderers Cricket Ground. It has also played at other grounds in the city, including the United Ground and the Trans Namib Ground.

Education
Tertiary Institutions

The general institutions of higher education in Windhoek are:

University of Namibia (UNAM)
Polytechnic of Namibia (Poly)
International University of Management (IUM)
Secondary schools

Windhoek High School (WHS)
A Shipena High School
Delta Secondary School
Deutsche Höhere Privatschule (DHPS)
Eldorado Secondary School
Immanuel Shifidi High School
Jan Jonker Afrikaner High School
Augustineum Secondary School
Concordia College
David Bezuidenhout Secondary School
Ella du Plessis Secondary School
Goreangab Secondary School
Academia High School
Jan Möhr High School
Windhoek Technical High School (HTS)
Dagbreek Centre for the handicapped
Eros School For Girls[31]
Saint George's Diocesan College
Saint Paul's College
Windhoek Gymnasium (WGPS)
Windhoek International School (WIS)
Combretum Trust School
Windhoek Afrikaanse Privaatskool

(Saint George's College, Saint Paul's College, Windhoek International School and Windhoek Gymnasium are still attached to their respective primary schools)
Coordinates: 22°34'12"S 17°5'1"E
Country: Namibia
Region: Khomas Region
Established: 18 October 1890
Government:
• Mayor Elaine Trepper
• Deputy Mayor: Gerson Hizembi Kamatuka
Area:
• Total 249 sq mi (645 km2)
Population (2001):
• Total: 233,529
• Density: 923.6/sq mi (356.6/km2)
Time zone: WAT (UTC+1)
• Summer: (DST) WAST (UTC+2)
Facebook:
NAMIBIA: https://www.facebook.com/groups/namibia.namibia
WINDHOEK: https://www.facebook.com/groups/windhoek.namibia.africa
KATUTURA: https://www.facebook.com/groups/katutura
DRONESBERG AERIAL PHOTO/VIDEO: https://www.facebook.com/dronesberg
To print this page press Ctrl-P
Contact & information:
E-mail: info@namibweb.com
Reservations are only accepted in writing: by fax or via e-mail.
Final availability confirmation: in writing: by fax or via e-mail.
Terms & conditions, Payment options and Cancellation policy
Page created and serviced by



www.namibweb.com

Copyright © 1998-2022 namibweb.com - The online guide to Namibia
All rights reserved | JOIN | VIDEO PORTFOLIO | VIDEO/PHOTO COLLECTION
Page is sponsored by ETS & Exploring Namibia TV
Disclaimer: no matter how often this page is updated and its accuracy is checked www.namibweb.com and ETS
will not be held responsible for any change in opinion, information, facilities, services, conditions, etc. offered by
establishment/operator/service/information provider or any third party
Images: Copyright © www.namibweb.com