Hoada Camp Site: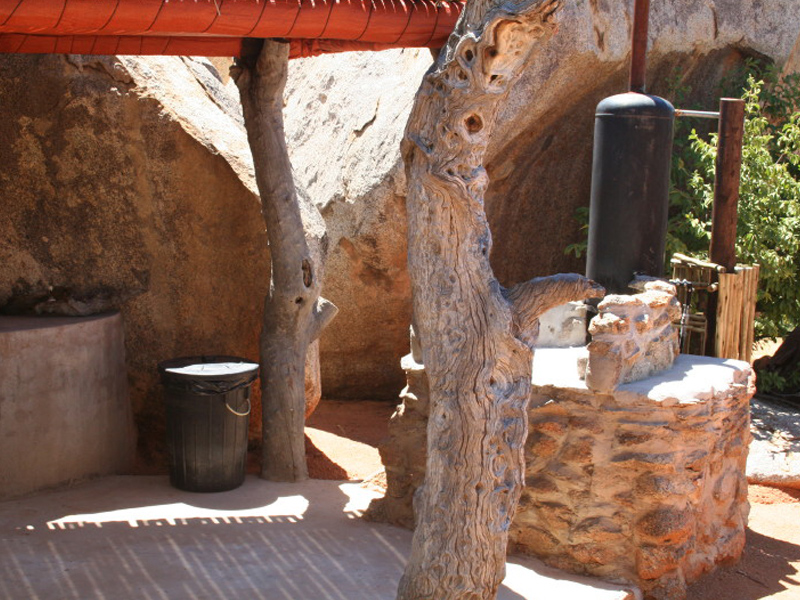 the mountain pass at the massive plateau of the Grootberg in Damaraland Namibia is well worth a closer look (see photo album). The same goes for the area above the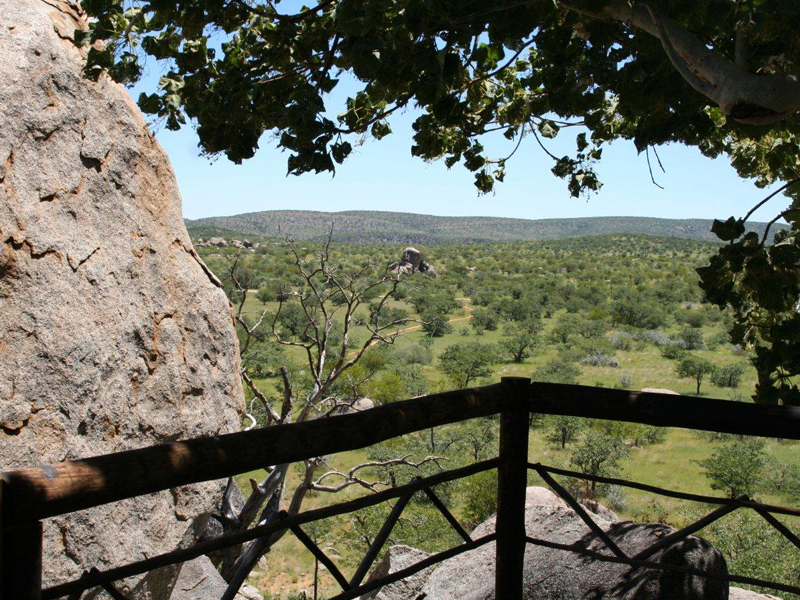 pass - not least because desert Elephant have a habit of moving through there.
Just as well that a camp site is located right there.
Attractions
Hoada Camp site is situated in the ‡Khoadi//hôas Conservancy (Dama for 'Corner of the Elephant') which offers many attractions: the stunning plateau of the Grootberg; a large variety of wildlife, including the fascinating desert Elephant, and well-marked hiking trails.
The camp site is a perfect base from where to explore the area. The entrance gate, made from Elephant bone, is an indication of the natural style in which the whole camp site has been constructed.
Materials are ecologically compatible and blend in with the area's surrealistic setting.
Hoada consists of three fully functional well-maintained sites, each with its own outside shower and flush toilet. To add an eco-friendly touch, the hot water system works in combination with the braai area, therefore whilst you are busy cooking your food, your water will be warmed up for your shower.

All three luxury camp sites can easily accommodate four persons, with ample designated areas for four tents or vehicles with roof-topped tents.
Activities
Activities at Hoada Camp Site consist of horse rides and hiking trails, reserved in advance only.

Visitors are also most welcome to participate in activities offered by the nearby Grootberg Lodge such as rhino tracking, elephant tracking, Himba Village excursions and nature drives.

The Hoada Community Campsite will bring you the pleasures of camping, giving you the freedom to roam and break the pattern of everyday living and its demands. We promise visitors a blissful stay with Namibian hospitality, upmarket amenities and thousands of stars looking down at you at night. Our friendly staff will be there to help you with setting up your tents and/or gazebos and we will even assist you to start your fire.
There is a kitchen area, and there are always friendly people to welcome you and take care of the facilities.
Rates per person per night: on request
Adults
-
Children 0-4 years old
FOC
Children 5-11
-
Children 12 years and older
Full rate
Activities per person, children 0-11: 50%, advanced reservations only
Scenic drives (a.m.)
-
Scenic drives (p.m.)
-
Himba trip, half day
-
Rhino tracking 3/4 day
-
Elephant tracking half day
-
Rhino tracking 3/4 day
-
Guided walk (plateau) 2 hours
-
Guided walk (plateau) 5 hours with lunch
-
Guided walk to the Klip River
-
Horse riding 1 hour
-
Sundowner horse ride 3 hours
-
Contact & reservations:
E-mail: info@namibweb.com
Terms & conditions, Payment options and Cancellation policy
Page created and serviced by



www.namibweb.com

Copyright © 1998-2017 NamibWeb.com - The online guide to Namibia
All rights reserved
Page is sponsored by ETS & www.namibweb.com
Disclaimer: no matter how often this page is updated and its accuracy is checked www.namibweb.com and ETS will not be held responsible for any change in opinion, information, facilities, services, conditions, etc. offered by establishment/operator/service/information provider or any third party
Description & images: Copyright © Grootberg Lodge & Hoada Camp Site