| | |
| --- | --- |
| Treesleeper Camp Tsintsabis | |
The word "Treesleeper" has been derived from the biggest ethnic group in the village of Tsintsabis, the Hei//omn Bushmen in northern Namibia. For the people who are not familiar with Khoisan (Bushmen/San and Nama) languages: The sign "//" in the word Hei//omn is not a mistake. In the Khoisan language group four so-called "clicks" are being used, them being: "//", "!", "/" and "‡". When the Hei//omn still used to hunt in the old days, they sometimes fled into trees not to be caught by lions. Because of the incredible patience lions have, the Hei//omn sometimes even had to spend the night in the tree. Hei//omn in fact means Treesleepers. Therefore the name Treesleeper symbolises the whole project: It respects the traditional culture of the Hei//omn while at the same time covering the tourists who are to visit the enterprise.

The tourists who visit the enterprise will have a very interesting African experience. They have to possibility to experience Bushman culture, whilst sleeping co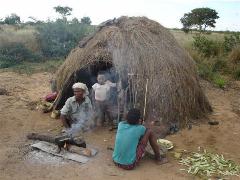 mfortably, surrounded by those typical African bush trees. For a short period, tourists might even feel like "Treesleepers" themselves, although of course they sleep under the trees and not actually in them. For the tourists Tsintsabis is an excellent place to meet the original inhabitants of this area, combined with a visit to Etosha National Park. The Treesleeper-project in Tsintsabis is a form of what we call "community based tourism". Tourism is a relatively new trend within the development aid. Community based tourism means that the members of a local community are involved in all the aspects of carrying out the tourist activities, so they can have some income of their own. They should have a fair income for all their labour activities. As much as possible will be done by the local community, and we will pay extra attention to "modern" abilities like working on a computer. By training and educating the local people, they will eventually be capable of improving their situation independently and with responsibility.
Therefore, especially for this project a committee has been founded in Tsintsabis. Everything related to the Treesleeper project will always be discussed with the committee (as representatives of the community). Men and women are equally represented in this committee. Quite a variety of subjects are discussed with them. Matters like "folklorisation", where cultural expressions are adapted to the needs of tourists. Traditional dancing? Fine, but the local community should be able to do it their way, if at all. Treesleeper does not aim to adjust attractions to the needs of tourists. We want to give a realistic image of both the traditional and the contemporary way of live. Without bothering the tourists too much with ethical or moral aspects (they are on vacation, after all), we will give some attention to pointing out the contemporary situation of the (Hei//omn) Bushmen to them.
Accommodation - Camping:
• Category 3: Camp site with shared ablution and no tree deck, max 9 persons;
• Category 2: Camp site with shared ablution and a tree deck, max 18 persons;
• Category 1: Camp site with a personal ablution block and a tree deck, max 8 persons.
The tree decks can be used as a viewing platform or for placing tents if a visitor prefers to sleep on the deck. All camp sites are private areas with a braai, a tap and a bin. All ablutions have warm water.
Activities

Bush discovery walk:

Learn about edible, poisonous and medicinal plants used by the Namibian Bushmen, their sncient culture, see how they used to hunt animals, set up traps and made fire. The bushwalk is ideal for learning about the traditional way of life of the Bushmen. One guide takes you into the bush and explains about all these traditions.
Time: maximum 2 hours; minimum of 2 persons.
Best time of the day: early mornings.

Village tour:

Visit Bushmen village and one or two families: see how they live nowadays and learn more about the contemporary situation. One guide will introduce you to families where you can ask questions and take photographs. This tour is about today's "real life situation" and does not exhibit Bushmen people in traditional clothes.
Time: maximum 2 hours; minimum of 2 persons.
Best time of the day: early mornings.

Traditional singing and dancing:

See traditional singing, dancing, healing and other ceremonies of the Bushmen, performed by children of the Tsintsabis Junior Secondary School or by an elderly traditional healing group. In case of the children you support the cultural activities of the school. Learn about the ritual dances and ceremonies and its' meanings that are taking place around a camp fire.
Time: maximum 1 hour; minimum of 4 persons.
Best time of the day: evenings.

Rates per person per night, camping only: on request
Accommodation: Tree houses, per room per night, accommodation only

Double/twin rooms, max 2 persons
-
Triple rooms, max 3 persons
-
Room accommodation, bed and breakfast
Standard double rooms, max 3 persons per room, per person per night
-
Standard single rooms, per room per night
-
Family bungalows, 4 twin beds, per person per night
-

Camping

Camping category 1
-
Camping category 2
-
Camping category 3
-
Tent hire, canvas dome tents (2x2 m), erected on site of choice. Sleeping bag, mattress and cooking equipment
-
Meals per person
Breakfast
-
Lunch
-
Dinner
-
Activities per person, min 2 persons, advanced reservations only
Bush discovery walk, +- 2 hours
-
Village tour, +- 2 hours
-
San traditional singing and dancing, +- 1 hour, min 4 persons
-
Nature walk: survive in the bush, guided tour, min 4 persons: 2 days, 3 meals per day
-
Contact & reservations:
E-mail: info@namibweb.com

To book:
1) you can e-mail us requesting information and/or rates

Reservations are only accepted in writing: by fax or via e-mail.
Final availability confirmation: in writing: by fax or via e-mail.

Terms & conditions, Payment options and Cancellation policy
Page created and serviced by



www.namibweb.com

Copyright © 1998-2019 NamibWeb.com - The online guide to Namibia
All rights reserved | Pond5 | VIDEO LIBRARY
Page is sponsored by ETS & www.namibweb.com
Disclaimer: no matter how often this page is updated and its accuracy is checked www.namibweb.com and ETS will not be held responsible for any change in opinion, information, facilities, services, conditions, etc. offered by establishment/operator/service/information provider or any third party
Description & images: Copyright © Treesleeper Camp