Farm Eileen

Erongo Plateau Camp
Omaruru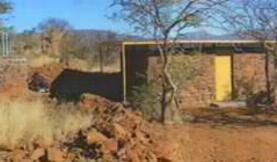 Eileen Guest Farm is situated on the edge of the Erongo Mountains in Omaruru area of central Namibia. Farm Eileen is not a hunting farm, but a combined cattle, small stock and game farm. On Eileen cattle and game are living together. Hosts have various game species, which are roaming free and and undisturbed on the farm.
Your visit to the farm can be a special adventure. Your hosts Rita and Frederik personally attend to all guests and tourists.
Erongo Plateau Camp was build in February 1998. Owners of the camp, Oliver and Conny Kayser, built the camping site on their parent's (Frederik and Rita van Alphen) farm, Farm Eileen. Conny & Oliver together with Israel Mbudu constructed the camping site environmentally friendly.
YouTube video: Camp Mara video, Omaruru:
YouTube video: Tikoloshe Arts & Crafts Omaruru:
YouTube video: Franke Tower Omaruru:

Erongo Plateau Camp is situated in the majestic Erongo Mountain range near small town Omaruru.
Erongo Plateau Camp is set within comfortable traveling distance to Swakopmund and sights of the west coast, Twyfelfontein in Damaraland, Etosha National Park, Waterberg Park and Windhoek.
YouTube video: Omaruru town:

The camping ground is small and secluded, offers privacy and has clean hot/cold showers and toilets. Fire wood can be purchased at the camp. Each camping site has its own water tap, fireplace and shade netting. Erongo Plateau Camp has no power supply, swimming pool or shop, campers should bring own camping equipment and food/drinks.

Pets are welcome at Erongo Plateau Camp and pet owner must take full responsibility of their pets.
You can go with hosts to see how work is done on a farm or to see and experience nature and wildlife or otherwise just relax in the shade on the lawn at the swimming pool or in our comfortable rooms.
While in the Erongo Mountains you should definitely visit the bushman rock paintings. Painted on huge boulders of Erongo granite, the paintings depict hunting scenes and ritual motives. Since these rock paintings are on private farms and not open to the public, you have to book visits in advance.
Farm Eileen is situated at the edge of the Erongo Mountains and is a popular migration area for many animal species of our country.

Your Hosts Rita and Frederik van Alphen cater for excellent meals and a familiar atmosphere. Evenings at the barbeque are an enjoyable experience to our visitors.
Activities: Farm drives, Walking Trails, Game viewing at Waterhole is offered, together with explanations to the origin of the ancient volcano (Erongo), geology and minerals, as well as fauna and flora for those that are interested. Your visit to our Farm can become your special highlight. You can join us where ever there is activity or work to be done one the farm while you can experience and enjoy nature, or else you can also rest and relax at our saltwater swimming pool. As our guest, we like you to feel at home and hear about our way of life on the farm.
Farm Eileen is not a hunting ranch. We and our employees make a living from tourism and livestock production on a small scale. We offer Rooms with Dinner, Bed and Breakfast, Lunch is prepared on request only. We support conservation - plants, birds and animals. On Farm Eileen we specially protect our Leopards in their natural environment.

History

On January 1982 we made our dream come true and bought Farm Eileen. At the time we still lived in Swakopmund and visited the Farm only on weekends.
The animal drinking trough was right next to the entrance door of the homestead. There was no green bush or tree in the yard only numerous fences. The borehole was in the middle of the yard but was too salty.
Our cattle - 1983 Very proud we were, when we bought our first few cattle. Still today we look with pride to our small herd. On every available weekend we first had to repair and renew all water installations. repairing the windmill
picking fresh vegetables With lots of effort you could see the change in the garden by 1985. For our meals we could even pick fresh vegetables.
During 1989 we even planted corn, but it proved unsuccessful, as we lost the battle against hundreds of birds. planted corn
Bohrmaschiene 1990: Kluges Drilling - Drilling for water. Every farmer is responsible for his own water supply. First you have to find the right drilling place to avoid unnecessary dry boreholes, since no financial assistance is available. Most boreholes in our area must be drilled to a depth of approximately 100 meters. Then if you find Water you are lucky if it is enough and drinkable.
1991 the charcoal business started. Scale to weight wood. The employees work on a tender basis and are paid per ton of wood or charcoal.
The charcoal-burner was built by Frederik and was then transported to the site. A farmer has to be an all-rounder and be able to perform all work by himself.
Charcoal-burner 1992: Charcoal packing for the local market. Wood in Namibia is easy available to everybody for the barbeque (braai) and therefore the charcoal first had to conquer the local market.
Kohleverpackung fur Export 1994: Charcoal Packing for the German Overseas Market - "Heinrich Toms - Hannover".
Bricks were manufactured 1996: During the second half of the year we started to completely reconstruct the farmhouse. Firstly a new roof was built over the existing old house. Thereafter many rotten walls were demolished and then rebuilt. Even most of the bricks were manufactured on the farm by us.
Accommodation on Farm Eileen

On Farm Eileen we offer 5 comfortable Rooms each with own Shower and Toilet. There are 2 Tripple Rooms, 2 Double Rooms and 1 Single Room.
Tripple Room Tripple rooms, comfortable and spacious with Shower and Toilet. Photos from different angles. Tripple Room
Double Room Double rooms smaller also with own Shower and Toilet. Double Room
open Lapa Meals are served on a half open Lapa or in a small dinning room. You can expect excellent meals served in a pleasant atmosphere. open Lapa
round the open fire Barbeque evenings round the open fire are very popular. In a social atmosphere you can hear all about the way of life in Namibia.
saltwater pool Enjoy our fresh saltwater pool in a calm atmosphere or go with us or alone to explore surrounding environment.

Activities on Farm Eileen

Farm Nature drives on the open Landrover along the edge of the Erongo Mountains, if possible we can view Kudu, Oryx, Zebra, Duiker, Damara Dik-Dik as well as many birds.

Our Hideout 1996 - "Our Hideout". Here we can watch the game coming to the waterhole. This is only advantageous when staying for a few days on Farm Eileen. You can with patience and time watch the Leopard, but naturally you must be lucky, there is no guarantee.

Walking

Your stay for at least two nights could look like this:

After a days journey arriving at Eileen you can enjoy coffee/ tee and cake. If we should serve Lunch please book in advance. Your respective interests can be discussed and the next days activities organized. If there are still 2 hours until sunset, you can undertake a walking tour/ hike to a nearby waterhole. After the hike you can enjoy the saltwater pool or rest in your spacious room.

For dinner we will serve you different specialities you do not usually enjoy at home.
After a copious breakfast on the terrace the day's happenings can begin. Nature drives around Eileen or to nearby vicinity or anything you specially desire.

Location

Farm Eileen is situated in central Namibia at the edge of the Erongo Mountains near Omaruru.

Route

The road to Farm Eileen can be driven with a sedan car, however a vehicle with more ground clearance will be better on all gravel roads in Namibia.

Coming from Karibib on the C33 just before Omaruru, you turn left into the D2315. (Total on D2315 are 24km.) Here you will see a big signboard for Erongo Plateau Camp and Farm Eileen. On the D2315 after about 12 km you pass a gate of "Erongo Mountain Conservancy". Please note, this is not a police road block! You do not pay entrance fees. The Gate Tor der Hegegemeinschaft auf der D2315 will be opened for you.

Farm road After another 12km you will get the signboard Eileen (F2318). Turn left, after 9km you will find the entrance gate to Farm Eileen. Turn left again on to the farm road. From here on please drive slowly the next 7 km on this farm road. It will take you about 30 minutes to reach the farm house, enjoy this nature drive.
Rates per person per night: on request
Dinner, bed and breakfast
Single/double/triple room
-
Camping per person
-
Facebook:
NAMIBIA: https://www.facebook.com/groups/namibia.namibia
KARIBIB: https://www.facebook.com/groups/karibib.namibia
DRONESBERG AERIAL PHOTO/VIDEO: https://www.facebook.com/dronesberg
Contact & reservations:
E-mail: info@namibweb.com

Reservations are only accepted in writing: by fax or via e-mail.
Final availability confirmation: in writing: by fax or via e-mail.

Terms & conditions, Payment options and Cancellation policy
Page created and serviced by



www.namibweb.com

Copyright © 1998-2023 namibweb.com - The online guide to Namibia
All rights reserved | JOIN | VIDEO PORTFOLIO | VIDEO/PHOTO COLLECTION
Telegram | YouTube | Blog
Page is sponsored by ETS & Exploring Namibia TV
Disclaimer: no matter how often this page is updated and its accuracy is checked, www.namibweb.com and ETS
will not be held responsible for any change in opinion, information, facilities, services, conditions, etc. offered by
establishment/operator/service/information provider or any third party
Description & images: Copyright © Farm Eileen