Halali Rest Camp Etosha National Park
The Etosha Park (from 1958) is located 435 km (Okaukuejo) or 530 km (Namutoni) north of Windhoek. The park can be entered through either Von Lindequ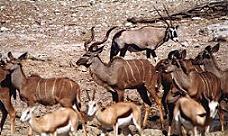 ist (Namutoni) or Andersson Gate (Okaukuejo). It is one of the Africa's largest parks covering area of 22 270 square kilometres. The Etosha pan's size is 4 590 square kilometres, while all pans cover more than 5 100 square kilometres.
Name. The word ''etosha'' means place of dry water or, according to other sources, huge, white area.
History. Game Reserve 2, proclaimed by German Governor Friedrich Von Lindequist in 1907, comprised the Etosha pan and most of Kaokoland and covered almost 100 000 square kilometres. The park was reduced in 1947 by allocating Kaokoland to Herero. According to recommendations of Odendaal Commission (1962) park's area was reduced even further. The present size of the park is 77 per cent less than before the Odendaal Commission.

Best time for visit. Winters are cool and dry in the park. Game tend to stay closer to water holes and chances to spot species are better. The rainy season normally begins at the end of October - beginning of November.
Average rainfall figures: Okaukuejo: 412 mm, Halali: 430 mm, Namutoni: 442 mm.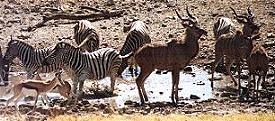 Camps.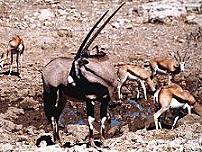 Okaukuejo. The oldest camp in the park, opened in October 1957, is the home of Etosha Ecological Institute. Established in the end of last century as a control post to combat the spread of foot-and-mouth disease of cattle, illegal hunting and gun trading. Attractions: water tower (1963), floodlit water hole in the camp frequently visited by elephants, rhinos, lions and different species of antelopes.
Namutoni. The camp was opened in 1958. The first fort (1902-03), erected as a border post and was attacked in 1904 by 500 Ovambos. The garrison of seven German soldiers successfully defended fort for the whole day and retreated later during the night. Next day fort was completely destroyed by Ovambos. After Herero uprising Namutoni fort was rebuild and later used as a police post but during the course of time fall in disuse. Restoration works began on the end of 30s when one of the towers was destroyed by lightning. In 1950 the Namutoni fort was declared a National Monument. The restaurant, additional accommodation units and shop were added in 1983.
Halali. The newest camp was opened in 1967. The name derived from the sound of traditional German hunting horn used to announce the end of the hunt. The only hills in the park are located here.
Vegetation. The vegetation groups can be identified as follows: grass plains along the pan (e.g. Andoni, Chudob), mopane woodland (Okerfontein), mixed thorns and terminalias (Namutoni), dense woodlands (tamboti, thorns, mopane) (Namutoni-Okerfontein).
Altitude. The average height of the park is around 1000 m above sea level.
Attention: SPEED LIMIT IN THE PARK IS 60 KM/H
Pictures: photo album
Related:
Accommodation in the area:
Accommodation and camping per night Halali: on request
Unit type
Number of units
Daily rates per person
Single rate
Note
Family chalet
2
-
-
Bed and breakfast
Maximum 4 adults
Bush chalet 2 beds: access for disabled
10
-
-
Bed and breakfast
Maximum 4 adults
Bush chalet 4 beds
10
-
-
Bed and breakfast
Maximum 2 adults
Double room 2 beds
39
-
-
Bed and breakfast
Maximum 2 adults
Camping
40
-
-
Maximum 8 persons per site
Accommodation only: children under the age of 6 stay free of change, 6-12 years old pay 70%.
Provision for children will be made upon arrival; however the booking must be made in advance.
Disabled access units available - please specify when booking
Activities
Guided morning drives
-
on request
-
No children under the age of 6 permitted
Guided afternoon drives
-
on request
-
Guided night drives
-
on request
-
Rates for guided drives per person:
Other facilities: shop, kiosk, swimming pool, restaurant, fuel (no diesel). No banking facilities.
Conference facilities (40 pax):
Rate: on request.
Other facilities: shop, kiosk, swimming pool, restaurant, fuel, mail facilities, fire wood. No banking facilities.
Restaurants:
Open: 7.00-9.00, 12.00-14.00, 18.00-22.00
Meal times:
7.00-8.30, 12.00-13.30, 18.00-20.30
Reservations
(click for more information)
Contact & reservations:
E-mail: info@namibweb.com
To book:
1) you can e-mail us requesting information and/or rates
Reservations are only accepted in writing: by fax or via e-mail.
Final availability confirmation: in writing: by fax or via e-mail.
Terms & conditions, Payment options and Cancellation policy
DAILY PARK AND RESORT FEES (PER PERSON AND PER VEHICLE) ARE NOT INCLUDED IN ACCOMMODATION FEES!
Page created and serviced by



www.namibweb.com

Copyright © 1998-2024 namibweb.com - The online guide to Namibia
All rights reserved | JOIN | VIDEO PORTFOLIO | VIDEO/PHOTO COLLECTION
Telegram | YouTube | Blog
Page is sponsored by ETS & Exploring Namibia TV
Disclaimer: no matter how often this page is updated and its accuracy is checked, www.namibweb.com and ETS
will not be held responsible for any change in opinion, information, facilities, services, conditions, etc. offered by
establishment/operator/service/information provider or any third party
Description and logo: Copyright © Namibia Wildlife Resorts