| | |
| --- | --- |
| Etosha Garten Hotel Outjo | |
| | |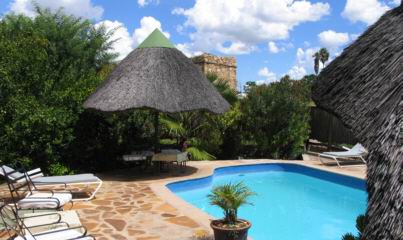 Etosha Garten Hotel is located in the heart of Outjo, shaded by tall palms, jacarandas and lush greenery. It is a small, affordable and friendly heaven for travellers enjoying the good things in life. It is a place where you can relax after a long, dusty journey, recharging your batteries for your next destination in the north of Namibia.

The hotel has 20 double bedroom units, each with en-suite facilities (bath or shower). Guests can cool off in our sparkling swimming pool.

YouTube video: Swakopmund - Epupa Falls flight to Himba village:

Tsumeb Museum video:



Etosha National Park and other activities
Guided Photo Safaris to Etosha National Park and also through the West Part of Etosha National Park which is not open to the general public, with overnight stay in the Park and also at a Private Game Farm.
Guided Day Trips to Damaraland, guided tours to Kaokoland (OvaHimba - last Nomads of Namibia) and also to Ovamboland and the Caprivi up to Victoria Falls.
In Outjo: Museum, Curio Shops, Nautilia Graveyard, old historical Windmill Tower. Guided visit to the townships of Outjo which can include the Haillom Youth Center (traditional dancing), to nearby caves and Adventure Trails.
The Hotel was one of the first buildings constructed in Outjo and is already more than 100 years in existence. The Windmill Tower (famous attraction) was constructed in 1900 to provide fresh water to the German soldiers and their horses as well as the hospital. It was built over a well in a dry river bed (now in front of the Hotel) and officially taken into use on 1 March 1901. The 9.4 meter high base, which can be seen today , was built from stone and clay and a wooden windmill was mounted on top. The stone tower was declared a National monument in 1957.

The Hotel is situated conveniently in town near the shopping centre as well as for day trips to Etosha National Park (one hour drive), Damaraland (Petrified Forest, Twyfelfontein, Burnt Muntain and Organ Pipes), Ugab Terraces, Vingerklip and Waterberg Plateau Park.

Breakfast, lunch and dinner are served at Etosha Garten Hotel. Also available is a-la Carte menu and can cater for groups and functions (both set menu and buffet). Etosha Garten Hotel boasts ample space for parking and security on the premises to ensure safety of your belongings and vehicle.
Bed and breakfast
Single/double/triple room
-
Family room
-
Notes: Rates are subject to change without prior notice should tax be increased or Government levies introduced. Rates include Value Added Tax.
Facebook groups:
Contact & reservations:
E-mail: info@namibweb.com
Reservations are only accepted in writing: by fax or via e-mail.
Final availability confirmation: in writing: by fax or via e-mail.
Terms & conditions, Payment options and Cancellation policy
Page created and serviced by



www.namibweb.com

Copyright © 1998-2023 namibweb.com - The online guide to Namibia
All rights reserved | JOIN | VIDEO PORTFOLIO | VIDEO/PHOTO COLLECTION
Telegram | YouTube | Blog
Page is sponsored by ETS & Exploring Namibia TV
Disclaimer: no matter how often this page is updated and its accuracy is checked, www.namibweb.com and ETS
will not be held responsible for any change in opinion, information, facilities, services, conditions, etc. offered by
establishment/operator/service/information provider or any third party
Description & images: Copyright © Etosha Garten Hotel