"Oppiklippe" (Afrikaans for on the rocks) is the name of the venture to combine some tourist accommodation with a wildlife farm - named 'Petersburg' after the Russian city by the original German settlers. This presents an opportunity for tourists to come in contact with a Namibian farm and its people. Petersburg forms part of the Etosha Conservancy and is mainly used for farming with eland.
YouTube video of Tsumeb Museum:

Oppiklippe is situated near town Outjo, the "Gateway to Etosha".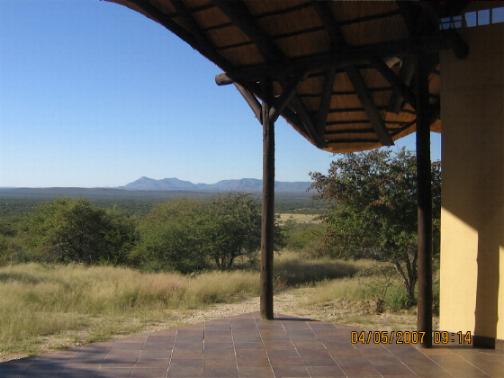 * affordable rates for overnight stay and camping
* go for a walk on the rocks of our "Outjo terraces" and soak up the dry sun burnt Namibian scenery up to the far off Paresis mountains
* view the wildlife while on your hiking trail, or back at the cabin - birds or a shy Damara Dik-Dik, kudu or eland drinking
* sit around a fire or just in the shade of the cabin after the walk, enjoying your drinks and food, in complete solitude, enjoying the silence of the infinite space around you, especially at night
* view the unbelievable bright expanse of stars at night
* collect free firewood
YouTube video of Rhenish mission station ruins at Waterberg:

Thatched roof house

* Luxurious fully equipped thatched roof house.
* Two double bedrooms sharing a shower and toilet.
* Top room with beautiful view - two single beds and two sleeping coaches.
* Outside shower and toilet among rocks.
* Open plan kitchen and living room with fire place.
* Big veranda with beautiful view over Paresis mountains.
* Solar power for the lights
* Equipped with gas stove, freezer, linen, towls and the necessary utensils for self-catering.
The cabin

* Overnight cabin with walls made of double hardboard sheets (not asbestos cement sheets) - accommodates only one group consisting of 1 to 8 persons
* Bedroom (5.5 m X 2.6 m) with double bed, single bed and double stack bed
* Living room with double stack bed and single bed, including a separate kitchenette, 4.1 m x 5.5 m
* Self-catering with the necessary utensils - equipped with gas stove, freezer, linen and towels. Separate hot water shower and toilet among rocks
* Only 12V lights

Camping

* Isolated camp sites
* Choice of camp sites, shady spots or magnificent view from terraces
* Toilets
* Showers
* Braai area

Wildlife viewing

Especially kudu, eland, famous Damara Dik-Dik and bird watching. If you are lucky you might see a turtle.

Walks

Hiking among rocks and along the Outjo terrace ridge for views of the Namibian scenery south of Outjo, while watching wildlife encountered on the way.
Rates per room per night, accommodation only: on request
Thatched roof house: 10 persons: 2 double beds, 4 single beds and 2 sleeper couches

-
-
-
Cabin: 6 persons: 1 double bed, 4 single beds. Fully equipped: gas stove, fridge, crockery & cutlery.
-
-
-
Camping
Per person
-
Facebook:

Contact & reservations:
E-mail: info@namibweb.com



Reservations are only accepted in writing: by fax or via e-mail.
Final availability confirmation: in writing: by fax or via e-mail.

Terms & conditions, Payment options and Cancellation policy

Page created and serviced by



www.namibweb.com

Copyright © 1998-2023 namibweb.com - The online guide to Namibia
All rights reserved | JOIN | VIDEO PORTFOLIO | VIDEO/PHOTO COLLECTION
Telegram | YouTube | Blog
Page is sponsored by ETS & Exploring Namibia TV
Disclaimer: no matter how often this page is updated and its accuracy is checked, www.namibweb.com and ETS
will not be held responsible for any change in opinion, information, facilities, services, conditions, etc. offered by
establishment/operator/service/information provider or any third party
Description & pictures: Copyright © Oppiklippe