Klein Aus Vista
Namib Desert Horse Adventures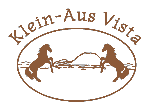 Klein-Aus Vista is known for incredible views over the surrounding endless plains and rocky mountains of Southern Namibia. The lodge is located just off main Keetmanshoop - Luderitz road and is your convenient stop to explore majestic south of Namibia. Accommodation offered is in Eagle's Nest Chalets, located away from main lodge, Desert Horse Inn, Klein Aus Vista camp site and rustic Geisterschlucht Cabin.
Accommodation at Klein Aus Vista
---
Klein Aus Vista Desert Horse Inn
The rooms are built in a style indicative of the late century farmhouse. Desert Horse Inn has 30 rooms (24 twin, 3 triple & 3 four bed rooms). Also available: restaurant, bar, swimming pool, free Wi-Fi at the reception area, mobile connectivity, secure parking.
Room facilities: ceiling fans, mobile heaters, en-suite bathrooms, showers, fridge, safe, veranda, tea/coffee station.

GPS coordinates: S 26° 39.121 E 16° 14.608
---
Klein Aus Vista Eagle's Nest Chalets
Eagle's Nest chalets are built into rounded granite boulders with a rugged granite-gneiss mountain as a backdrop. Guests enjoy the expansive views in front of their accommodation. Located 7 km from the main lodge, Eagle's Nest is private self-catering retreat and each chalet is built individually, combining natural elements and boulders into their interiors in a rustic and luxurious blend.
Guests can choose whether to cook in the kitchen, on the fire or to eat in the Desert Horse Inn restaurant, take away breakfast or barbecue packs are available on request. GPS coordinates: S 26° 39.121 E 16° 14.608.
7 chalets (3 double, 3 triple rooms, 1 four bed unit.
Self-catering facilities: small kitchen, outside barbecue, en-suite bathrooms, showers, ceiling fan, fireplace, fridge, mini bar, safe, tea/coffee station, veranda.
---
Klein Aus Vista Geisterschlucht Cabin
Watch 1934 Hudson Terraplane wreck video:
Read 1934 Hudson Terraplane wreck full story here
This rustic "Ghost Canyon" cabin, located 6 km from Desert Horse Inn, offers simplistic while exclusive accommodation as it tucked away in a secluded valley, where a rusty bullet-ridden Hudson Terraplane 1934 wreck greets you at the entrance road, a relic of a gunfight between diamond smugglers and the police. According to a legend smuggled diamonds were never found.
The Geisterschlucht Cabin consists of two family rooms sharing a bathroom, kitchen and lounge area. Solar panels that charge batteries provide 220 volt light and outlets to charge devices (note no hair dryer and electric kettle can be used). The two rooms each have two three quarter beds and one bunk bed each, sleeping a total of 4 persons per room with bedding provided. The bathroom has two organic toilets and two showers. The open plan kitchen and lounge area is equipped with a fridge/gas burner and an inside braai (barbecue) area with cutlery, crockery, pots and pans provided. There is also an outside braai area to enjoy pleasant evenings around the fire.
Accommodation: maximum 8 persons: two family rooms sleeping 4 pax each (2 x ¾ beds and 1 x bunk beds, bedding is provided, two gas heated showers and two organic toilets, solar charged batteries providing 220 volt, open plan kitchen and lounge area without cutlery & crockery, outside barbecue, barbecue packs are available at the reception.

During some periods of the year, the cabin may only be accessible with a 4WD vehicles, enquire at the time of reservation.

GPS coordinates: S 26˚ 39.121' E 16˚ 14.608'
---
Klein Aus Vista Desert Horse Camp Site
The campng is located 1.5 km from the Desert Horse Inn. Campers can use Desert Horse Inn restaurant, subject to availability, must be checked upon arrival. GPS coordinates: S 26° 39.121 E 16° 14.608. Each of the ten sites is equipped with a tap, table with benches, grill and windbreak. There are hot water showers and flush toilets.
No power points are available at the Desert Horse camp, all equipment can be charged at the reception of Desert Horse Inn, where barbecue packs are also available for purchasing. Also available at Desert Horse Inn: bar, swimming pool, free Wi-Fi, mobile connectivity, safe secure parking.
---
Adventures and activities at Klein Aus Vista

Exclusive trips into the Southern

Namib-Naukluft Park to view the Namib feral horses, that have roamed this area for seven generations. Activities include: hiking, scenic sunset drives, full day or half day desert tours: to Kubub, Gondwana Sperrgebiet Rand Park, God's Window or to Kubub, Gondwana Sperrgebiet Rand Park, full day 4x4 guided self-drive tours, day trips to Luderitz and Kolmanskop.

Rates per night: on request

Contact & reservations:
E-mail: info@namibweb.com

Terms & conditions, Payment options and Cancellation policy

Page created and serviced by



www.namibweb.com

Copyright © 1998-2023 namibweb.com - The online guide to Namibia
All rights reserved | JOIN | VIDEO PORTFOLIO | VIDEO/PHOTO COLLECTION
Telegram | YouTube | Blog
Page is sponsored by ETS & Exploring Namibia TV
Disclaimer: no matter how often this page is updated and its accuracy is checked, www.namibweb.com and ETS
will not be held responsible for any change in opinion, information, facilities, services, conditions, etc. offered by
establishment/operator/service/information provider or any third party
Images, description and logo: Copyright © Klein Aus Vista