COUNTRY INFORMATION
@ Namibia information
@ Health
@ Health information
@ Malaria information
@ Adventure in Namibia
@ People of Namibia
@ Namibian flag
@ Pictures of Namibia
@ Namibian cave register
PLACES OF INTEREST

@ Swakopmund
@ Spitzkoppe
@ Uis tin mine
@ Navachab gold mine
@ Brandberg mountain
@ Woermann House in Swakopmund
@ Horse graves in Swakopmund
@ Guano
@ Rock art in Namibia
@ The Southern Cross*
@ Sedimentation of Walvis Bay lagoon
@ Passes in Namibia
@ Three Namib mountain passes*
@ Kaokoland: Africa's last wilderness*
@ Damaraland attractions
@ Khorixas
@ Twyfelfontein
@ Petrified Forest
@ Burnt Mountain
@ Organ Pipes
@ Namib dunes
@ Hoba Meteorite
@ Omdel Dam
@ Regimental badges near Swakopmund
@ Christuskirche in Windhoek
@ Kristall Kellerei winery in Omaruru

USEFUL INFORMATION
@ Important telephone numbers
@ Visa and immigration information
@ Airlines to Namibia
@ Air Namibia information
@ Windhoek International airport*
@ Border posts
@ Diplomatic missions in Namibia
@ Namibian embassies abroad
@ Check list for travellers
@ Museums and libraries in Windhoek
@ TransNamib Railway museum and station*
@ Restaurants in Windhoek
@ Coffee shops in Windhoek
@ Where to eat*
@ Where to shop*
@ Where to stay*
@ Exchange rates and other money matters
@ Banks and bureau de change in Windhoek
@ Customs regulations
SERVICES, BOOKINGS AND TOURS
@ Search our site
@

Self-drive tours
@ Budget camping tours
@ Budget travel shop
@ Conference services
@ Windhoek city tours
@ Katutura Face to Face tours*
@ Shuttle & transfer services
@ Tours to game farms
@ Lions, leopards, cheetahs
@ Tours to the Atlantic Coast
@ Other tours
@ Diamond shopping tours
@ 2 days overnight tours*
@ Geological tours
@ Our safaris
@ Our safaris-1
@ Other safaris*
@ Other safaris-1*
@ Chauffeur services
@ Paul Graetz tour
@ Arnhem Cave tours
@ Other products and services
@ 4x4 desert tours from Luderitz*
@ Reservations of resorts in National parks
@ Comparison shop
@ V.I.P. safaris and tours*
@ Specialised tours*
@ Tours for disabled*
@ Game viewing tours
@ Oanob Dam tours*
@ Hiking trails in Namibia
@ Spitzkoppe fossil trail
@ Free brochures*
RENTALS & HIRE
@

Car rental
@ Car rental conditions, driving tips, g general information and how to book
@ Description of vehicles to rent
@ Special vehicles to rent
@ Camping equipment hire
@ Rent-a-guide
ADVENTURE
@ Quad bike tours*
@ Horse and camel trails
@ Tok Tokkie Trails
@ Kunene river rafting
@ Orange river canoeing
@ Kayak tours**
@ 4x4 trails in Namibia
@ Hiking trails in Namibia
@ Kaokoland tours
HUNTING
@ Hunting information
@ Hunting medals in Namibia
@ Special hunting trophies
FISHING & MARINE TRIPS
@ Fishing trips
@ Dolphin and seal cruises*
FLIGHTS
@ Flights and fly-in safaris
@ Fly-in safaris*
@ Helicopter flights*
@ Hot air balloon safaris
@ Balloon flights in Swakopmund
@ ''Flying Fox'' cable slide
@ Parasailing at the coast
@ Booking of air tickets
SELECTED SERVICES
This information is provided to assist prospective cavers or speleologists to plan their visits. Please take note that, where permission or permits are required, non-compliance may be a criminal offence. Tussling with local law enforcement people may not be the fondest memories to take home about Namibia.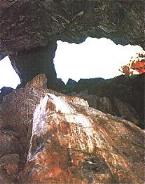 Access
Permission from landowners is required to visit their property. Unannounced visits are generally discouraged, and trespassing (visits without permission) is illegal. Visits to certain caves require official permits.
Bats
Some Namibian caves contain thick deposits of dry bat guano. Visitors are recommended to wear industrial dust masks in those caves. Visitors should appreciate the ecological importance of bats, and should not needlessly disturb bat colonies, particularly during the Namibian wet season (November - April) when bats are breeding.
Carbide
Carbide is not regularly available in Namibia. Visitors should arrange to ship carbide from their home countries or from South Africa or Zambia.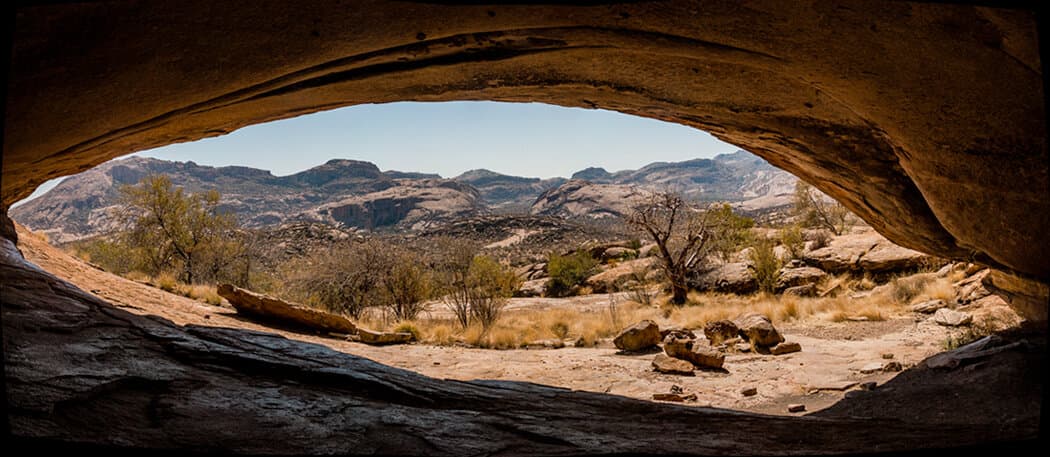 Diving
Cave diving require specialised equipment and training, as it is a hazardous venture. Local diving clubs have cave diving, deep diving, and diving medicine experience. Liaison with the Namibian Underwater Federation is strongly recommended. Though special permission for cave diving is not yet required, authorities are likely to take a dim view of unannounced expeditions, particularly in case of accidents. Prospective divers should also note that many cave pools harbour endemic fauna, and that permits may be required to visit such caves.
Equipment
Caving or mountaineering equipment are not readily available in Namibia, for sale or for hire, and visitors should ensure that they have all equipment that may be required. It should be taken into account that most cave entrances are vertical, and ladders or ropes will be required. Visitors are reminded that equipment for hazardous expeditions to African countries should always include a comprehensive first aid kit.
Fauna
Namibian caves often contain endemic species. Please take note that the collection of any animal or plant material, including invertebrates, is illegal without a permit from the Namibian Ministry of Environment & Tourism.
Geology
Namibia is an arid country, and all cave formations are relatively rare and individually unique. Even formations that are relatively common in other countries may be very scarce in Namibia, and visitors should take the utmost care not to dirty or destroy formations of any kind. Please take note that export permits are required for geological and mineralogical samples.
Histoplasmosis
Cave disease (histoplasmosis) has not been recorded from any Namibian caves, and care should be taken not to introduce spores of the fungus. Prospective visitors, particularly if they come from countries with histoplasmosis, or visit Namibia after caving in such countries, are therefore requested to ensure that all their equipment are cleaned and sanitised before entering Namibia. Such simple precautions may keep Namibian caves uninfected and safe for casual visitors, e.g. the indigenous population.
Inventory & Information
The National Museum of Namibia maintains local inventories of cave sites, cave maps, biospeleology, and cave literature. Cave locations and survey maps are made available on request to bona fide research visitors. Assistance with this effort will be greatly appreciated, which can be done by depositing copies of any relevant publications; cave surveys; cave research results; exact cave localities; and any other relevant information, documentation, or materials; within Namibia. Valuable information from past caving visits have been lost because no archival records have been kept.
Journals, reports, reprints, and notes
The National Museum tries to build and maintain a comprehensive library about Namibian caves and a general speleological reference library. However, funds are limited, and the Museum cannot subscribe to caving journals. Any copies of articles, magazines, unpublished reports, or even field notes about caves in general and Namibian caves in particular will be greatly appreciated. Duplicate copies of articles on Namibian caves are distributed to the National Archives, National Reference Library, and the libraries of the Namibian Geological Survey and the Namibia Scientific Society. This literature is not only of value to local speleo-persons, but also provide visitors with reference literature.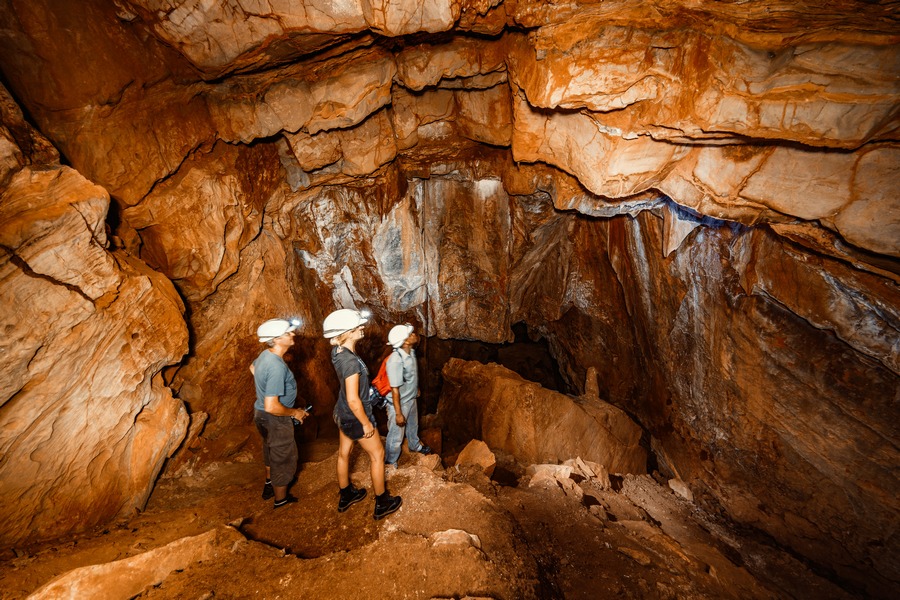 Killer bees
African honeybees (the notorious killer bee of the Americas) often nest in overhangs above cave entrances. If bees are present, it is recommended to enter caves early (before the bees become too active). Exiting such a cave may be exciting.
Leopards, porcupines and baboons
These are some of the more likely dangerous animals that may be encountered in caves, particularly close to entrances. All large animals are dangerous when cornered. They should rather be photographed in game reserves.
Minerals
Some unique or very rare minerals are known from Namibian caves, though all are inconspicuous. Some caves, e.g. Rossing cave, was vandalized by local mineral collectors, and subsequently by scientific prospectors. Visitors should take note that a permit from the Namibian Mining Commissioner is required to export mineral, rock, and soil samples.
Noxious gas
Some cavers gag at the ammonia smell of bat urine. Duty-free perfume may be a solution. Some Namibian caves contain significant concentrations of CO2 and require standard caving precautions. Other caves, e.g. Rossing, occur in areas with considerable uranium deposits, but determinations of radon concentrations have not yet been made. Methane emissions by mammalian trogloxenes usually disperse rapidly, and can be avoided by forbidding bean, onion, and prune diets, particularly where tight squeezes are encountered.
Overnighting & travelling in Namibia
All the popular guides to Namibia advise that Namibia has good tourist infrastructure; that hitchhiking is not a very effective means of transport; and that public transport services are virtually non-existent. Though few visitors believe it, one can overnight safely in most rural areas and next to most roads in Namibia. Exceptions are within large towns and close to the Angolan border, in which case formal camping areas are recommended. Serious cavers will need a vehicle. Roads in Namibia are very good and well maintained, and renting a 4x4 is rarely necessary. All major caving areas can be reached comfortably with a normal car.
Prehistory
Visitors are reminded that any pre-historical rock art, material remains, and/or other forms of archaeological and fossil evidence are protected in place by Namibia's National Heritage legislation, and may not be tampered with in any way without a special research permit. Any finds, whether only potsherds, signs of occupation, or artefact-rich sites, should be reported to the National Museum's Archaeological Laboratory. No material evidence should be removed from such sites, though detailed descriptions and photographs are welcome. All archaeological and fossiliferous sites are recorded in a site register.
Please try to restrain the urge to create contemporary rock-art.
Que faire?
Lots! The known and most obvious caves are known and have been surveyed, but large areas still need to be investigated for less obvious entrances. The best approach is to select an area, and then to enquire from the local people about possible cave sites. For researchers the surface is barely scratched. If you wish to visit specific caves, and would like to do something constructive, ask.
Rescue
Namibia has excellent medical services, including air ambulances, but no mountain or cave rescue services. Expedition leaders should also take into account that Namibia is a large country with a low-density population, and medical centres are in larger towns only. Arrangements for possible accident response should therefore be made well in advance, and should make provision for considerable response time. When remote areas of Namibia are to be visited, a contact person, fixed itinerary, scheduled reports, and subscription to an air medical evacuation service are recommended.
Spiders, snakes and other crawly creatures
Some fairly strange stories have been published about dangerous animals found in Namibian caves. Visitors should not take too much notice of these stories, since all recorded fatalities in Namibian caves were due to accidents or foul play. It is quite true that most of the spiders found in Namibia are reputedly very poisonous, though none of the reported envenomations in Southern Africa involved cavers. The adventurous faint-hearted may enquire about more likely dangers, while the less adventurous should rent a video.
Travel information
Namibia is a well-known tourist destination, and your local travel office should be able to provide general visitor information. Proper health precautions and entry documentation are strongly recommended. The nearest Namibian consular office should be consulted about visa requirements. Film producers should take note that any commercial photography, even for background purposes, requires temporary work permits and permission from the Namibian Ministry of Environment & Tourism.
U
Unfortunately a letter that fell down the pitch at the beginning of the Visitor's ABC exploration. It was found later while surveying the site for unexplored leads, and a rescue is urgently required. Suggestions on how to proceed with the rescue are welcome. Perhaps something like the diver and caver relationship during the 1987 expedition to Dragon's Breath - "we dive, u-haul"?
Vertical caving
Visitors should take note that most caves in Namibia require vertical caving gear, particularly at the entrance. Appropriate equipment and experience rather than "no-rope" or "single baboon" techniques - NRT and SBT - are recommended.
Water
Namibian caves do not have permanent streams, and aquatic fauna is often restricted to single water bodies. Please take care not to pollute cave pools, even those of large cave lakes. Visitors should take enough water for drinking and other purposes. Most Namibian caves are remote, and dehydrated ex-cavers in Namibian caves should be mute warning for unwary visitors.
X-Ray diffraction
Most of the unique minerals found in Namibian caves were identified by means of X-ray diffraction. The collection and identification of cave minerals is therefore best left to specialists.
Y
You like to come to Namibia? It is a great country to visit - friendly, a lovely climate, few people, all the standard large African mammals. If for caving alone, then be prepared to either go to considerable effort for very little return, or else to do a specific and well-motivated research project. Please don't be discouraged though - caves in arid areas can hold surprises, and Namibia has some lovely ones in stock.
Zebras
Zebras are not known to frequent Namibian caves, and were not yet recorded from caves elsewhere. However, if elephants and donkeys can go into caves, zebras may too. Cavers may encounter bone accumulations in Namibian caves, including zebra and other ungulate remains. Bone accumulations should not be disturbed, as they may provide valuable information about past and present animal distributions. Please report such finds rather than attaching horns or skulls to your car to throw away later.
Related: History of caves in Namibia, Namibia's cave register
Source: Eugene Marais. Visitor's ABC.