Damara Mopane Lodge, located in Khorixas area

in Damaraland, is built in the wattle and daub style under Mopane trees

and connected by a labyrinth of paths and walkways, whille the main building and chalets of the lodge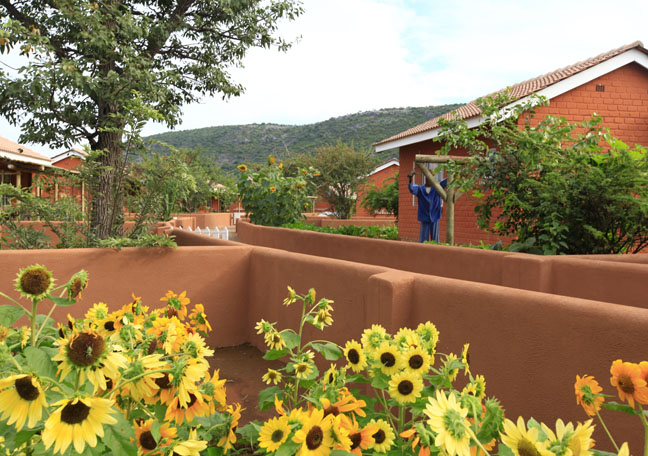 look like an authentic African village. The walls of chalets are adorned by copies of the rock engravings at Twyfelfontein heritage site. Each of the 60 twin chalets (with air-conditioning and heating) sits in a vegetable and herb garden surrounded by a low wall. The gardens supply fresh ingredients for supper, which consists of a hot starter followed by a delicious platter. There is a swimming pool for relaxing away after a long day drive and explorations and a viewing point for relishing sunsets and the star-studded night Namibian sky.

Damara Mopane Lodge is located at the gates of Damaraland near Khorixas and is ideally suited for excursions to Twyfelfontein rock engravings (130 km), the Petrified Forest (55 km) and the Vingerklip Rock (50 km).
---
Work on two new hiking trails has been completed recently.

The Mountain Top Route (4 km) requires some climbing, over a total altitude of 118 metres, to reach a hilltop in the vicinity of the lodge. For the scramble over sharp rocks you can borrow protective gloves from reception. This is a challenging tour and the reward for your mountaineering effort is the gorgeous view of the surrounding Damaraland scenery. The trail is lined by some interesting trees, including the large-leaved Sterculia, the Moringa and Maerula.
YouTube video:


By contrast, the Valley Walking Trail is a leisurely 4-km-walk through diverse vegetation such as Mopane forest, grassy plains and thickets of Trumpet Thorn. There are many different birds to observe: Monteiro's Hornbill, cardinal wood peckers, babblers, robins, Guinea fowl and weavers, to name but a few. Lively little sunbirds are particularly active in spring and summer. Ecologically speaking they are Africa's counterpart to the Kolibri (hummingbird) in the Americas. Sunbirds are not quite as agile, however, and they cannot hover in midair for quite as long.

On both routes look out for lizards, geckos, chameleons and agamas taking a sunbath. With a little luck a warthog or Damara dik-dik may cross your way. Snakes are also part of the Damaraland fauna. Usually they give way before the hiker has even noticed them. If nevertheless you happen to have a surprise encounter with a snake – keep your distance and slowly retrace your steps.

Both routes are clearly marked. For the environment's sake you are not allowed to leave the trail or remove any plants. After your hike the large pool of Damara Mopane Lodge beckons for a refreshing dip and a thirst quencher is ready at the bar.
---
Rates per person per night: on request
Bed and breakfast
Single/double/triple room
-
Camping
-
Meals per person
Lunch/dinner
-
Facebook groups:
NAMIBIA: https://www.facebook.com/groups/namibia.namibia
DAMARALAND: https://www.facebook.com/groups/damaraland
KAOKOLAND: https://www.facebook.com/groups/kaokoland
DRONESBERG AERIAL PHOTO/VIDEO: https://www.facebook.com/dronesberg
Contact & reservations:
E-mail: info@namibweb.com

Reservations are only accepted in writing: by fax or via e-mail.
Final availability confirmation: in writing: by fax or via e-mail.

Terms & conditions, Payment options and Cancellation policy
Page created and serviced by



www.namibweb.com

Copyright © 1998-2024 namibweb.com - The online guide to Namibia
All rights reserved | JOIN | VIDEO PORTFOLIO | VIDEO/PHOTO COLLECTION
Telegram | YouTube | Blog
Page is sponsored by ETS & Exploring Namibia TV
Disclaimer: no matter how often this page is updated and its accuracy is checked, www.namibweb.com and ETS
will not be held responsible for any change in opinion, information, facilities, services, conditions, etc. offered by
establishment/operator/service/information provider or any third party
Images & description: Copyright © Gondwana