Damaraland Camp is situated in the Huab River Valley, arguably the most pristine wilderness area in Namibia, 90 km from Torra Bay in the Torra Conservancy. It is lauded as one of the country's best camps, with sensational views of the surrounding desert plains, ancient valleys and soaring peaks of the Brandberg Mountains.

Winner of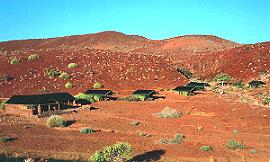 the 2005 WTTC Tourism for Tomorrow Conservation Award, the eco-friendly construction of Damaraland Camp has merged new technology with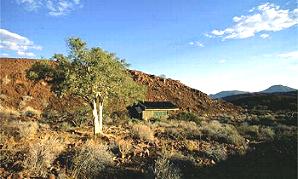 ancient methodology in an incredibly inventive manner. Another unique feature of this sustainable ecotourism venture is that it is owned and largely run by the local community - who have injected their own distinctive optimism and cheerful nature into the Damaraland Camp experience. This unusual flavour comes from the mixed heritage of the local peoples, which include Nama-Damara, Herero, Owambo, and the displaced Riemvasmakers of South Africa.

Accommodation at Damaraland Camp consists of 10 adobe-styled, thatched units each raised on individual wooden decking - part of which extends out to form a large viewing deck with magnificent vistas. Recently refurbished, each tent has en-suite facilities (shower only), a walk-in dressing area and built-in fan. Mosquito repellent is also provided.

The spacious, thatched living area features a restaurant and bar, complete with fireplace. Evening meals at Damaraland Camp are often prepared over an open fire and served out in the open in an area near to the camp lit by an assortment of small lanterns. The swimming pool is conveniently sited next to the bar. An open campfire and outdoor 'boma' can be enjoyed during calm evenings, with superb stargazing in the crystal-clear night skies.

Large game is not concentrated year-round here, with the natural cycle of rainfall dictating the seasonal movement of wildlife along the Huab River.

Activities at Damaraland Camp revolve around exploring the Huab River system, featuring guided nature drives and walks.
Morning and afternoon drives in search for desert-adapted elephant are a great favourite. Gemsbok, greater kudu, springbok, and occasionally lion, cheetah, elephants and black rhino can be spotted. Interesting flora such as euphorbias and shepherd's trees can be viewed on the way to some of Africa's best known rock engravings, including the famous Twyfelfontein etchings.
Wildlife:
The natural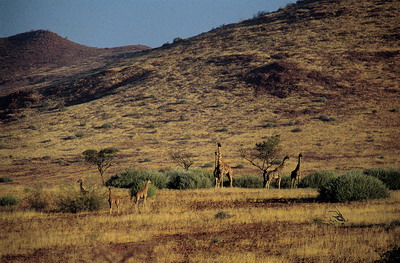 laws of food and water availability dictate the movement and cycles of the rare and endangered desert elephants, black rhinoceroses, gemsbok, kudu, springbok and other species adapted to desert's harsh conditions. Lions and cheetahs have spotted in the area occasionally.
Facilities and statistics: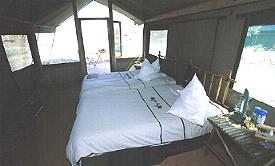 Member of Hospitality Association of Namibia. The main lodge houses a bar, lounge and dining area. Activities revolve around nature drives into the Huab River system in search of desert elephants and other specially adapted flora and fauna. Walking in the Damaraland area is spectacular and is highly recommended as an afternoon activity. With prior notice, a trip can be arranged to the famous Twyfelfontein rock engravings located nearby. A full day excursion is available to track the endangered desert-adapted black rhino subject to the availability of a vehicle. Private vehicles for these excursions can be booked at an additional cost subject to availability either prior to departure or directly with the camp manager.
Rates per night per person - DBB / FI: on request
Activities: Scheduled afternoon/morning nature drives.
Notes:
All Wilderness Safaris' establishments: due to a high demand the full balance is due strictly not later than 10 weeks prior to arrival!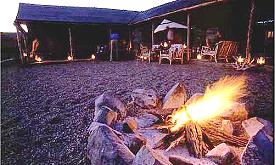 Special meals can be booked in advance. Rates are subject to change without prior notice should tax be increased or Government levies introduced. Rates include full board and Value Added Tax.
Directions:
Take the B1 to Okahandja and then continue on the B2 to Karibib (the Swakopmund road). At Karibib you turn right onto the C33 to Omaruru (actually the turn is on your left, with the C33 bridging over the B2 to continue right to Omaruru – just follow the sign posts). From Omaruru take the 2344 gravel road via Omatjette. You will arrive later at the junction with the C35, where you turn right. Proceed on this road and turn left on to road 2612 that is signpost "Twyfelfontein". Follow this road all the way to its natural T-junction with the C39/2620, where you turn left. After crossing the Huab River, (there is no sign, but it is a very wide, sandy river crossing that is obvious), you will climb a slope to a small hamlet on the left, called Vrede. There is a derelict yellow lorry on the right at this village and a distinct sandstone outcrop one kilometre or so further on. Go past this village up a very steep pass, and on the down slope you will see the camp signpost on the left at a hamlet called Fonteine Pos, 12 km from the river crossing.
If you are not in a 4x4 vehicle, you will be met at either 14h00 or 17h00 at Fonteine Pos. The community there will take care of your vehicle for you and show you where to park it. I have advised the camp that you will arrive for the 17h00 pick up time only, so let me know if you would like to change it to 14h00. Do note that if you do not arrive in time for the pick up times stated above, the community will radio the camp for somebody to come meet you. However, it will take about 40 minutes for the driver to drive from the camp to the pick up point, so please try to arrive in time for the times mentioned above.
If you are driving to the camp itself (no small cars), proceed past the farmhouse and take the first left turn down the valley and take the next left turn about 1500 metres from the farm itself. Proceed for another 1500 metres and you will see the camp on the right. There are signs indicating the route.
CHILDREN'S POLICY
Minimum age limit is 8 years.
Children rates apply to children 8-12 years old.
13 years old and above: full rate even if sharing with parents.
Pick-up times: strictly 14:00 and 17:00.
Facebook groups:
NAMIBIA: https://www.facebook.com/groups/namibia.namibia
DAMARALAND: https://www.facebook.com/groups/damaraland
KAOKOLAND: https://www.facebook.com/groups/kaokoland
DRONESBERG AERIAL PHOTO/VIDEO: https://www.facebook.com/dronesberg
Contact & reservations:
E-mail: info@namibweb.com
Reservations are only accepted in writing: by fax or via e-mail.
Final availability confirmation: in writing: by fax or via e-mail.
Terms & conditions, Payment options and Cancellation policy
PHOTO GALLERY: DAMARALAND & DAMARALAND CAMP
Page created and serviced by



www.namibweb.com

Copyright © 1998-2024 namibweb.com - The online guide to Namibia
All rights reserved | JOIN | VIDEO PORTFOLIO | VIDEO/PHOTO COLLECTION
Telegram | YouTube | Blog
Page is sponsored by ETS & Exploring Namibia TV
Disclaimer: no matter how often this page is updated and its accuracy is checked, www.namibweb.com and ETS
will not be held responsible for any change in opinion, information, facilities, services, conditions, etc. offered by
establishment/operator/service/information provider or any third party
Images, description and logo: Copyright © Wilderness Safaris